High voltage and high altitude: the challenges facing a future overhead power line
Reading time: 3 min
In Austria, Austrian Power Grid AG turned to Omexom to provide the electricity supply for its new 380 kV overhead line in the mountains near Salzburg.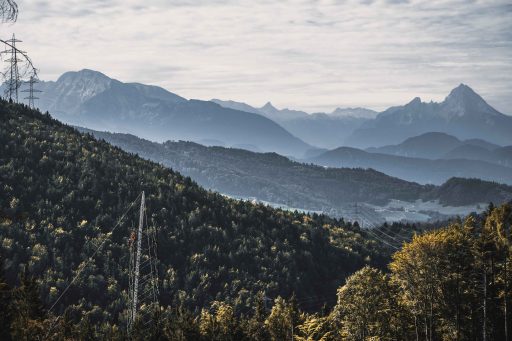 The Austrian extra-high-voltage power supply network takes the form of rings, so that consumers can be supplied in both directions. The ring networks are fitted with protection and circuit breakers at the input and output of each substation, which provides continuity of service if an incident occurs and also allows maintenance work to take place on parts of the installation without interrupting output.
Dating from 1960, the 220 kV power line operated by Austrian Power Grid AG connects the Salzburg and Elixhausen (Flachgau) substations and the Tauern and Kaprun (Pinzgau) substations.
It was necessary to construct a new 380 kV overhead transmission line to ensure Austria's energy security and support the country's energy transition ambitions. The 220 kV line forms a bottleneck, primarily when renewable energy, especially from Austria's rapidly expanding wind energy sector, is injected into the system.
"The specific constraints of this site meant we had to schedule the works over four-and-a-half years, rather than the two years needed on an ordinary site."
The 380 kV ring is therefore required to form the backbone of Austria's electricity supply. Costing approximately €890 million to build, the new 128 km Salzburg line will enhance the network in the west of the country.
"This project, which also involves upgrading the network and building new substations and network nodes, began in January 2020. The line should be completed in April 2024", says Jens Schulz, head of the south/west overhead line construction division of Omexom Hochspannung in Austria, the VINCI Energies business unit dedicated to energy infrastructure and responsible for this project.
Innovative construction methods
Construction of this new line presents difficulties due to the topography of this mountainous region. "The alpine location of the site makes some towers difficult to access, not to mention the mountain weather conditions", explains Jens Schulz.
Another problem was that "We also had to comply with access restrictions in some protected zones, such as bird nesting sites and where tree felling is prohibited at certain times of year. These constraints meant we had to schedule the works over four-and-a-half years, rather than the more usual two years for a project of this size".
To adapt to these specific conditions, the business unit had to extend the existing network of forest tracks, using trucks suitable for narrow routes and cranes mounted on mobile platforms. In some places, they plan to use cable cars and even helicopters. An auxiliary structure known as a derrick is sometimes built to assemble towers when the tower site cannot be accessed with an ordinary crane.
"We appealed to some Swiss and Italian partner companies that specialise in these techniques to come and train our teams", adds Jens Schulz. This project's innovation lies largely in the ability to call upon such varied construction methods.
16/06/2022