Toronto works with Google to design Data City
Reading time: 5 min
Alphabet aims to reinvent the city. Working on behalf of the City of Toronto, Canada, Google's parent company is designing an ultra-connected smart city controlled by big data. Not everyone is enthusiastic.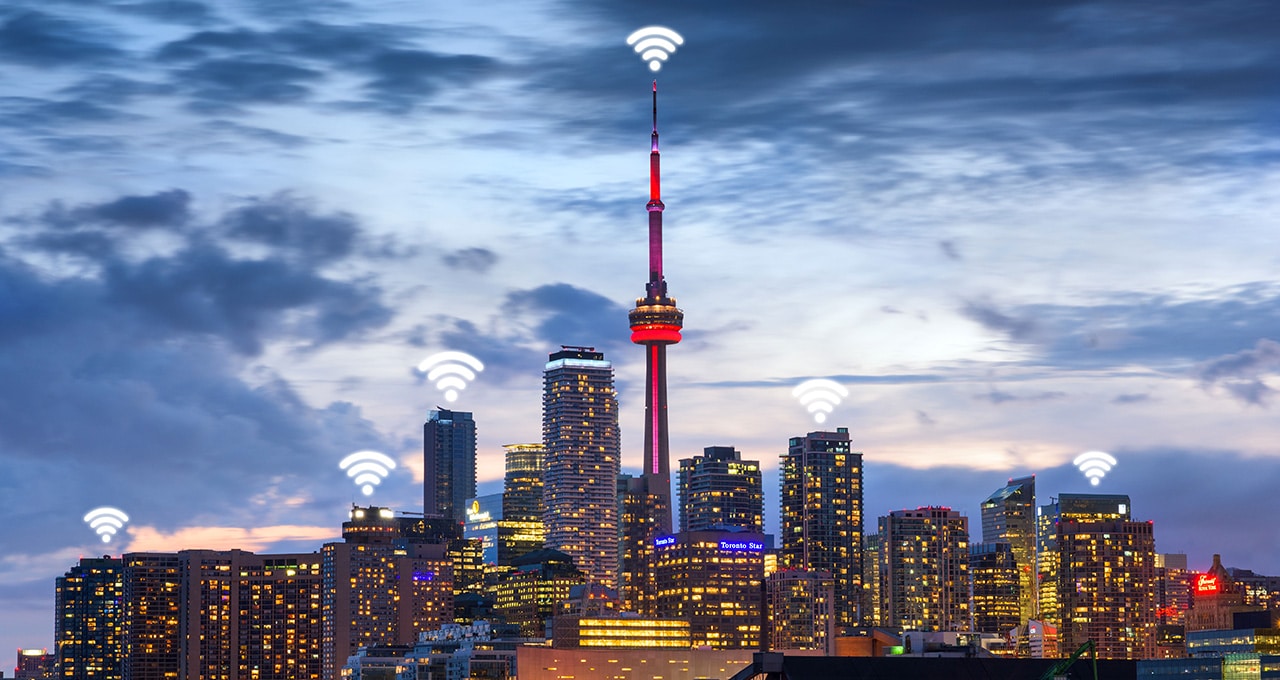 Welcome to the city of the future. A city in which wood-frame buildings, including 30-storey high-rises, will be modular and able to switch from apartments to office space and vice versa; in which "dynamic streets" will have street furniture that can be changed according to time and need; in which streets will be heated to melt snow and ice; in which shelters will deploy automatically to protect pedestrians from rain; in which an underground network will support a robotised delivery system; and in which each inhabitant will have an application giving him or her access to the online services available in his or her neighbourhood.
Covered by sensors and CCTV cameras, the city of the future will be able to use artificial intelligence to understand and adapt its own operation (water and electricity consumption, pedestrian flow, air quality, bin filling level, car park occupancy) and anticipate change.
The name of this ultra-connected smart city is Sidewalk Toronto. For the time being, it exists only as a project of Sidewalk Labs, the smart city subsidiary of Alphabet; the Google parent company won a call for tender issued in 2017 by Waterfront Toronto, the public agency responsible for transforming a more than 320-hectare industrial brownfield site on the banks of Lake Ontario into "dynamic, sustainable, inclusive, and beautiful" public spaces.
Avant-garde urban complex
Sidewalk Labs is responsible for developing a new 5-hectare neighbourhood called Quayside. The goal is to design an avant-garde urban complex with a resolutely digital approach. The stated ambition is to provide solutions for the issues facing large urban areas around the world, starting with energy consumption, high housing prices, and traffic congestion.
Sidewalk Labs plans to spend CDN$1.3 billion on the project and hopes to generate CDN$38 billion in private-sector investment between now and 2040. Potentially, 44,000 jobs could be created that would generate CDN$4.3 billion in public income. Alphabet has already announced the transfer of the Google head office to the site.
Toronto has thus become a giant laboratory for the web multinational. "Connectivity, sensors, and social media have the ability to transform life in cities. Some think this will exclusively benefit corporations or could be detrimental to society. We don't agree," says Rit Aggarwala, one of the senior Sidewalk Labs managers, during a presentation at the Consumer Electronics Show in Las Vegas in January 2019.
GDPR friendly?
Not everyone shares the reassuring Sidewalk Labs view. In fact, the Alphabet initiative has come under sharp criticism. The project would require collection of personal data on a massive scale, giving rise to privacy concerns. Who would hold the data? Who would be allowed to use it?
"The GDPR would not prevent the implementation of a project like Google City in Europe"
Residents and civic organisations say Toronto is on the wrong track and should instead take inspiration from cities such as Barcelona, Amsterdam, and Montreal, which are working to oversee the collection and use of data. These initiatives aimed at regulating the use of big data often take inspiration from Europe's GDPR, the General Data Protection Regulation introduced in May 2018 and applied within the European Union.
However, Alexandre Lazarègue, founder of the Lazarègue Avocat consultancy and a specialist in personal data legislation, says that "The GDPR is above all designed to bring organisations into compliance and would not prevent the implementation of a project like Google City in Europe as long as the data is kept anonymous or its collection and use meet a legitimate need – which could be marketing."
A new governance system to be invented
The legal expert says that "Privacy underpins the dignity of the individual. Today it is under threat." Individual responsibility alone is no longer sufficient to ensure it, he says, given the spread of the digital society and IoT.
"Google City is the world we are living in today, in which our personal data are constantly connected. If our goal is to prevent that, we must call on the legislator, as the guarantor of the general interest, to require comprehensive data anonymity, for example. It is never good for an organisation that serves a particular interest to be responsible for overseeing the general interest," says Alexandre Lazarègue.
Given this criticism, Sidewalk Labs has proposed the creation of an independent body to manage the Google City data. The idea is not easy to put into practice and it raises a number of governance issues. But architects, urban planners, and urban operators around the world, who are increasingly facing the issue of data, are keeping close watch on the topic.
16/01/2020