AI tool used to help build solar farm in Portugal
Reading time: 4 min
Omexom Renewables Portugal is finalising the construction of a 50-MW solar farm two hours south of Lisbon,based on an innovative solution, using trackers that follows the sun, instead of fixed structure. The project, which requires a high level of accuracy, is being undertaken using an artificial intelligence tool developed by the AI Clearing.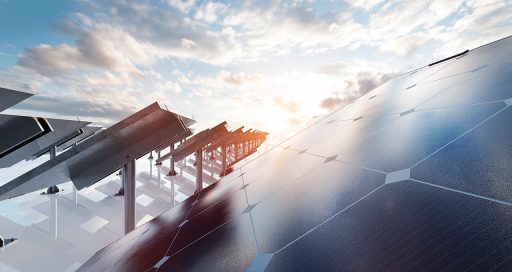 For some months now, the Algarve region's only international airport in Faro, to the south of Portugal, has been meeting 30% of its electricity needs from self-generated solar power. This saves the airport, which welcomes about 9 million passengers per year, the equivalent of 1,500 tonnes of CO2 each year.
Following this project carried out for VINCI Airports, Omexom Renewables Portugal, a VINCI Energies business unit, is about to deliver an even larger scheme, the Morgavel solar farm for German electricity producer RWE, further to the north of Portugal.
Located in Sines, a two-hour drive from Lisbon, the 100-hectare plant comprises 98,832 high-performance bifacial modules mounted on 3,244 single axis dual-row trackers and 15,381 poles. Once it has been commissioned in July 2023, the solar PV farm will supply 50 MW of renewable energy, enough to power the equivalent of 45,000 homes.
An engineering challenge
The project is distinctive in that it combines bifacial panels, which absorb light on both sides, and a system that tracks the sun, increasing energy production by more than 20%.
Installing such equipment is a real challenge in terms of engineering and construction. "Earthworks must be performed extremely accurately so as to minimise the footprint while at the same time optimising the facility's east-west and north-south exposure. When mounting dual-row units, full alignment between the front and back tracker is required," explains Luís Gomes Silva, business unit manager at Omexom Renewables Portugal. The company has assigned a dedicated quality-control employee to the site to ensure this level of accuracy.
New AI technology
Omexom Renewables Portugal used new artificial intelligence (AI) technology, AI Clearing, in order to track the progress of construction works. "As soon as I found out about this technology, which is supported by the CATALYST programme at Leonard, the VINCI Group's innovation platform, I immediately saw its potential for the new contract we had just signed with RWE," says Luís Gomes Silva.
AI Clearing monitored the entire construction process for the Morgavel project. "The tool leverages AI and advanced GIS* analytics to automate infrastructure construction progress reporting," points out MichałWerle, senior manager, business development at AI Clearing.
"AI Clearing enabled us to secure the construction process, in line with completion times, specifications and budget, and meet our zero-accident target."
"Once the project data and KPIs (key performance indicators) have been defined and entered, the solution automates multiple time-consuming tasks associated with progress tracking, quality management and reporting, while reducing the risk of human error," he adds. Weekly drone inspections gather data and provide reports within 12 hours, making it possible to monitor and quickly correct any deviations from the project's input data.
Optimised client relationship
"AI Clearing is also a strong selling point!" states Luís Gomes Silva. "Since the reports are sent to RWE in real time, the tool acts as a neutral third party. That establishes transparency and trust with the client, and offers real added value."
"With a project of this size," he continues, "AI Clearing enabled us to secure the construction process, in line with completion times, specifications and budget, and meet our zero-accident target." The target is a high one given that there are 200 people with varying levels of professional experience working on site during peak periods, speaking several languages and taking delivery of 300 containers of equipment.
Finally, an initiative developed by Omexom Renewables Portugal to design 12 solar-powered "green containers", intended to form its own construction complex on site, helped save 92% of diesel consumption.
*A geographic information system (GIS) creates, manages, analyses and maps all kinds of data.
16/06/2023