Building: reuse before recycling
Reading time: 5 min
With 90% of building-sector waste coming from demolition and renovation works, the reuse of materials is an entirely suitable response.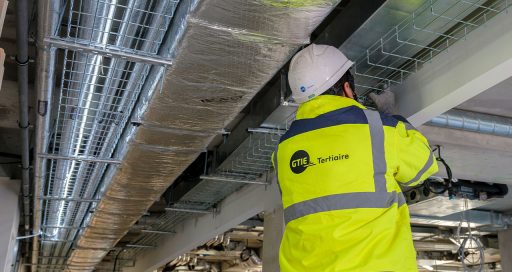 The building sector in France produces 46 million tonnes of waste every year. That is four to five times less than from public works but 50% more than household waste. For the real estate sector, which alone accounts for 40% of energy consumption and over 50% of raw materials extraction, waste management must form part of the conversation around energy conversation.
The increasingly stringent regulations leave little other choice. The European Union has set targets of 70% for reclamation of construction materials and waste from 2020 onward. The PEMD (Products, Equipment, Materials and Waste) platform, created by the Scientific and Technical Centre for Building (CSTB) as part of the 2020 Law on combating waste and the circular economy (AGEC) is designed to make resources more visible and facilitate stocktaking by project owners on completion of a project.
Despite these initiatives, waste management in the building sector continues to suffer from numerous technical, regulatory, economic and insurance-related obstacles, a highly fragmented overview of available resources and materials flows, and the sector's sluggish response.
"To speed up the process and achieve the regulatory targets, financial incentives will definitely be required"
Over 90% of waste produced in the sector comes from demolition and renovation works. Along with eco-design, recycling is now a crucial issue for the entire sector. Reuse of materials currently remains patchy, but will no doubt soon be everyday practice, given the plethora of potentially reusable items found on construction sites: toilet bowls, ventilation ducts, cable guides, precabling, etc.
But here too, very little progress has yet been made: "We are only in the earliest stages. Adoption is low, and there is a lack of quality resources," says Florent Malvezin, Business Unit Manager at GTIE Tertiaire (VINCI Energies Building Solutions).
Ventilation ducts and cable guides
Nevertheless, initiatives are taking shape. As part of the work on its Carré Vert site in Levallois Perret (Hauts de Seine), Crédit Agricole is giving second life to cable guides from renovation projects. The banking and finance group is also committed to promoting the reuse of ventilation ducting, which is made from steel and therefore has a huge carbon footprint. Ventilation ducts and cable guides are present in large quantities in buildings, and there is no major risk in handling them.
Lefort Francheteau (VINCI Energies Building Solutions), a pioneer in this circular approach, recently launched a pilot initiative. As Guillaume Graffin, Assistant Technical Officer at Lefort Francheteau, explains, "We have educated and trained a number of site strippers – the technicians responsible for stripping buildings undergoing renovation or deconstruction – encouraging them not to discard used ducting from their worksites. We then collect, recondition and store this ducting in one of our warehouses."
The business unit is gradually building up a database of documents and photographs to help site strippers identify materials and route them into a reuse process.
The challenge of scaling up
The key to viability in a second-hand sector lies in its "industrialisation". Industrialisation means scaling up supply, stocks and flow to massive volumes. And that requires indexing and traceability. Lefort Francheteau itself already has hundreds of metres of ducting in stock and ready to be reused.
Current estimates indicate that only 1% of available material on construction sites is reused. Tonnes of products, some extremely costly, that with (or without) reconditioning could go on working for a long time are still being consigned to landfill. "Environmental issues are now forcing the profession to wake up," says Florent Malvezin, "But to speed up the process and achieve the regulatory targets, financial incentives will definitely be required."
---
Reyuz: one year on and already in V2
Launched at VINCI Energies in 2022 to allow its business units to buy and sell unused equipment (office furniture, technical equipment, worksite materials, etc.), the Reyuz mobile app is slowly but surely finding its place. In just over a year, it has been used by 145 companies (18% of VINCI Energies business units in France), with 460 ads placed and 68 transactions made. "We estimate that these transactions between sister business units have saved €65,000 and 30 tonnes of carbon equivalent," says Stéphane Bretin, Expertise & Environment Manager for VINCI Energies Building Solutions. In addition to the mobile version, since April 2023, Reyuz has been available on the internet, with an enhanced Version 2 including the ability to search by location. Stéphane Bretin explains that "The mobile app is more practical for taking photos and listing equipment as available, while the web works better for browsing the offers."

---
11/16/2023