Building solutions: new frontiers in certification
Reading time: 6 min
The office building sector, a focus of certification auditors, is engaging in increasingly targeted labelling procedures to enhance building asset value, use value, and end user comfort.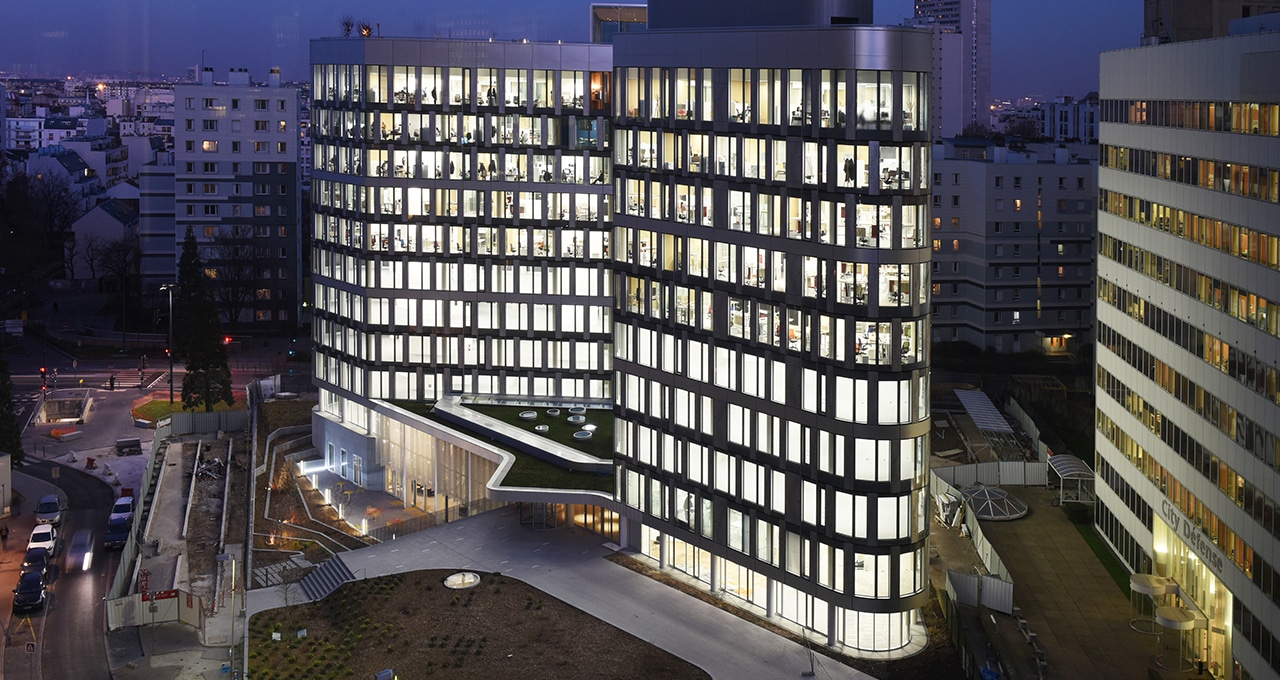 The building has meeting pods with lighting and  Internet connections; a single mobile application to digitise all the various badges, activate lighting, blinds and climate control in offices, reserve meeting rooms, and check availability of parking spaces; air purification systems using bio-organisms; lifts that recover energy,
and more. Welcome to Ampère e+ in Paris La Défense, the new head office of the Société Générale Group's property subsidiary, Sogeprom.
16 months of work went into the renovation of the 10-storey building, which dates back to the 1980s. In particular, the facade was dismantled and replaced with a glass envelope. Batteries with a combined capacity of 96 kWh store the current from the building's roof-mounted photovoltaic panels and its lifts, from which unavoidable energy is recovered and released as needed. This stored and discharged energy accounts for between 5 and 15% of the building's overall power consumption. The virtuous self-generation and storage system gives the building a load management potential of about 8%.
Methodology focused on use value
"This project covers all the smart building requirements: enhanced asset environmental and use value, and end user comfort and wellbeing. The design generates no additional costs and is attractive to large companies focusing on social and environmental responsibility," says Sogeprom Technical and Innovation Director Christophe Dumas.
"It is difficult, now, to market a 15,000 sq. metre building that does not at least have HQE or BREEAM certification. These labels have become part and parcel of developers' specifications"
The Société Générale subsidiary notably worked with VINCI Energies on the climate engineering, electrical systems, plumbing, and fire protection works packages.
Beyond the advanced technological features, the major innovation at the Ampère e+ building lies in the working method selected in the run-up to the project. "We focused this project entirely on the end user and the service and comfort we can provide for end users," says Christophe Dumas.
Full-scale proof of concept
Ampère e+ not only provides a broad range of technological and methodological innovations, it also supports a broad range of certifications: HQE Excellent, BREEAM Very good, BBC Effinergie Rénovation, Well Core & Shell Platinum levels, Well Interiors Gold level, and C2C Inspired Building label for the circular economy. "It is natural for a property developer to want to demonstrate what he is offering his clients," says Christophe Dumas. "Ampère e+ is a sort of full-scale proof of concept."
In fact, property development is a special focus of auditors. The first property certifications, HQE in France and BREEAM in the UK, were introduced in the 1990s.
But what started out as a luxury is now becoming a requirement. "It is difficult, now, to market a 15,000 sq. metre building that does not at least have HQE or BREEAM certification. These certifications have become an integral part of developers' specifications," says Greenaffair Business Unit Manager Sébastien Matrat.
A new generation of labels
According to Green Soluce's 2016 barometer, 1,552 service sector building projects (construction or renovation) in France had received or were in the process of receiving certification at 31 December 2015, of which 82% NF HQE, 16% BREEAM and 2% Leed (American label). The map of these major certifications shows that the market is almost exclusively situated in the Greater Paris area and concentrated in La Défense or the centre and western part of Paris proper.
There is a reason for this. These certifications, which cover the intrinsic value of the building (, water, and waste management) are primarily sought by the large office building and head office sector.
But a new generation of certifications or labels (see insert) is now coming into being: Biodivercity, Bâtiment Bas Carbone, Minergi, Biosourcé, Passivhaus, Well, Osmoz. Most of the new labels cover environmental performance (energy efficiency, biodiversity, materials, circular economy) but the audit market is beginning to look at new criteria such as connectivity and end user wellbeing and comfort.
Created in 2014, the WELL Building Standard, issued from the United States by GBCI (Green Business Certification Inc.), is for example primarily focused on the wellbeing of employees and users in office buildings. In March 2018, the French Certivéa auditor introduced its own label, OsmoZ, based on a cross-cutting programme focused on HR policies, interior fittings, and building quality.
"The main advantage of these new programmes is their relative flexibility. They are more targeted and can be initiated by end users after construction is completed. They can even be limited to one part of the building. Most of them, in addition, require no additional works," says Sébastien Matrat. In a nutshell, what they provide is property certification available to everyone, including SMEs, and benefiting everyone – more especially the end users.
13/12/2018