How Omexom helped to deliver Europe's largest solar plant in an urban setting
Reading time: 4 min
The Labarde plant in south-western France is designed to supply electricity to around 30% of Bordeaux residents. The main technical challenge involved in this supersize project relates to the ground conditions since the site was formerly a landfill.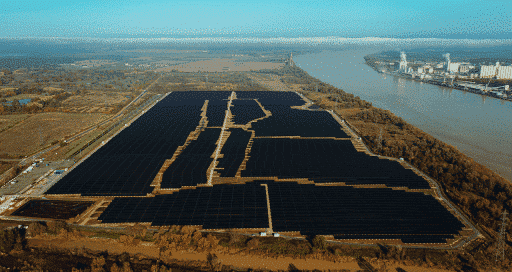 The Labarde plant near Bordeaux is Europe's largest urban solar PV facility. Inaugurated on 12 May 2022, it includes around 140,000 solar panels across a 60-hectare area, with an installed capacity of 59MW.
The aim is to generate 75GWh per year of renewable electricity, enough to meet the needs (excluding heating) of some 70,000 people – 28% of Bordeaux's population – or more than 34,000 people including heating. Most importantly, the facility's generation capacity will help save over 2,940 tonnes of CO2 per year.
The €60 million project stems from a partnership concluded in 2018 between the Banque des Territoires bank and JP Energie Environnement, an independent French business which specialises in the development, financing, construction and operation of wind and solar farms throughout France.
It took two years of works to complete this large-scale project in two segments. The first segment involved installing units 1 and 2, generating 33MW or 55% of the facility's total capacity. Units 3 and 4 were delivered as part of the second segment in 2021.
"Projects targeting 30, 50 and 60MW of capacity are becoming the norm."
A total of around 15 companies contributed, including Omexom ENR Sud-Ouest, the VINCI Energies business unit responsible for connecting the solar PV panels and electrical substations. "We first got involved in May 2020 when we dug the 20,000V medium-voltage trench, then we came back in July to connect the panels, supply and install the electrical systems (alternating and direct current), and install and connect the inverters and transformer substation (enabling the electricity to be fed back to the EDF power grid)," explains Florian Baudoin, now project manager at Omexom ENR Antilles, who worked on the Bordeaux project.
Scaling up
RTE, the French electricity transmission system operator, is very clear in its assessment: if France wants to achieve carbon neutrality by 2050, its overall solar capacity must increase by a factor of 7 to 20. This explains the recent trend in launching big projects. "So far, most projects involved 5 to 20MW-capacity plants. Now, projects targeting 30, 50 and 60MW of capacity are becoming the norm," says Alexandre Baudelin, head of Omexom ENR Sud-Ouest.
However, in Labarde the main technical challenge lay less in the scale of the project than in the ground conditions. The plant was built on the site of a former Bordeaux Métropole landfill that had been closed for over 35 years. The land had become unsuitable for agricultural activities and was not authorised for construction due to the 2 to 3 million cubic metres of waste buried underground.
The concrete bases, on which the panels' metal frames are secured, are installed on a geotechnical membrane (in other words a waterproof sheet) which is spread out on a layer of clay then ballasted with 30cm of topsoil.
This system of superimposed layers, while it aims to prevent gas or liquid leakage that could pollute the Garonne estuary's water table, rules out the possibility of any earthworks being performed or of construction plant operating. As a result, artificial tracks had to be created using engineering fabric covered with gravel-sand mix so as to enable vehicles and equipment to access the live site.
An annual technical inspection will be performed to review land survey changes, the thickness of the layer of soil, and the absence of erosion or ruts in the vegetation cover. As for landscape maintenance, well that aspect has been entrusted to… a flock of 150 sheep and 5 goats.
12/01/2023