How Omexom is contributing to electricity grid regulation
Reading time: 6 min
Omexom Conversion & Storage has built the largest battery energy storage system (BESS) in France for TotalEnergies in Dunkirk, to the north of the country. The system helps, among other things, to regulate electricity grid frequency.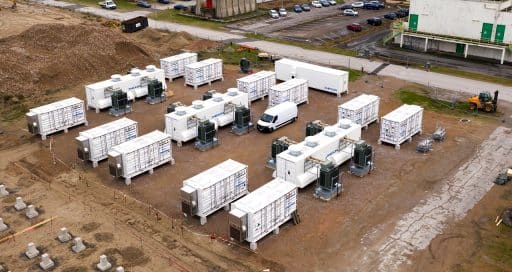 The issues surrounding the management of power generation and distribution have never been more critical. Indeed, the international situation in 2022 has shown just how pressing they have become. Renewable energy, in particular, is absolutely central in this respect. But its future, as is well known, is closely linked to the development of storage solutions capable of making it controllable.
Optimising the way in which renewables are managed helps to balance the electricity transmission grid. In order to ensure this essential balance between production and consumption, FCR (Frequency Containment Reserve) systems are used to keep grid frequency at its optimum level of 50Hz.
61MW/61MWh storage system is most powerful in mainland France.
Without a storage solution, generated electricity must be used immediately. What storage does is to ensure a secure electricity supply, regulate frequency and address the intermittent generation of renewable energy sources.
The TotalEnergies Dunkirk project provides this reserve function. As part of the project, Omexom Conversion & Storage installed a 61MW/61MWh (available power/available energy) storage system for TotalEnergies Renewables International (previously Total Solar International) on the site of a former refinery at the port of Dunkirk in northern France. It is the most powerful in mainland France.
Large-scale project
In partnership with Saft (a TotalEnergies subsidiary that delivers electric battery solutions for industry), the VINCI Energies business unit specialising in energy storage system design fitted 27 battery containers, 27 converters, 29 power transformers, 2 MV distribution boards and 2 MV/HV transformers.
This large-scale project was carried out in two phases: an initial 25MW unit in 2020 followed by a second 36MW unit in 2021, both connected to the French electricity transmission system operator RTE's extra high voltage transmission grid.
"The advantage of the Dunkirk site is that, due to its past operations, it already benefits from a high-capacity connection point to the RTE grid. To install a system, whether it's solar, wind or storage-based, finding a connection point is crucial," says Thibault Fauquant, manager of the Omexom Conversion & Storage business unit.
A number of challenges to be met
"Omexom Conversion & Storage had to meet several challenges during the project: managing a new battery, connecting the first project of this type to the RTE grid – including rigorous certification and Grid Code(1) compliance – and overseeing two plants (DK1 and DK2) simultaneously to achieve certification," explains Thibault Fauquant.
The Omexom Conversion & Storage manager also highlights the work done by his business unit to optimise costs: "After starting with 1,000V battery systems, we now use batteries that supply a voltage of 1,500. The benefit of 1,500V technology is that it reduces the intensity needed to obtain the same output. Fewer amperes means smaller cables, and indeed the circuit breakers and the whole protection chain are smaller in size. This reduces all the costs."
In addition to managing output, Omexom Conversion & Storage has also installed an instrumentation and control system to manage battery charging and discharging. "All this is very complex. To control the system we need to set up remote access from our offices in Quimper in north-western France, requiring a high level of cybersecurity," points out Thibault Fauquant.
To sum up, the Dunkirk facility, which represents an investment of around €35 million, contributes towards regulating electricity grid frequency, supports the grid on the coldest winter days when it is under stress and facilitates the integration of renewable energy sources. Remaining capacity generates additional revenue, all of which ensures the project's profitability.
---
Other Omexom projects
With more than 50 storage systems already operational in mainland France and the French overseas departments, regions and territories, Omexom is working on several other projects. Five of these are under way in 2022, with a total capacity of 100MW. "For example, we're working on a project at the Grandpuits refinery which TotalEnergies decided to shut down. With a capacity of 43MW/43MWh, it's the biggest project we'll have carried out in a single phase," explains Thibault Fauquant. The Omexom Conversion & Storage business unit is also involved in two projects pairing solar PV and storage in Gièvres in the Loir-et-Cher department in central France and in Corsica [lien vers article Corse], as well as in a combined wind-storage project on Reunion Island. A distinctive feature of these last two projects, carried out within the framework defined by the French Energy Regulatory Commission (CRE), is that they are located in so-called "ZNI" or non-interconnected areas (in other words not connected to the mainland power grid). Omexom's operations in the electricity storage market now extend beyond France: "We've won our first export project in Italy," says Thibault Fauquant.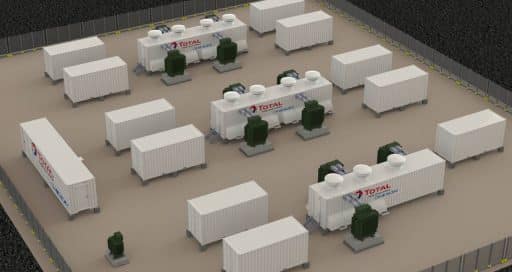 *Grid Code: a document that sets out the necessary conditions for an electricity producer or user to be able to connect to a power grid.
13/10/2022