How to make ICT infrastructure resilient
Reading time: 4 min
IT resilience is the ability to ensure that service levels in a business are maintained. This key issue is based on IT infrastructure, security and data storage redundancy.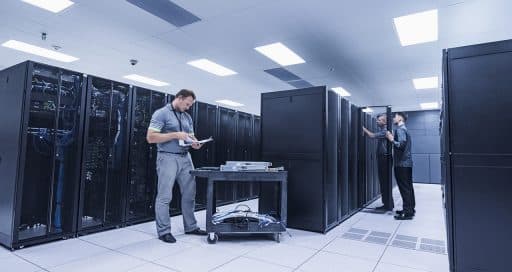 The term resilience is everywhere. But more than being a passing fad, it represents a paradigm shift. And it's not limited to production systems or transport infrastructure, it also covers IT and telecommunications networks. Indeed, these are the most directly concerned since all of the operations involved in the smooth running of businesses depend on their effectiveness. 
"IT resilience is the ability to ensure that service levels in a business are maintained," sums up Christophe Bobin, project manager at Axians Communication & Systems Paris (a business unit attached to the VINCI Energies ICT brand), which specialises in the industrial sector, "the last sector to go through a digital revolution."   
In short, an IT system must be able to continue to function in the event of a disruption (fault, disaster, surge in activity, cyberattack, etc.). And above all it must be able to return to normal working order as quickly as possible, with as few negative impacts as possible. 
IT resilience limits downtime and the associated operating losses through rapid data recovery. Extending beyond the issue of cyber security, it encompasses a set of preventive measures and tools ranging from physical security, IT security and cyber security awareness to legal security. 
"The quality of the procedures in place and compliance with them guarantee good system resilience." 
Redundancy, the key to resilience 
"Redundancy and the ability to ensure high availability of IT infrastructure are prerequisites for IT resilience," says Christophe Bobin. Offering virtualised storage, network and compute resources that can be controlled like software, SDN (software-defined networking) technology simplifies traffic management and IT infrastructure operation. 
"Resilience, based on system redundancy, is built on two elements: the infrastructure itself and infrastructure safeguarding," explains the Axians project manager.     
"In terms of infrastructure, for the past four or five years, with software-defined technologies such as SD-WAN [third-generation Software-Defined Wide Area Network] and SD-LAN [Software-Defined Local Area Network], the data path has been determined by the solution according to pre-set criteria (latency, bandwidth availability, etc.). This improves system reliability." 
The use of SD-LAN in recent years has further improved infrastructure resilience through end-to-end segmentation, which separates traffic from users, devices and applications without restructuring the network. 
Cyber security and data redundancy 
However, in order to ensure the availability of IT infrastructure, cyber security measures must be in place to safeguard it. "This involves first and foremost providing internal protection with respect to phishing for example, which can be done by segmenting equipment (machines, automatic controllers, PCs, etc.) and analysing unusual switch port behaviour," notes Christophe Bobin. 
He also highlights the importance of deploying data storage redundancy. "Highly strategic for businesses, data too must be resilient. It must be stored securely through backups on various platforms (a data centre attached to a client or partner like Axians, or public data storage services like Amazon or Azure)." 
Furthermore, resilience depends on the quality of managed services. Prevention and maintenance may be delivered via remote monitoring for instance. "These types of services help to anticipate faults and to be more responsive, and consequently more resilient by keeping systems in good working order," points out Christophe Bobin. 
Another key aspect according to the project manager is internal processes. "The quality of the procedures in place and compliance with them guarantee good system resilience." So humans will always have the last word.  
18/07/2022