Venice plans to use AI to manage crowds
Reading time: 3 min
Axians Italy is using the new potential of artificial intelligence applied to image processing to develop the Axians Venice Crowd Project, which is designed to better manage the flow of tourists in the centre of Venice.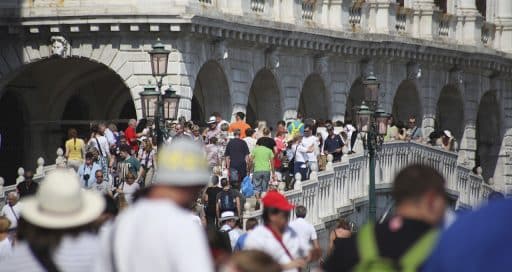 The historic centre of Venice, with a population of about 53,000, welcomes about 30 million visitors every year, or 82,000 per day. Tourism is an economic windfall for the city but also a source of many problems, starting with the need to manage the flow of this increasing crowd. The city therefore issued a call for tender in February 2019 for the design and installation of a smart solution to analyse the flow of people in the historic centre. The idea is to deliver very precise data, updated every five seconds, to a Smart Control Room to support prediction and real-time decision-making.
"We are installing 35 'gates' equipped with one or several sensors to detect flows of pedestrians throughout Venice"
Practical application of the new system should make it possible to issue automatic safety alerts (crowd movements, etc.), improve the efficiency and quality of transport services (bus, train and vaporetto), offer tourists suggestions for the best times to visit, and optimise the range of services provided by the city.
Stereo vision and radio sniffers
In May 2019, Axians Italy's data driven solution was selected. "In our Venice Crowd Project bid, we proposed to install 35 "gates" equipped with one or several sensors to detect flows of pedestrians along the entire route from the Piazzale Roma bus station and the Santa Lucia railway station to Saint Mark's Square," says Axians Italy IoT Team Manager Andrea Troisi.
"The data from each site is transmitted to the Smart Control Room via optical fibre and 4G LTE connections, both protected by VPN tunnel," he adds.
The sensors are "smart" in the sense that they use two different technologies in tandem and in real time: video stereo analysis with 3D cameras providing detection precision of 98% and "radio sniffers" that detect mobile devices (Wifi and Bluetooth Low Energy). "Instead of raw images or videos, these sensors deliver very precise packets of anonymous data to ensure privacy in compliance with European legislation," says Andrea Troisi. In addition to the technical feat of designing ad hoc software to manage all this data in real time, Axians also had to adapt the system to the requirements and specific features of Venice."For example, we had to keep the sensors out of sight to avoid detracting from the appearance of monuments and we had to work at night in some areas that are narrow and heavily trafficked in the daytime. We also hired a fleet of boats to transport the equipment to be installed," says Andrea Troisi.
12/03/2020