A citizen app, the entry to the smart city
Reading time: 3 min
Cities must address communication between citizens, elected officials, tourists, technical departments, and local businesses. Omexom offers the Connected Municipality Initiative app to help them make everyone an active participant in city life, facilitate access to the city centre, and ensure that the smart city benefits everyone.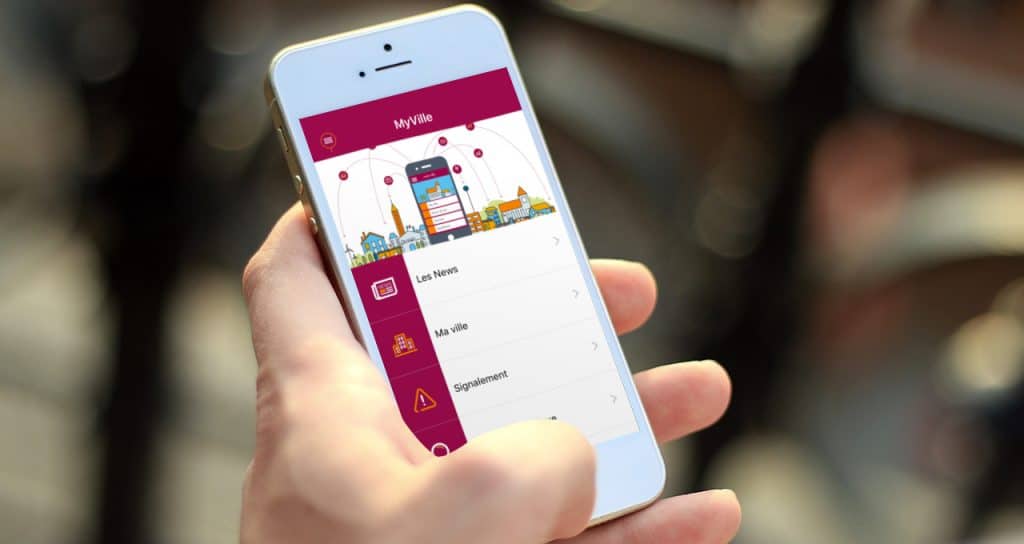 Cities are not companies, but like companies they must provide internal and external communication to keep municipal teams in touch with the everyday lives of their citizens, encourage local business networks, combat desertification of small city centres, improve information and management of municipal data, and facilitate the day-to-day operations of a range of municipal departments.
Digital innovations hold out new opportunities for meeting these challenges, notably via mobile interfaces that support ongoing direct dialogue.
The most recent solution is the Initiative Commune Connectée (ICC – connected municipality initiative) provided by Omexom (VINCI Energies). The interactive tool gives citizens access to regular information about the life of the municipality (cultural events, street construction works, neighbourhood council meetings, etc.) and an opportunity to make comments and report problems (damaged street furniture, problems with city services, etc.).
Ensuring that smart city services benefit everyone
Technical innovation and new services should benefit everyone. In this respect, ICC stands out in the use to which it puts the smart city. It automatically updates dynamic maps, provides links with GIS and CMMS software, provides supervision and dynamic indicator software with real-time information on city energy consumption, etc. We also offer private portals that can be accessed only from city departments, to facilitate communication concerning performance-based contracts.
Push notifications and alerts
The tool is available free of charge on Google Play (Android) and the AppStore (iOS). The user can download and use it to report an incident in two clicks by taking a photo and adding a description if need be. The photo is automatically geolocated by the smartphone and the alert is transmitted to the relevant departments by email or SMS.
Some 20 French municipalities of all sizes including Chartres, Louhans, La Ferté Bernard, Evreux, and the 8th arrondissement in Paris have already adopted ICC.
"A dedicated web interface manages the application and can be used to send push notifications, manage incidents, and update content of the sections. Reports are handled via mapping software. Managers can also create service orders to engage in direct dialogue with our developers," says Omexom Business Unit Manager Christophe Bertrand.
Some 20 municipalities in France, including Chartres, Louhans, La Ferté Bernard, Evreux, and the 8th arrondissement in Paris have already adopted ICC and some 50 others are preparing to follow suit.
18/07/2018