A solution to reduce noise and pollution in ports
Reading time: 4 min
Even when berthed, ships continue using their engines. This generates a certain amount of pollution– but that is set to change thanks to the Onshore Power Supply (OPS) solution. Developed by Actemium, the solution supplies electricity to ships at the dock without producing any CO2 emissions.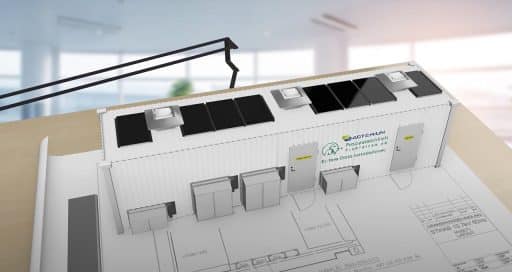 Ships produce a number of emissions, such as sulfur oxide, carbon dioxide, nitrogen oxide and fine particles, that are particularly dangerous for the environment and harmful to our health. According to a study carried out by consultancy organisation CE Delft, if no measures are taken, the maritime industry's emissions could increase by 120% by 2050, representing 10% of global greenhouse gas emissions.
This pollution does not just come from voyages at sea, however – the ships engines are activated 24/7, in the dock and at sea alike. Even when a ship is berthed, power is required for lighting, heating, air conditioning and cooling. Moreover, in addition to releasing harmful emissions, the ships engines also generate noise pollution.
VINCI's brand for industrial processes, Actemium, has worked for around a decade imagining and designing a solution to supply electricity to berthed ships while drastically reducing pollution and noise. That solution, the Onshore Power Supply (OPS), now connects to the ships power supply systems by cable.
"Thanks to this solution, from 2010 to October 2021, we reduced CO2 emissions by some 54 tonnes."
Manufactured at the Actemium workshop in Stora Höga near Gothenburg, Sweden, the system is integrated into a container then shipped to the port, where it is installed and goes into service in just a few days. Another advantage of this equipment is that it can be moved at any time in order to be used in other areas of the port.
Up to 11,000 volts
The moveable unit contains a switchgear, frequency changers and transformers that, thanks to a 10 m high CMS (cable management system), supplies the ship with electricity. "The power outlet alone weights 20 kg. We therefore needed a connectivity system making it as easy to use as possible," explained André Olofsson, OPS Project Manager at Actemium. He added, "Users are using the facility from the ship, with no need for help from anyone on the dock – it's self-service."
A number of technical problems had to be resolved in order to find a solution that fit the bill completely. "The first obstacle was creating equipment that could provide sufficient voltage – up to 11,000 volts – in optimal safety conditions," said André Olofsson. But, by harnessing the latest technologies, Actemium managed to enable high voltage transmission to the ships.
"Another difficulty is that the ships are built in different countries. Some of them have a 50 Hz frequency, while others have 60 Hz. To address that, we designed a solution that could deliver 50 Hz or 60 Hz, using the same equipment. The right frequency can therefore be chosen for each ship," added André Olofsson.
Equipping ports all over the world
Using OPS presents considerable advantages, particularly from an environmental point of view. "This solution enables us to drastically decrease greenhouse gas emissions. In total, from 2010 to October 2021, we reduced CO2 emissions by some 54 tonnes," revealed Frank Berger, Brand Business Development Director at Actemium.
"It also has a significant impact when it comes to minimize the sound disturbances form the ship. These benefits will enable port cities to promote coastal residential developments."
Actemium has already delivered to a number of ports with its OPS system, including Gothenburg in Sweden, Kristiansand Harbour in Norway, and Dunkerque and Brest in France. Franck Berger said, "our facility at the port of Ystad in the south of Sweden was the largest in the world when it started operating in 2012."
As part of the OPS Club, Actemium communicates with its various offices all over the world using this new technology. "We aim to equip as many ports as possible, such as Hamburg in Germany, Rotterdam in the Netherlands, Antwerp in Belgium and Barcelona in Spain. We have also established contact with countries in Eastern Europe, such as Poland, as well as Great Britain and United Arab Emirates."
12/06/2022