Data, the backbone of energy management in buildings
Reading time: 5 min
In order to meet energy performance-related societal and regulatory requirements, players in the property sector are increasingly opting for open data solutions.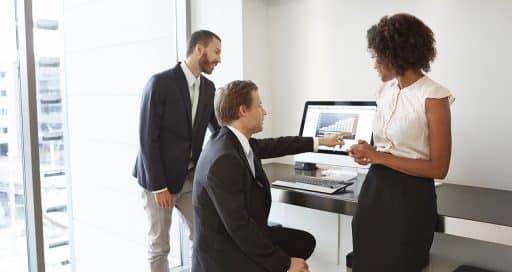 More and more digital systems and equipment – such as computerised maintenance management systems (CMMS), building management systems (BMS), automation systems and connected objects – are being installed in commercial buildings, generating vast quantities of data. These data sets reflect the characteristics of a building, as well as its energy consumption and a wide-range of factors including occupancy. Taken as a whole, they form the backbone of the smart building.
With environmental issues a major focus of attention, energy performance has become an operational and commercial priority in building intelligence. In France, the service sector alone accounts for 17% of national energy consumption, in fourth place behind transportation (32%), residential property (29%) and manufacturing (19%).
Many players in the property sector have now taken up the issue, introducing numerous data-driven innovations. VINCI Energies, which set up the first integrated platform for building energy renovation projects, has made data the centrepiece of its energy performance strategy.
"The flexibility and power of the cloud offer incomparable prospects."
Collecting, interpreting and utilising data requires taking two factors into consideration: the many different sources of data generation and the sometimes staggering volume of information.
"The capacity of the various intelligence components located in and around a building to communicate, understand and interact with each other is a precondition for data utilisation. Fortunately, we are seeing a shift in the 'proprietary' approach long defended by app developers and manufacturers due to the need for system interoperability," explains Stéphane Bretin, Europe maintenance and building solutions services manager at VINCI Energies.
Wave, energy efficiency at the click of a mouse
It was this principle of openness that guided the design of Wave, a dedicated smart-building platform implemented in demonstrator mode at the VINCI Energies regional office in Lille.
With the solution, sources of energy consumption and expenditure (water, gas, electricity), comfort features (temperature, luminosity, blinds, etc.) and various operator services (car-park and meeting room booking, caretaking, etc.) can be managed directly from a web app.
"Wave uses technology components from Microsoft Azure, particularly Time Series Insights for energy management. For developers, the flexibility and power of the cloud offer incomparable prospects in terms of replication of the model. For users, they offer guaranteed ease of use: a single app for everyone," says Frédéric Thouot, manager of the Smart Building Energies business unit.
In fact, Wave is geared towards all building occupants, not just one or two administrators. The platform can be accessed on the web from a computer or smartphone. No password or login is required, all users need to do is identify themselves through a business account.
The primary aim of the solution is to combine IT and automation. Occupants must be able to understand insights and act on them.
They can gain an understanding of these insights thanks to a graph that sums up key data from the last 24 hours, including temperature, setpoints, weather, and history of heating and cooling output – all translated into euros!
And they can then act on them, at the click of a button, by lowering the temperature inside the building or in particular spaces at night, adjusting the tilt and position of blinds as required or turning off the heating or cooling system.
"Initial observations of the platform's use in businesses that have adopted the solution indicate energy savings of around 50%," states Frédéric Thouot.
Archipel building, a temple to BOS
Archipel, the new head office of the VINCI Group in Nanterre, to the west of Paris, provides an illustration of another approach, on another scale. In order to turn data into a secret weapon for driving energy efficiency, Archipel, which is to house some 4,000 employees, will implement a Building Operating System (BOS).
This will connect all business systems at all levels of infrastructure and use.
"The building operating system for Archipel was designed based on flow assumptions of 20 data per second for the biggest building. Around 20,000 measuring points will be deployed. The data generated by 50 or so types of equipment will be sent from the building management system (BMS) monitor to the data base," explains Stéphane Bretin.
On the premises, the operating system will be linked to comfort controllers, the monitor (which uploads all of the equipment and alarm data), the CMMS, the controllers for the detection sensors in the car-park, all the project documentation and BIM operation data.
This "omniscience" enables building operators to organise data as they see fit and to make the right information available to developers of future apps.
20/01/2022