Fire safety standards successfully challenged
Reading time: 4 min
In Belgium, Cegelec Fire Solutions and its partners have performed tests on burning cars that will serve to adapt car park fire regulations and better control costs.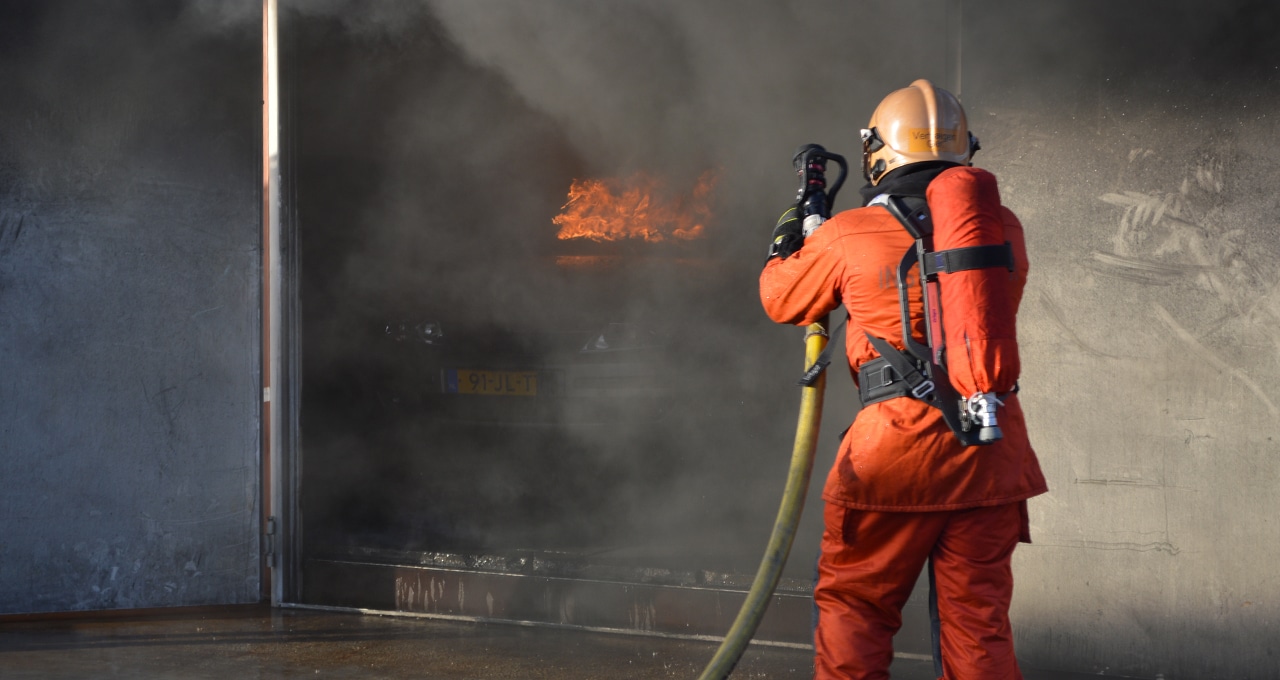 New legal requirements relating to fire safety in underground car parks have been in force in Flanders since 1 January 2018. This much more stringent legislation calls for a wide deployment of sprinklers and ventilation systems to extract smoke and reduce heat, such that the fire services are able to approach the fire.
The new sizing requirements vary according to the surface area to be protected: highly comprehensive, cumbersome measures apply to car parks covering more than 10,000 m², while a streamlined version of the measures applies to those covering more than 2,500 m², which make up the majority of car parks in Belgium.
The cost of these upgrades is potentially very high, since the specifications for the installations – albeit less rigorous for medium-sized car parks – are extremely ambitious. Maybe even over-ambitious, say a number of fire professionals.
To look into the issue, several stakeholders decided to test various solutions so as to propose an adjustment of the standards for the authorities that could reduce the costs of the installations. With this in mind, Cegelec Fire Solutions (VINCI Energies) and engineering consultancy Fire Engineered Solutions Ghent (FESG) from Ghent University designed a specific device.
Research project
Built in the grounds of Campus Vesta, a firefighting training centre, the device consisted of eight 12-m shipping containers, joined up to form a long tunnel. Three cars were parked in the middle of the tunnel, simulating a car park. The idea was to recreate real-world conditions, with enough space and vehicles, in a test environment that would deliver reliable and usable data.
The site was equipped with sprinklers and smoke extraction systems to suppress the fires started in the test car park, along with sensors and infrared cameras.
The purpose of the tests performed in November 2018 on a single burning car was to study the spread of fire to the two other vehicles and the effect of various sprinkler configurations and smoke and heat exhaust ventilation rates. This would then make it possible to determine the right sprinkler density.
The tests showed that too powerful a smoke extraction system could push the heat towards the burning vehicle and that the fire could be controlled at a reduced flow rate in relation to European standards.
"This series of tests will mean that alternative, more appropriately-sized sprinkler installations can be defined, helping to control a fire at a lower cost"
This indicates that the sprinkler system requires less water and, as a result, less expensive pipes with a smaller diameter, and that the sprinkler heads can be directly connected to the water mains, offering increased system reliability.
Theoretical model validated
"This series of tests will mean that alternative, more appropriately-sized sprinkler installations can be defined, helping to control a fire at a lower cost," explains Dominique Goidts, Cegelec Fire Solutions business unit manager. "Using all of the collected data and measurements of heat, flow rate, sprinkler response time and smoke extraction speed, the FESG engineering consultancy created a theoretical IT model which was validated by the firefighters involved in the test," he adds.
The tests were carried out in the presence of Brussels firefighters and public authority representatives, who agreed that the collected data and initial outcomes provided a sound scientific basis for clarifying the regulations.
In a video produced by Cegelec Fire Solutions during the tests, Matthias Van de Veire from the Brussels fire brigade stressed that "this type of test is rarely conducted on such a large scale in Belgium."
Xavier Deckers, from FESG, draws attention to "the good cooperation between Cegelec Fire Solutions, which built the test site and installed the sprinklers and measuring instruments, Ghent University, which validated several theoretical models, FESG, which performed the risk analysis and executed the test, and lastly the working group comprising public authority representatives and the fire brigades that actively participated in the whole test development process."
13/06/2019