Former quarry sites secure their place in the sun
Reading time: 5 min
In order to accelerate the development of solar power in France, the French energy regulator is promoting the rehabilitation of so-called degraded land, in particular quarries whose concessions period is coming to an end or that have been abandoned. Omexom is involved in two such projects in France.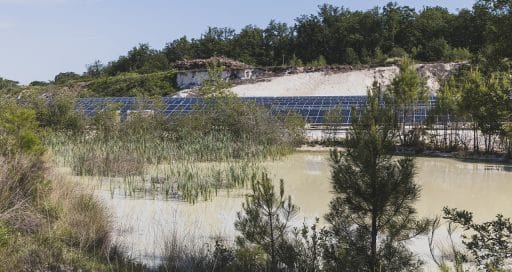 Although solar power still only accounts for a small share in France's renewable energy mix, it is growing rapidly. In 2019, the capacity of solar photovoltaic assets connected to the grid in mainland France grew by 10.4% (or 1,000 MW) to 9.4GW. 
It's a modest figure when compared to the efforts being made in the field by a number of close European neighbours. But now that solar has been identified as a key strand of the energy transition in France's multiannual energy plan, it is set to play an increasingly important part in meeting carbon neutrality goals by 2050. 
However, solar farms have a large footprint, requiring an average of one hectare to generate 1MW of electricity. And land is hard to come by. That's why the French government is promoting the development of solar photovoltaic power plants on so-called degraded land, in other words land that can't be used for agricultural purposes such as former waste management sites, brownfield areas or quarries whose concession period is at an end. 
According to Yves Daguin, manager of the Omexom RE Solar business unit, which builds and operates renewable energy power plants, the guidance is relevant. "Turning former quarry sites into power plants that generate renewable energy is a way of adding value to degraded land by giving it a new 'greener' life. It's a win-win situation for the public, developers and communities."   
"Turning former quarry sites into power plants that generate renewable energy is a way of adding value to degraded land by giving it a new 'greener' life."
Numerous advantages 
Indeed, there are many advantages to installing solar farms in quarries. These sites offer large areas of available land and tend to be well screened – either because they are partially buried or because they're surrounded by woods or forests. This makes them more acceptable to the public, local residents and associations. 
For developers working on former quarries, the advantage is that land ownership is controlled. And for local authorities, which own the land under concession, it is an opportunity to contribute to the energy transition and to generate an additional source of revenue.   
Many degraded sites are unusable, however, due to local biodiversity or because the landowner simply does not want to sell. 
To date, no exhaustive inventory of sites that can actually be converted has been carried out. But such an inventory would be a valuable political tool in establishing proactive national goals for the development of solar power. 
Floating power plant in Provence 
With or without an inventory, however, projects are getting under way. Omexom RE Solar is currently involved in the construction of several solar power plants in former quarries. 
At Paulmy, in the Indre-et-Loire department in western France, the VINCI Energies business unit is building a solar farm on the redeveloped site of a former china clay quarry on behalf of French independent power producer Neoen, a renewable energy specialist. The farm will have a footprint of around 20 hectares and an installed capacity of roughly 12MWp (megawatt-peak).  
At Peyrolles-en-Provence, in the Bouches-du-Rhône department in southern France, Omexom RE Solar has been appointed by Canadian producer Boralex to develop a floating power plant of around 15MWp on a former quarry lake. As well as offering an innovative land redevelopment method, this type of facility brings technical advantages: "The surrounding water cools the panels, delivering greater efficiency than ground-mounted solar panels," says Daguin.  
Incentives 
For constructors, the ground conditions in quarries are complex, with irregularities, hollows and slopes. Extensive civil works are usually required, which can result in substantial additional costs compared with "conventional" ground conditions. 
"To address this, the energy regulator, which oversees tenders, provides an incentive mechanism whereby the score of candidates tendering for degraded-land projects is improved," highlights Daguin. The French agency for the environment and energy management (ADEME) also allocates grants to developers who can demonstrate that they are making rehabilitation sites environmentally secure. 
08/07/2021