Germany edges closer to being self-sufficient in green hydrogen
Reading time: 4 min
A floating photovoltaic system located in a lake in North Rhine-Westphalia is set to generate green electricity and hydrogen. The challenge is to ensure all the system components communicate with each other in real time and maximise self-consumption of the energy generated on site.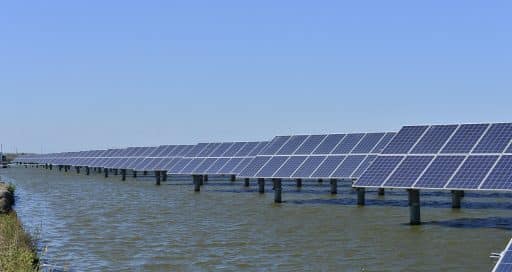 By 2023, Hüdderath gravel pit in North Rhine-Westphalia (western Germany) will house a floating photovoltaic system spanning a surface area of 9 hectares. The project, which is advantageous in that it does not take up valuable agricultural land, is based on a closed system covering aspects from electricity generation to the regional marketing of green hydrogen.
Some of the electricity produced on site will be used to operate the gravel plant, which has set itself the target of achieving carbon neutrality, and some will be converted into green hydrogen by means of electrolysis.
"The project should serve as a benchmark for the whole region and industry"
The energy generated will be stored and made available to other local businesses such as food wholesaler Chefs Culinar which has shown interest in the project with a view to eventually powering its truck fleet using hydrogen.
From design to implementation
Named "WasserstoffImpuls Niederrhein" (WIN), this ambitious programme is being led by three companies from the Bas-Rhin department in eastern France: the Teunesen group, an expert in sand and gravel extraction; Omexom Smart Technologies, a VINCI Energies business unit specialising in complex production and control processes for alternative energies, water, the food industry and bulk products; and Wystrach, a systems supplier for the whole supply chain of electrolysis-based hydrogen.
On this project, which involves a total investment of around €11 million, Omexom is operating as technical integrator for the system. "Not only are we active in the fields of communication, network technology and system control, but we also provide support from design at the early stages of the project through to implementation (advice on system components, choice of suppliers, definition of interfaces with the industrial site, etc.)," explains Thomas Willems, manager at Omexom Smart Technologies in Uedem, Germany.
Wider application of the concept
While the technology has been tried and tested – specifically the interconnection of the photovoltaic systems, electrolysers and storage capacity – the challenge for Omexom and its partners is to maximise self-consumption of the electricity generated on site and the degree of self-sufficiency.
"To achieve this, all of the system components must constantly communicate with each other in real time and must be able to react accordingly to changes, especially those relating to the electricity generated by the PV installation. So the challenge will be to get the best results out of each individual system in accordance with the overall concept," stresses Timon Mund, IoT & Smart Grid project manager at Omexom Smart Technologies.
This innovative process involves a research component, in which scientific partners such as the Duisburg hydrogen and fuel cell centre (Zentrum für BrennstoffzellenTechnik) and Osnabrück University of Applied Sciences are participating.
The ultimate goal is to make the concept available on other sites. "The project should serve as a benchmark for the whole region and industry. With a few adjustments, the system could be applied more widely," points out Thomas Willems. "The renewable energy source does not necessarily need to be a floating photovoltaic system."
"Wind and solar farms for example, which over time will stop receiving subsidies under Germany's renewable energy act (EEG), will need to find solutions if they are to avoid being dismantled," adds the Omexom Smart Technologies manager. Producing green hydrogen could be an advantageous solution for them.
20/01/2022