How can thermal performance be reconciled with high connectivity?
Reading time: 3 min
High-performance thermal insulation can impair connectivity in new commercial buildings. The solution? DAS (Distributed Antenna System).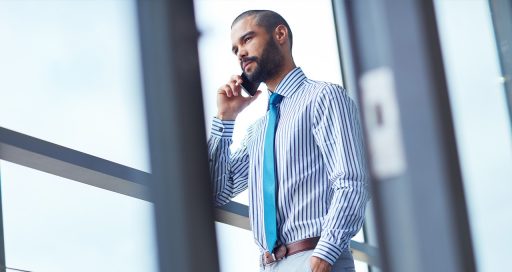 Often, the devil is in the detail. New construction techniques and materials, especially in the sustainable construction sector, have allowed significant environmental progress by providing maximum thermal insulation. But these new environmentally friendly buildings have a limitation: they are so well insulated that it becomes difficult for radio waves to pass through them. This phenomenon is causing connectivity problems for employees and customers working in these "cutting-edge" office buildings.
At least 80% of mobile voice and data traffic originates inside a building, primarily from mobile devices. Otto van den Wijngaard, Manager Business Development & Innovation at Axians, the VINCI Energies ICT brand, explains that "The rollout of 5G is only accelerating the problem, because the technology uses high frequencies that require a stronger signal and are even less able to pass through these new buildings."
"The rollout of 5G is only accelerating the problem"
Dropped connections, being unable to hear someone properly or failing to play a video can be frustrating, but more importantly, can quickly become a competitive disadvantage. Additionally, a weaker connection leads to more frequent charging of mobile devices: smartphones and tablets consume far more battery power when they have to transmit a stronger signal to reach the network.
Reliable mobile connectivity is therefore essential, particularly for business-critical communications and contacting emergency services.
Three-letter solution
There is a solution to this trade-off between ecological progress and connectivity, one that can be summed up in three letters: DAS – an abbreviation of Distributed Antenna System. With this technique, a mobile operator's signal or private mobile network signal can be transferred from the outside to the inside. DAS also increases capacity, so that more users can access the network simultaneously.
There are different types of DAS system: passive (cables and antennas), active (amplifiers and intelligence), and hybrid. As Otto van den Wijngaard says, "The right choice between these different systems depends on the building type, available space, distances, usage patterns and budget. A 25-storey building requires a different solution compared with a smaller building. For example, installing cables for a passive DAS might prove problematic. An active system could be preferable, even though it will be more expensive. A hybrid solution might apply to a complex of buildings that need to be interlinked."
"DASaaS"
Installing a DAS during a building's construction is far less costly than adding it to an existing building. More and more construction firms are therefore thinking about mobile coverage within buildings when designing or renovating them. Now considered a utility alongside water, gas and electricity, connectivity – via DAS in this case – is increasingly being provided on a subscription basis.
Taking all these factors into account, Axians developed a "DAS as a Service" solution. Otto van den Wijngaard explains that "This solution ensures good indoor coverage; offers flexibility in terms of finance, management and maintenance; and is modular enough to adapt to almost every situation, even if we need to connect several buildings or accommodate large numbers of users or devices, while remaining operational in the long term."
14/09/2023