How VINCI Energies is improving access to water in Africa
Reading time: 6 min
As tackling climate change becomes more urgent, high population growth and increasing urbanisation are making the distribution of drinking water a key issue in Africa. VINCI Energies is involved in three projects across the continent.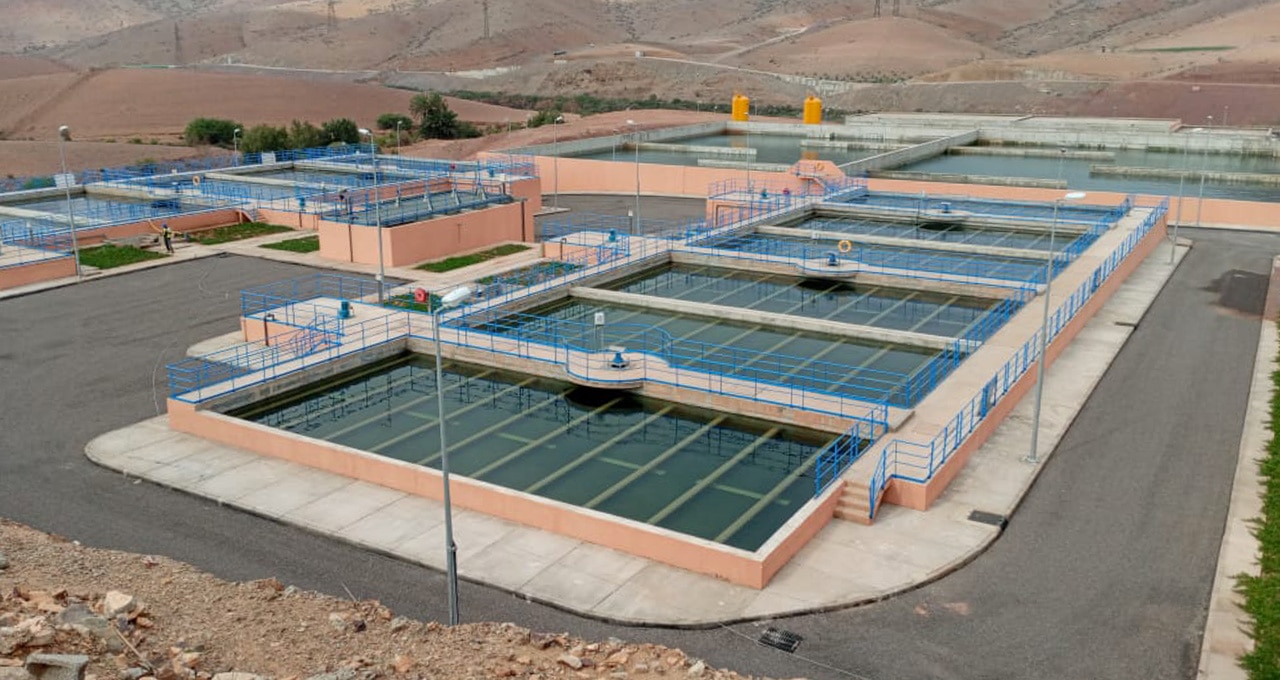 Water is a vital resource that is in demand more than ever before yet still as unevenly distributed. With worldwide demand continuing to rise, UNESCO has alerted the global community to the need to address the challenge of ensuring water access for all: "Over 2 billion people live in countries experiencing high water stress, and about 4 billion people experience severe water scarcity during at least one month of the year." And the situation is exacerbated by the effects of the climate crisis.
Access to drinking water is a particularly sensitive issue in Africa, especially sub-Saharan Africa which is home to nearly half of the population drinking water from unimproved sources, says a 2017 WHO/UNICEF report.
Actemium is working to "develop more productive agriculture" while ensuring "effective and sustainable water resource management."
This has serious health implications, especially when seen in the context of population growth (the African continent will be the main driver of this growth worldwide from 2050) and increased migration from rural areas.
Cities in sub-Saharan Africa, whose population jumps by 24 million people each year, are not equipped to manage such an influx. Rapid urbanisation creates tension over resources and makes it difficult to roll out drinking water supply and wastewater collection networks.
Better distributing water resources in Morocco
Africa as a whole is concerned. In Morocco, for example, water demand is set to rise by 60 to 100% in most big cities by 2050. The country, which faces recurrent droughts, has undertaken various water supply projects aimed at delivering water to the Marrakesh region from the Al Massira dam and supplying drinking water to the cities of Fez and Meknes from the Idriss 1 dam.
Actemium Eau is involved in the works. Azzeddine Oulahrir, the business unit manager, notes that water stress does not affect the whole country in the same way and highlights that, "it's a water resource distribution problem." 
"In some regions in the north of the country, high rainfall exceeds water demands, whereas in other regions, especially in the south, there's a shortage of drinking and agricultural water. The works therefore include delivering water from one region to another," adds Oulahrir.  
Actemium Eau, together with Sogea (VINCI Construction), a leading construction and engineering company in the country, is responsible for building a sludge treatment facility for the Al Massira dam with a flow rate of 3.5m³/s – a target the company is contractually bound to meet – and a pumping station.
Meeting increasing industrial needs
The aim is to meet the increasing demand for water from three regional hubs, Al Haouz, Marrakesh and Rehamna, and to supply industrial water to three mine sites, Ben Guerir, Bouchane and Youssoufia, belonging to the OCP Group, an exporter of phosphate.
The two companies are installing hydraulic mechanical equipment for the two plants, two 25,000-cubic metre storage tanks for desludged water, a return pumping station (5 x 2200kW pump units), low voltage/medium voltage electrical equipment and transformers (2 x 630kW and 3 x 6300kW).
"The Actemium Eau contract doesn't just cover equipment," says Oulahrir, "it also includes studies, the supply and installation of hydraulic mechanical equipment including pumps, engines, taps and mains, along with instrumentation, automation, remote management and commissioning of the pumping station."
Making up the drinking water shortfall in Fez and Meknes
A further project being carried out by Actemium Eau in Morocco involves supplying drinking water to the cities of Fez and Meknes by delivering 2m³/s of water from the Idriss 1 dam. Meknes faces low levels of groundwater due to the city's growing need for drinking water.
"The project will mainly help make up the long-term water shortfall experienced by Fez and Meknes, and contribute towards conserving the Saïss groundwater resources," explains Azzeddine Oulahrir.
Actemium Eau is fitting out three plants that will pump water from the dam to Meknes with hydraulic mechanical and electrical equipment, and automation systems for the three pumping stations and chlorination plant, outlines Oulahrir. He adds that Actemium Eau is involved in various irrigation projects as part of the "Plan Maroc Vert", Morocco's green plan which consists of "developing more productive agriculture," while ensuring "effective and sustainable water resource management."
Abstracting water from La Mé River to supply Abidjan
In Côte d'Ivoire, VINCI Energies Côte d'Ivoire has been appointed by Veolia Water STI to perform the electrical works for the new water treatment plant located 25km to the north-east of Abidjan, whose water is abstracted from the La Mé River. The project is part of a programme to boost the capital's supply of drinking water. The works are being undertaken in cooperation with Actemium Morocco teams, with commissioning scheduled for the end of 2020.
The plant will be capable of producing 259,000 cubic metres per day during peak periods, with an average production capacity of 240,000 cubic metres per day, says Yann Le Corvec from VINCI Energies. The electrical works for the treatment plant include the supply, assembly and commissioning of all the power and signal installations.
The project is an opportunity for Actemium Eau to gain a foothold in Côte d'Ivoire and will enhance the range of services offered by VINCI Energies, which "aims to monitor drinking water treatment projects, like the Bouaké plant, and wastewater treatment schemes," notes Le Corvec. "The needs are huge in Côte d'Ivoire and more broadly throughout West Africa."
19/11/2020