Hydrogen-powered mobility moves into high gear
Reading time: 5 min
Having decided in 2015 to back an integrated approach, the mobility firm Hype has taken a strong lead in the rollout of hydrogen-powered mobility with support from the VINCI Group. The two partners are working together to shape the sector at the national and European levels.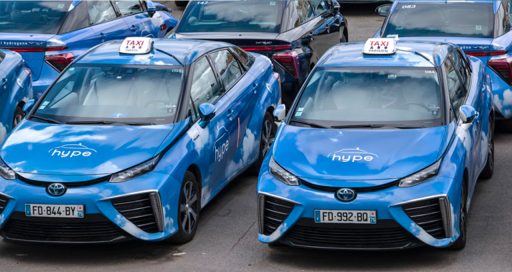 With transport responsible for 25% to 30% of greenhouse gas emissions in France, major investments are being made in decarbonising road use. As the current primary focus for investment in energy transition, the electrification of vehicles using rechargeable batteries is driving numerous industrial developments.
While electric batteries are particularly well suited to certain uses, such as occasional journeys, they are far less appropriate for heavy transport and other intensive or uncertain road uses: goods transport in trucks or light utility vehicles, public transport and fleets of taxis. The potential barriers include the weight and volume of on-board batteries, range, and above all, charging time. Hydrogen, on the other hand, presents solid advantages, especially in terms of range and the simplicity and speed of refuelling.
For heavy goods transport, it remains to be seen how the situation will develop. Supply from truck manufacturers is lacking, the infrastructure is still sparse, and the price of entry remains prohibitively high.
The most immediately accessible entry point to the rollout of hydrogen is through light vehicles, including taxis, last-mile logistics and fleets of service vehicles, not forgetting public services (buses and refuse collection vehicles in particular). Hype, France's first integrated hydrogen mobility platform, has been investing in this market since 2015 in Ile de France, backing a fully integrated solution with an initial fleet of taxis.
"Our plan is to operate this initial market, which is eminently suited to hydrogen, in order to accelerate scaling-up and bring about a rapid, massive transition of on-demand transport and other forms of business mobility toward zero emissions. To achieve this, we need to make progress simultaneously on vehicles, filling stations and uses," explains Mathieu Gardies, Hype's founder and now its CEO and chairman.
26 stations in Île de France by the end of 2025
From five hydrogen-powered taxis in 2015 to 700 in 2023, Hype is clearly signalling its ambitions. The company is receiving backing from VINCI Concessions, which is investing €15 million to support rollout of the model in France and internationally.
Hype plans to set up in a further 15 cities in France and beyond, and recently announced the next seven locations: Le Mans, Bordeaux, Brussels, Barcelona, Madrid, Lisbon and Porto, where it will replicate the model honed over the last seven years in Île de France, rolling out at least 18 filling stations and three electrolysers in these cities by the end of 2025, backed by resources and expertise from VINCI Concessions and VINCI Energies.
"VINCI Energies now has all the skills required to develop an integrated solution."
At the same time, Hype has entrusted VINCI Energies with the construction, between now and the end of 2025, of 26 new distribution stations for locally produced green hydrogen in Île de France, 20 of which will boast capacities of 1 tonne per day. This network is designed to meet the refuelling needs of a 10,000-strong fleet of taxis and other hydrogen uses.
"The Group now has all the skills required to develop an integrated solution. The importance of this project and its unprecedented nature offer us the opportunity to expand and ramp up the Group's hydrogen expertise," says Nicolas Dattez, Hydrogen Development Director at Actemium and head of the hydrogen working group at Leonard, the VINCI Group's future-oriented innovation platform.
For Hype, the partnership approach suits its ambition to be a catalyst for the sector by providing a platform for industry players to test and increase the reliability of their solutions under optimal conditions.
A question of sovereignty
"Even five years ago, with the exceptions of Toyota, Hyundai and a few startups, no one was seriously considering the use of hydrogen for mobility," says Nicolas Dattez. "Now, consensus has emerged on the potential benefits of this solution for decarbonising long-distance goods transport and captive fleets."
"We have entered a fierce race for this technology and for energy sovereignty, and every country is investing massively in this technology. And there will soon be a number of questions to answer. Where will this hydrogen be produced? Will we opt for highly centralised or more decentralised production?"
Given an electric battery market in which China has really stolen a march, hydrogen is an issue of national sovereignty for France, where numerous players are emerging in this innovative field. The national and European structure of the hydrogen sector must allow the manufacturing base to catch up with the battery ecosystem and trigger an optimised approach to developing both solutions simultaneously that would enable France to lead the world in hydrogen solutions.
17/07/2023