Indoor air quality, a health issue for the property sector
Reading time: 7 min
At home and in the workplace, we spend 85% of our lives breathing indoor air that is often vitiated by numerous pollutants. It's a public health issue that the building industry is starting to address.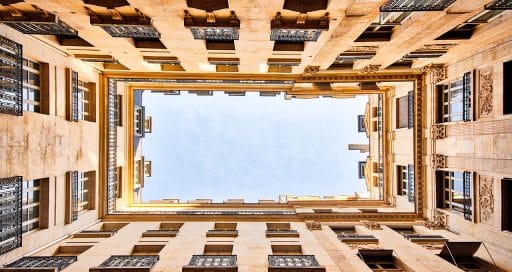 Mandatory in France in nurseries and primary schools since the start of 2018, and in day camps and secondary schools since 1 January 2020, monitoring indoor air quality (IAQ) will be required in all public buildings as of 1 January 2023.
The air we breathe indoors is becoming a real health policy issue. "We spend about 85% of our time inside buildings. This is an unprecedented situation in the history of humankind," says Chloé Voisin Bormuth, director of studies and research at the La Fabrique de la Cité think tank.
Indoor air quality was first monitored in the 1960s. At the time, the health authorities had one single enemy: cigarette smoke. In 1977, a UK study revealed the harmful effects of nitrogen dioxide emissions from gas appliances. In the late 70s and early 80s, analysis shifted towards the detection of radon, which was recognised as carcinogenic in 1987.
When buildings are occupied, indoor air can be 5 to 8 times more polluted than outdoor air
Since then, progress has been made in research, with environmental regulations now focusing on particulate matter, volatile organic compounds (VOCs), radon, asbestos, carbon, lead and ozone. Studies have shown that when buildings are occupied, indoor air can be 5 to 8 times more polluted than outdoor air.
Sick building syndrome
"New building materials and furnishings (floor coverings, adhesives, paint, furniture, etc.) are responsible to a large extent for this indoor pollution, both in residential and commercial buildings," explains Pierre Blanchet, building solutions innovation manager at VINCI Energies.
The health effects of the numerous neurotoxic and carcinogenic pollutants and endocrine disruptors concentrated in commercial buildings are well known today: headaches, rashes, irritation of the eyes, nose and throat, nausea, dizziness, fatigue and difficulty concentrating. These symptoms are part of what is now referred to as "sick building syndrome" (SBS). According to the World Health Organisation (WHO), around one third of the housing stock in industrialised countries could potentially be prone to SBS.
From works phase onwards
Outdoor air pollution, occupant activities, and building management, upkeep and refurbishment are of course key factors when it comes to maintaining good-quality indoor air. But construction professionals have a major role to play in reducing the exposure of future occupants to contaminants. And it starts at the works phase.
Supported by the French Agency for the Environment and Energy Management (ADEME) as part of the CORTEA 2015 programme, the ICHAQAI scientific project, bringing together public health researchers (from the EHESP School of Public Health) and construction professionals, illustrated the impact of the works phase on subsequent air quality.
"Measurements of chemical contaminants, particulate matter and mould taken on new construction worksites revealed that the tasks that produce the most emissions in terms of volatile organic compounds involve the use of what are considered by-products, for example paint and cleaning products which come into play at the end of a project," says Blanchet. Other readings showed that moisture levels shoot up when partitionwork is carried out.
Material drying, preventive ventilation
The priority objective is to contain moisture – especially since concrete is made up of water – thus preventing the development of mould, which is not only a hotbed of irritants and allergens but which also leads to poorer thermal performance, wood warping and the detachment of finishing coats.
Meeting this objective means complying with drying times for building materials like adhesives and using ventilation or even free cooling systems, on a provisional basis, during key construction periods and before the arrival of building occupants.
Constructors are starting to incorporate certain habits into their projects on site. But looking at the issue of indoor air quality in its entirety, there is still a long way to go from a building construction, refurbishment and management perspective.
"IAQ still tends to be forgotten in discussions surrounding public health. It's interesting to note that we use the term 'pollution' for outdoor air – to highlight the issue and mobilise public opinion – and 'quality' for indoor air. It still focuses too much on individual responsibility (good practices). But what about more political issues such as industrial policy, spatial justice and social standards?" points out Chloé Voisin Bormuth at La Fabrique de la Cité.
****
Innovation at all levels
A large number of companies have developed services or techniques aimed at improving indoor air quality.
AirCool (Air Liquide). A turnkey purified air supply service for industrial and commercial property, AirCool connects to new or existing HVAC (heating, ventilation and air conditioning) systems, providing centralised air purification for the whole building on a loop. The model is based on sensors, linked to a cloud interface, which remotely monitor the IAQ of an entire housing stock.
Hygro Healthbox (Renson). The Hygro Healthbox is a single-flow hygro-adjustable controlled mechanical ventilation (CMV) system which adjusts the exhaust airflow in 15 minutes. The airflow calibration technology is not located at the exhaust vent but towards the electronic control valves, which can incorporate a moisture, CO2 and VOC detector, on the central unit.
Label'Onip Clean'R (Onip). Label'Onip Clean'R is a range of depolluting paint designed to clean indoor air by absorbing and destroying molecules of formaldehyde in the air. EU Ecolabel-certified, the paint also includes an antibacterial function in its active ingredient.
ZAACK QAI (ZAACK). The ZAACK QAI solution uses IoT, deep learning and artificial intelligence-powered technologies to monitor air quality continuously and in real time, recommend the implementation of monitoring stations and corrective actions, anticipate deterioration in air quality and advise accordingly on predictive maintenance measures.
GreenFloor (VINCI Energies). The principle of GreenFloor, an active slab developed by VINCI Energies, is to use clean ventilation air to optimise the effects of thermal inertia. Air is used as a transfer medium to deliver heating or cooling to the concrete which acts as a radiant ceiling. While the system is aimed primarily at gaining space by incorporating the ducts and terminals located in the suspended ceilings into the slab, it also seeks to improve energy efficiency and air quality by means of a higher flowrate than the minimal regulatory airflow of 25m3/hour.
12/03/2020