Microgrids pave the way for Quebec's energy transition
Reading time: 5 min
Quebec's first local power grid is now in operation in the small town of Lac-Mégantic. This pilot scheme aimed at decarbonising isolated sites was led by the Canadian federal government and public energy utility with the support of VINCI Energies.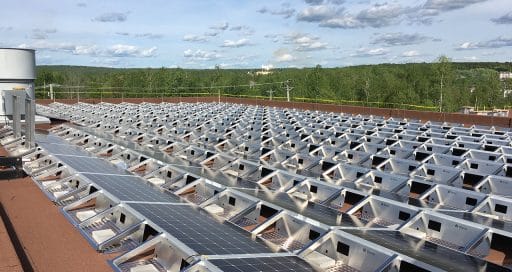 An electric microgrid designed to meet the needs of Lac-Mégantic, a town home to 6,000 people located at the eastern tip of the Estrie administrative region, has been installed – a first in Quebec. The scheme has been up and running since November 2020, and what makes it original, in a country that sees more periods of snow than sunny spells, is that it relies among other things on solar power.
A microgrid is a local, community-centred electricity network that can operate independently (in "islanded" mode) while remaining connected to the public grid and drawing power from it if necessary.
In Lac-Mégantic, just over 1,800 solar panels were mounted on the rooftops of the municipal sports complex and of four other buildings and a multi-purpose structure intended for educational use. In time, the microgrid should include 2,200 panels, delivering a total installed capacity of 800kW. In the summer, during sunny weather, the equipment should be able to supply almost double the amount of electricity used by the neighbourhood it serves.
"Thanks to the expertise acquired in Lac‑Mégantic, the technologies can be transposed to sites that are currently highly dependent on fossil fuels."
The initiative is being jointly carried out by the local municipal team and Hydro-Québec, the public utility responsible for the generation and distribution of electricity in Quebec. By cofinancing this initial microgrid in Lac-Mégantic (with a total budget of $10.2 million), the Canadian federal authorities plan to make it a symbolic part of Quebec's energy transition plan.
Disaster at the origin of the project
The fact that Lac-Mégantic made this choice is no coincidence. On 6 July 2013, its downtown area was destroyed in one of North America's worst rail disasters. That day, a train loaded with hydrocarbons derailed, killing 47 people and razing around 40 buildings in the explosion.
The town wanted to rebuild itself sustainably, breaking free from the fossil fuels that caused the disaster and turning instead to green energy sources. Environmental conversation initiatives have been under way in the municipality for several years, including the introduction of three-way waste collection in 1997, the opening of the International Dark Sky Reserve in 2007 and the promotion of active transportation in 2016.
Furthermore, Lac-Mégantic is a well-known tourist site in Quebec, reason enough for Hydro-Québec and the government to launch a pilot project there. "Lac-Mégantic serves as a technology showcase which will help us decarbonise the 22 remote, off-grid systems that Hydro-Québec owns elsewhere in Quebec," said Canada's Minister of Energy and National Resources, Jonatan Julien.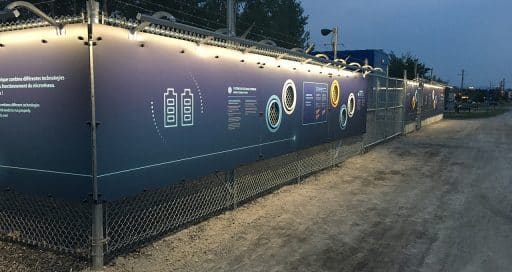 Community of practitioners
"Thanks to the expertise acquired in Lac‑Mégantic, the microgrid technologies can be transposed to sites that are currently highly dependent on fossil fuels. The users and owners of the buildings will act as a community of practitioners, getting to grips with the technologies, discussing the issues involved in applying them and deciding on the best behaviours to adopt in terms of energy consumption," confirms Anne Sabatié, vice-president of renewable energies and special projects at Transelec Common Inc.
Leading provider of energy and telecoms infrastructure services in Quebec, this VINCI Energies subsidiary was selected by Hydro-Québec to manage the project.
"It's a major job, which we carried out in partnership with Stace for the solar panels and CIMA+ for the engineering. In total, around 50 people worked on the project over a two-year period, plus another 20 or so on site," explains Sabatié.
In addition to the Stace solar modules, the grid comprises batteries with a capacity of 700kW developed by EVLO, the Hydro-Québec subsidiary specialising in energy storage.
When the supply of electricity from the microgrid exceeds neighbourhood demand, surplus power will be stored in these batteries. It can then either be used during cloudy periods and after sunset or fed back into Hydro‑Québec's main grid. Energy consumption in buildings and electricity generation will be managed by a centralised control system which also ensures the transition between connected mode and islanded mode.
18/02/2022