Modelling sustainable mobility at neighbourhood level
Reading time: 5 min
A development scheme in the Les Lumières Pleyel district in Saint-Denis in Greater Paris is serving as a testing ground for the "lab recherche environnement", as part of a partnership with the "Rêve de scènes urbaines" (RSU) industrial demonstration project for the sustainable city. The aim is to measure the environmental impact of daily mobility through an engineering tool – lifecycle assessment.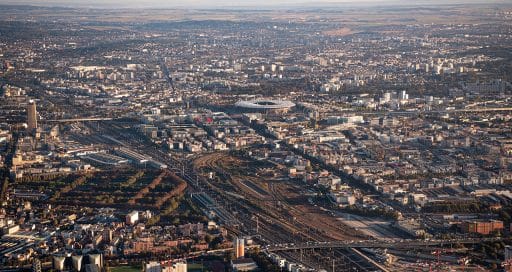 With its cranes, concrete mixers and drills, the Les Lumières Pleyel district in Saint-Denis is undergoing a major transformation. This gigantic project lies at the future intersection of metro lines 14, 15 and 16, part of the Grand Paris scheme, and the site of the Olympic village for the 2024 Paris Games. But that's not all that's under way.  
Since September 2019, the district has served as a laboratory for a scientific research project. The "lab recherche environnement", a science sponsorship partnership between VINCI and ParisTech, aims to create tools for designing sustainable neighbourhoods, focusing particularly on mobility.  
"The Lab has spent 10 years working on eco-friendly building design. Drawing on these positive experiences, we decided to create new tools, this time applied to mobility," says Cyrille François, a researcher and lecturer at the Ecole des Ponts ParisTech business school and the "lab recherche environnement".  
Beyond CO2 
Lifecycle assessment (LCA) plays a key role in the process. The tool is used to list and quantify, throughout the lifecycle of a product, the physical flows of materials and energy – raw material extraction, distribution, use, collection and disposal – so as to assess potential impacts on the environment2. 
"The first thing we noted is that lifecycle assessment shouldn't be limited to CO2 emissions from exhaust gas. While personal cars still account for 80% of impacts in CO2 equivalent3 at neighbourhood level, there are other sources of pollution," points out François. 
Additional factors need to be taken into consideration before and after travel, such as transporting fuel, securing farmland to produce biofuel and manufacturing electric batteries. "Now add to that digital services, with all that entails like automated systems and data transfer."  
Disparity in mobility habits 
In 2024, some 1,111 residents and 8,000 office employees are expected to be in the Les Lumières Pleyel neighbourhood. "The challenge for us is to analyse both the statistical transport information and social mobility practices of a population that doesn't yet exist!" notes the researcher and lecturer. 
What method has been used to do this? The first step involved studying the socio-economic profiles of the people who will live and work in the neighbourhood so as to form an estimation of their habits. Next, researchers broke down their mobility practices by group, distinguishing residents from employees. The environmental impact of their travel was then calculated, factoring in cars, public transport and infrastructure. 
"The impact per person should be 1.1kg CO2-eq per day for a resident and 1.6kg for an employee. Residents will tend to make more use of non-motorised transport options for short distances, and employees will take public transport for long distances," explains François. This means the neighbourhood's carbon footprint is estimated at 14.1 t CO2-eq per working day. 
"Building awareness about carpooling among employees or encouraging them to use public transport would lower greenhouse gas emissions by 7%." 
Predicting uncertainties  
Thanks to these tools, it's possible to assess the relevance of development choices and come up with environmental solutions suited to local characteristics. "Building awareness about carpooling among employees or encouraging them to use public transport with season tickets would lower greenhouse gas emissions by 7%." 
But the assessment would be incomplete if it failed to inform decision makers about the uncertainties of some outcomes. "For example, we don't know at this point how habits like cycling or battery recycling are set to evolve."   
As a result, the approach is now being refined by MATSim (Multi-Agent Transport Simulation Toolkit), an agent-based modelling system which characterises the journeys made by individuals, or agents, by looking at a typical profile and at forecasting models for transport demand. "These new tools will enable us to deliver tailored outcomes by creating scenarios adapted to each area with more accuracy," concludes François. 
08/07/2021