Revival of river and sea transport offers guarantee of sustainable mobility
Reading time: 5 min
The modernisation of locks in the Centre-Bourgogne canal system, an initiative managed by Voies Navigables de France (VNF), the French navigation authority, with the support of VINCI Energies, is helping to rebalance modes of transport towards low-carbon options. This example demonstrates the resurgence of waterborne transport, a development that makes sense in the context of the energy transition.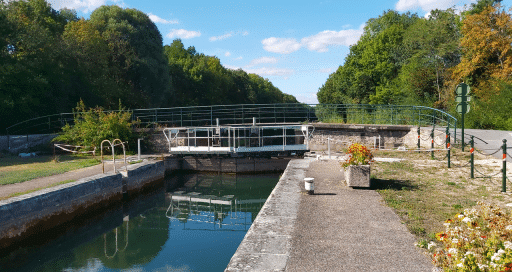 The Canal du Nivernais, Canal du Centre and Canal de Roanne à Digoin are just some of the many navigable waterways in France's Centre-Bourgogne canal system that have embarked on a process of upgrading their facilities in order to reclaim their place in the transport infrastructure network.
Rivers became somewhat overshadowed by roads in the 1970s, the era of the truck. Today, with sustainable development a key concern, this low-carbon form of transport is becoming attractive once again. 
River transport emits four times less CO2 by quantity transported than roads.
The Loi d'orientation des mobilités (LOM), a framework law on mobility adopted in 2019, provides for an increase in funding by the Agence de financement des infrastructures de transport de France (the French transport infrastructure financing agency) for waterway regeneration and modernisation, including the automation and remote control of facilities.
With this in mind, VNF decided to address the problems caused by infrastructure obsolescence in the Centre-Bourgogne and Rhône Saône canal systems by working with VINCI Energies business unit Enfrasys.
In 2019, in the vicinity of Dijon, Enfrasys, which specialises in operating and performing safety works on transport infrastructure (roads, tunnels, public transport, inland waterways), was given the responsibility of modernising various automation and supervision systems that are used to operate locks and dams.
These dams offer two benefits: they play a part in the management of drinking water for surrounding communities and provide locks with the water supply they need in order to operate.
Automated locks
"As well as replacing various automation systems that, due to their age, no longer have spare parts available in the event of failure, Enfrasys also handled the refurbishment of the instrumentation and control cabinets, replacement of instrumentation chains and supervision of all of the components," says Corentin Lemée, project manager.
The upgrade project was extended in 2020 after a 4-year framework agreement was signed, covering the automation of the canal system's locks and valves in the Burgundy area.
"During these four years," explains Lemée, "Enfrasys will undertake the concept design prior to automation then supply the switchboards and electric actuators, fit the locks out with the equipment, and finally perform testing and commissioning."   
The benefits of the upgrade for VNF are twofold: it will make manoeuvres less difficult for personnel, and homogenise equipment and processes for the company. "What's more, solutions have so far been selected on a canal by canal basis, whereas now this regional approach will help standardise maintenance strategies," adds Lemée. 
Increase in funding
The inland waterway system upgrade under way in Burgundy reflects government efforts to start making up the delay that France has been accumulating for decades, as shown in the 2018 report by the "Conseil d'orientation des infrastructures" (COI) infrastructure advisory board, which describes France's river network as the poor relation of transport modes.
On submitting his report, Philippe Duron stated that "waterways have been neglected for too long", claiming that there was an urgent need to refurbish degraded and damaged structures.
In the period up to 2028, the COI estimates government annual funding needs at €180 million to regenerate infrastructure and at €330 million to modernise operation methods, including the automation of lock management. France's national assembly began to address this need by voting in 2019 in favour of an increase in funding.
Shift from road to river
The projected revival of river transport makes environmental sense in a country like France which has the largest network of navigable waterways in Europe.
As highlighted by VNF, the infrastructure has enormous potential. Indeed, when it comes to freight transport, we can expect to see "a shift from roads to rivers," given that water-based solutions emit four times less CO2 by quantity transported than road-based ones. Furthermore, the prospect of operating inland waterways is highly promising for communities in terms of regional development and expansion of tourism. 
Lastly, stresses VNF, with the green transition and global warming in mind, it is appropriate to invest in canals and rivers since "waterways represent the country's biggest water supply and an essential resource in terms of biodiversity."
17/05/2021