"Secured Digital Grid" demonstrator from SDEL Contrôle Commande provides example of how to ensure energy infrastructure security
Reading time: 3 min
"Secured Digital Grid", a demonstrator developed by SDEL Contrôle Commande, showcases the company's ability to secure transformer substations and prevents blackouts. The project was developed in collaboration with Axians.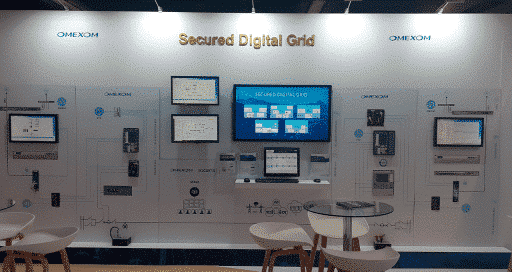 In 2017, Nantes-based company SDEL Contrôle Commande (SDEL CC) started designing a demonstrator. This Omexom (VINCI Energies) business unit, which specialises in instrumentation and control systems for electrical substations and automation systems, wants to promote its expertise in the digitalisation of transformer substations.
"The demonstrator was presented at trade fairs in 2018 and 2019," says Laurent Chilaud, development and engineering manager at SDEL CC. "Following discussions with Axians [the VINCI Energies ICT brand], with whom we work for a common client in the defence sector in Brest, we quickly decided to develop the scheme further. The idea was to secure substations, avoid blackouts and thus demonstrate, by relying on IT, our complementary skills in OT [operational technology] networks and cybersecurity."
SDEL CC presented the second version of its demonstrator, with the support of Axians Saint-Brieuc‒Brest and Nantes, at the 2021 and 2022 CIGRE technical exhibitions. The project takes the form of two large panels representing two transformer substations equipped with real devices linked to a telecontrol centre.
"The demonstrator was designed around 5 key areas: substation interoperability based on the IEC 61850 protocol, monitoring (human-machine interface) through the SCADA Zenon solution, electrical fault location, management of OT-generated network data, and lastly cybersecurity," explains Laurent Chilaud.
"The idea of the SDEL CC demonstrator is to showcase our ability to ensure substation security, to prevent blackouts and to prove the complementary skills of Omexom and Axians."
Axians' expertise in the last two areas in particular has been invaluable. "We took care of the industrial communication network," states Jérôme Seyler, project manager at Axians Communication Saint-Brieuc–Brest. "Our prior knowledge of the demanding characteristics of the protocols for this type of electricity network was very useful."
Innovative solutions
Working together with Axians meant that innovative solutions could be incorporated, such as MPLS (Multiprotocol Label Switching) networks whose modularity offers a great deal of flexibility in terms of networked data transfer, a connection between the control centre and the electrical substations, firewalls and network switches, which include an intrusion detection feature in addition to a secure site-to-site network with more traditional VPNs, and the deployment of high-availability PRP (Parallel Redundancy Protocol) and HSR (High-availability Seamless Redundancy) networks.
"As far as this last point is concerned, failure is a critical issue. Whereas recovery takes place within an average of 200ms for a conventional office network, it must happen in less than 3ms for an electrical substation," says Jérôme Seyler.
SDEL CC and Axians are already looking into developing the demonstrator further. "We need to adapt it to the latest technological advances and to the new challenges these will entail for electrical substations," states Laurent Chilaud.
12/01/2023