Sion, first solar-powered city car
Reading time: 3 min
The product of research carried out by Munich start-up SonoMotors, this electric car could be mass-produced as soon as 2018. A technological feat for sure, but groundbreaking in other ways too.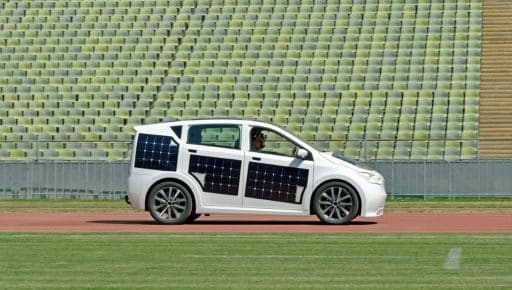 It's the first electric city car that can be charged by the sun. Sion, a technological masterpiece on four wheels, is the result of four years of research and prototyping conducted in the garage of German start-up SonoMotors, based in Munich. The fundamental technology isn't new: every three years, solar racing cars compete in the World Solar Challenge, an event in which Axians (VINCI Energies) is due to take part in October 2017. But it's the first time that a model running on solar power has been offered for city use as an everyday car.
7.5 m2 of PV cells
Capable of reaching a speed of 140 km/h – over 120 km – Sion can generate 30 km of range every day through exposure to at least 5 hours of sunlight, even if it's cloudy. Furthermore, the solar energy stored by Sion is sufficient to power all the connected devices in the car's interior (radio, dashboard, devices connected to USB port, lighting).
Sion's high solar-recharging capacity relies on 7.5 m2 of photovoltaic (PV) cells directly integrated into its bodywork. The car can also be recharged in a more "conventional" way. Either in rapid mode, via charging points that are compatible with other electric vehicles, achieving a charge of 80% in just 30 minutes or of 50% in 15 minutes, or in slow mode, by connecting the car to a household power outlet for 8 hours.
Electrified vehicles (electric cars and plug-in hybrids) could account for up to 30% of the European automotive market
SonoMotors engineers have planned new innovations that involve lining the interior with a thin layer of Iceland moss (a type of lichen) which regulates humidity levels and filters out fine particles while reducing outside noise.
Crowdfunding
It's not just Sion's technology that is innovative but also its financing. SonoMotors has chosen to promote its model on the international crowdfunding platform Indiegogo. The campaign has helped the start-up to raise €200,000 and further develop its prototype.
Participants who contribute at least €100 have the option to test drive the car then pre-order a model. This pre-sale strategy should mean that the vehicle can be produced on a large scale, a step which is scheduled for 2018. Sion will then be offered at entry-level for €12,000 (120 km of range with a 14.4 kWh battery) or as a premium model for €16,000 (250 km of range with a 30 kWh battery).
According to IFP Énergies nouvelles, electrified vehicles (electric cars and plug-in hybrids) could account for up to 30% of the European automotive market in the most optimistic scenario, and for 20% in the most realistic scenario (10% for plug-in hybrids and 10% for electric cars).
The electric car market may well be on the rise (up 28% in France in 2016 according to Avem), but its growth is still restricted by three main factors: high prices, poor vehicle range, and battery charging time. By offering good value for money, Sion could help to remove all of these obstacles.
17/10/2017