The last mile: precision engineering
Reading time: 4 min
Distribution is the final link in the medicine and vaccine chain. Business intelligence and always-on systems are key to ultra-refined logistics. A look at the case of Axians, which manages information systems for Phoenix, one of Europe's largest pharmaceutical distributors.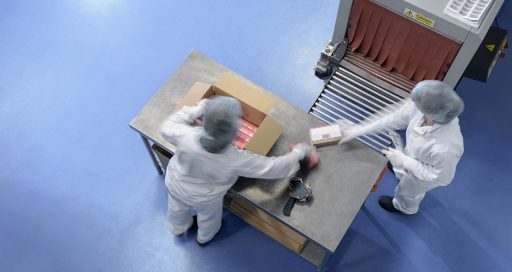 Phoenix Group is Germany's largest distributor of prescription and over-the-counter medicines to pharmacies, doctors and healthcare facilities. Its mission: to distribute hundreds of millions of healthcare products every year.
"We must be able to adapt to the different infrastructure operations requirements in different countries"
Established in 27 European countries with 161 distribution centres, the group also holds a monopoly for the provision of medicines in Scandinavia. In addition Phoenix runs about 2700 own pharmacies. Its strategic position at the end of the pharmaceutical sector's distribution chain is crucial: the slightest failure on the group's part could threaten the entire healthcare system. 
An IT system with no margin for error
At the core of this well-oiled machine, the IT system is a key component. Having worked with Phoenix Group in Germany for more than 15 years, the VINCI Energies ICT brand Axians signed a contract in autumn 2015 to operate the distributor's IBM Power server infrastructure.
"The customer's most important applications and processes, such as the SAP architecture, run on this IBM Power infrastructure," says Jacques Diaz, CEO of Axians Germany, "And we manage this not only in Germany, but across all their markets."
In particular, Axians ensures that the IBM Power server platforms work with the Unix and Linux operating systems. "We also manage the whole IBM backup environment: everything under what used to be known as 'Tivoli Storage Manager', since renamed 'Spectrum Project' [IBM's storage management application]," explains Zoran Olujic, Deputy BU Manager Managed & Cloud Services Factory at Axians Germany.
The company, specialised in ICT services and solutions, is also responsible for all the Windows and Linux systems operating on an Intel x86 (CPU architecture) server base.
"The applications running on these systems are extremely diverse. There are at least twenty different business intelligence technologies used mainly by retail customers or logistics companies like Phoenix. This is extremely important for making quick decisions on medicine orders," says Zoran Olujic.
Axians therefore has an obligation to ensure that these systems can be used 24 hours a day, seven days a week, 365 days a year. "This allows Phoenix continuous access to their performance indicators, for example by displaying statistics and estimated stock levels."
Continuously trialling new innovations
As part of the ongoing campaign to vaccinate against Covid-19 in Europe, pharmaceutical companies, distribution centres and pharmacies, some of which are equipped with clean rooms and intensive refrigeration systems, are on the front line preparing the new vaccines ready to be used in vaccination centres.
Phoenix's information services are essential to this arrangement, ensuring that the ordering and distribution systems of pharmacies perform well. "Our task is to keep the IT environment operational. With the backup infrastructure, for example, we're always introducing technical innovations and optimisation options. We extensively test innovations from our IT supplier partners and implement them if they are useful for Phoenix," says Jacques Diaz.
Axians also provides consulting services to users at Phoenix to enable them to access data and information more quickly.
To mitigate any server failure, the consequences of which could be dramatic for the healthcare systems of the countries concerned, Axians has technicians on duty at all times, including weekends.
"Another challenge is the threat from cybercriminals. We must be able to adapt to the different infrastructure operations requirements in different countries. For example, if Norway imposes specific rules on how to perform a backup to avoid attacks occurring as a result, we have to implement them," says Zoran Olujic, who has also the expertise of his colleagues at Axians IT Security to draw upon. This is an important issue for Axians, which counts Phoenix as one of its largest customers.  
11/03/2021