Three European cities reinvent urban logistics by promoting river freight
Reading time: 6 min
In order to reduce traffic congestion and the resulting polluting emissions in city centres, some cities are looking to combine inland waterway freight transport with urban distribution using clean vehicles. This article focuses on examples in Strasbourg, Brussels and Amsterdam.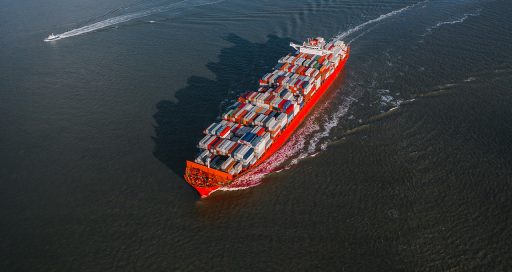 Transporting goods by inland waterway offers significant economic advantages, including a much higher load capacity than other modes of freight, delivery reliability, the option to store large quantities of goods, and a low accident rate.
But the most convincing argument put forward by proponents is undoubtedly the environmental impact.
The CO2 emissions generated by waterway logistics are five times lower than those of road transport by tonne transported, and noise pollution is low. The system also eases road traffic congestion, with one 4,400-tonne pushed convoy replacing 220 20-tonne trucks.
"The CO2 emissions generated by waterway logistics are five times lower than those of road transport."
As a result of this dual economic-environmental advantage, waterborne transport could well drive rapid change in the urban logistics sector.
Indeed, several cities have rolled out programmes combining river freight and last-mile delivery using clean transport modes, particularly cargo bikes (electrically assisted bikes with trailers). 
The aim is to relieve carbon-heavy congestion on suburban access roads and in city centres. Strasbourg, Brussels and Amsterdam are cases in point.
Strasbourg opts for barge-bike combination
In the autumn of 2019, a call for projects for waterway logistics was issued by "Voies navigables de France" (the French navigation authority), the city of Strasbourg and Eurométropole de Strasbourg (Greater Strasbourg). The purpose was to reduce CO2 emissions from road transport, city-centre congestion and noise pollution. A river platform with a loading/unloading quay, previously limited to worksite operations and now open to urban logistics projects, has been used to transport goods to the city centre by waterway since May 2018. The quay measures 48m in length and has a 450m² storage area. 
Winner of the call for projects, the company Urban Logistic Solutions (ULS) has started operating a daily shuttle from the "Port Autonome de Strasbourg" and neighbouring municipalities to the platform, followed by delivery to the city centre using low-polluting methods of transport such as cargo bikes. Up to 122 tonnes of goods can be delivered by barge in a single daily shuttle service. 
The project is aimed primarily at beverage transportation for cafes, hotels and restaurants and, to a lesser degree, parcel deliveries for consumers. However, in November 2020, 6 tonnes of paving stones were delivered first by barge from the Port du Rhin neighbourhood in Strasbourg then by cargo bike, for the final metres, to the worksite of a former tobacco factory. With a loaded pallet at the back of their bike, each delivery person can complete 33 round trips in just over 2 hours.  
Brussels develops two urban trans-shipment centres
Being the only access route to the Belgian capital free from congestion and, better still, having the potential – without additional refurbishment – to accommodate double its current volume of traffic, the 14.4km of waterways crossing the Brussels-Capital Region are a major focus of attention and effort for the Port of Brussels. 
The waterway operator is encouraging businesses to take up this mode of transport to deliver or receive their goods, arguing in favour of its environmental benefits. This shift in transport modes, whether it involves switching from road to waterborne transport or combining the two, makes it possible to significantly reduce CO2 emissions. For example, the 7.3 million tonnes of goods transported by waterway to the Port of Brussels in 2018 relieved the Belgian capital and its surrounding areas of 680,000 trucks, generating savings of 106,000 tonnes of CO2. 
A strategic freight transport plan developed by the Brussels-Capital Region was implemented back in 2013 to promote more sustainable transport.
In line with the plan, two urban trans-shipment centres have been developed along the canal by the Port of Brussels. Goods arriving by waterway can be unloaded there, repackaged if necessary, then transported to their final destination using another mode of transport (a last-mile solution).
Amsterdam builds logistics hub 
Larendael Investments, a company founded by two Dutch entrepreneurs keen to restore the city's 17th century commercial practices, plans to boost freight transport using Amsterdam's canals from 2022 as part of a circular zero-carbon urban logistics initiative that includes last-mile delivery.   
This ambitious project is based on the construction (currently under way) of a multipurpose logistics hub with more than 125,000 square metres of storage area and offices, built entirely from sustainable materials.
Located in a port area near the city on the edge of the North Sea Canal on land granted on a concession basis by the Port, the Logistic Cityhub can be accessed by waterway in less than 7 minutes from the city centre.
All of the facilities will be designed to facilitate bulk goods transport. Larendael Investments intends to lease around 30 warehouses, separate from the hub. Dutch e-commerce businesses like CoolBlue and Bol.com could feature among the first interested, along with brewing company Heineken, which supplies all the city's bars. Indeed, Heineken already has a history of using boats for its deliveries in central Amsterdam.
As of 2030, trucks and diesel vehicles will no longer be permitted in the Dutch capital.
14/01/2021