Virtually transporting expertise: an innovative and responsible approach to on-site operations
Reading time: 5 min
Omexom teams have successfully tested a remote commissioning method on hydroelectric power stations in the Democratic Republic of Congo in what has been an exceptional technological and human adventure.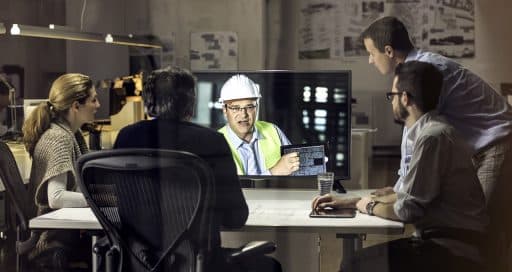 What is the best way to link technical services requiring a high level of expertise and remote job sites? This is a question that Omexom (VINCI Energies) engineers sought to answer in 2016 when working on major hydroelectric dam refurbishment projects. "We looked into the possibility of commissioning complex systems remotely by 'teleporting' our expertise from an offshore base to onshore job sites," explains Didier Desreux, Omexom project manager.
This method helps meet real challenges for the business unit, which works on remote facilities like the Mwadingusha power plant in the Lubumbashi region in the Democratic Republic of Congo (DRC). The plant is particularly difficult to access; it takes 26 hours for experts to get there from Paris, not including preparation time and administrative procedures which can go on for months!
"The best experts can be virtually transported on site in no time, to wherever a physical assignment requires a specialist who is both willing and available."
Reducing the carbon impact
For Omexom, providing specialist services remotely serves several objectives. First, it reduces the carbon impact of air travel undertaken for short assignments by experts and commissioning teams. Second, it drastically cuts the amount of time spent on numerous preparatory administrative formalities (visas, authorisations, etc.).
Third, it optimises costs incurred as a result of service time, travel and project risks. And lastly, it means that the best experts, wherever they are in the world, can be called on to solve a problem experienced in the field.
In order to meet all of these objectives, the business unit has developed methods to "teleport" the required expertise to the field. "We want to get everyone working together at the same time – including the supplier's technical teams (fire protection system, main transformers), our integration and commissioning teams, and a local team – using mobile, video and audio communication tools (like Teams). It's unprecedented for phases as sensitive as these!" points out Didier.
Implementation of this innovative system was precipitated by the Covid crisis. In 2020, the Mwadingusha power plant refurbishment project was affected by the pandemic as engineers from Siemens, one of Omexom's subcontractors, fell ill and flights from Croatia were cancelled for engineers from Končar, another partner of the VINCI Energies expert brand.
"Failing to launch the site's refurbishment would have led to 200 people being laid off in DRC and would have put our client in a precarious financial situation. In agreement with our partners and client, whom we had to convince about continuing to bear responsibility, we decided to test virtual working methods with complex commissioning assignments," says Didier.
Quality, team building and CSR
The focus was initially on commissioning fire detection and protection systems, then transformers. The experience proved highly successful. "The plant currently generates 72MW of clean, reliable electricity. Not only did we avoid shutting the plant refurbishment project down for several months, we also significantly reduced job time and saved 9 tonnes of carbon equivalent – the amount 360 trees absorb in a year", highlights the project manager.
The positive effects of the approach have more than exceeded expectations, driving an improvement in the quality and responsiveness of operations. "The best expert or indeed experts can be virtually transported on site in no time, to wherever a physical assignment requires a specialist who is both willing and available," states Christophe Colnot, Omexom business unit manager.
Greater involvement from local staff also reinforces the CSR (corporate social responsibility) approach. "We train personnel onshore and, in doing so, we ramp up their skills and employability," explains Fahima Chalal, Omexom project manager. Finally, the solution makes it possible for teams based in sites far apart from each other (in this case France, Croatia and DRC) to work together, resulting in an unexpected team building effect. Omexom plans to keep using the method and deploy it on sites other than the Mwadingusha plant and outside of Covid-related situations. The scope could soon even be extended beyond commissioning jobs to plant inspections and worksite issue resolution. It's a substantial change that must involve all internal stakeholders as well as the client and subcontractors. In the light of this initial experience, the solution is certain to meet with everyone's full satisfaction.
18/07/2022