Agrivoltaics – a new place for renewable energies
Reading time: 4 min
Installing solar panels in fields and vineyards or on stable roofs contributes to energy transition. And to farming performance. This is the subject of an experiment being conducted in a village in southwestern France with the help of Omexom.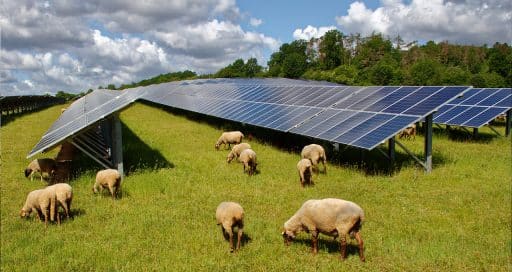 Are the old quarrels between farmers and the proponents of renewable energies a thing of the past? Certainly, increasing numbers of arable farmers, wine growers and livestock breeders are installing solar panels on their land. According to the French Environment and Energy Management Agency (ADEME), at least 13% of the solar energy generated in France comes from rural areas.
Currently, solar capacity in France is half in the form of solar panels installed on roofs, and half on the ground, mostly on so-called derelict sites – former quarries, industrial brownfield land, etc. – which exist in limited quantities.
For solar developers, the search for available land is becoming difficult, especially now that the public authorities have set ambitious targets for the sector. The multi-year energy plan (PPE) requires solar energy capacity to reach between 35 GW and 44 GW by 2028, which means installing an additional 3,000 MW per year. At the rate of 1 MW per hectare, this equates to finding 160,000 hectares in eight years.
Making agricultural land available would therefore seem to be one of the most promising avenues for expanding the sector. So much so, that a new concept has emerged: agrivoltaics. Some experts suggest that using just 1% of arable land in Europe would allow the installation of an additional 700 GW.
In the long term, renewable energies promise to reconcile the worlds of agriculture and sustainable energy.
Risk of misuse
This approach continues to attract criticism, with some agricultural organisations concerned about the potential misuse of these operations. There is indeed a risk of farmers yielding too quickly to lobbying by companies and accepting projects that do not really meet their needs.
For Yves Daguin, CEO of Omexom RE Solar (VINCI Energies), two types of approach should be considered. "The first approach boils down to a basically financial calculation, which involves valuing an area for development as a solar farm. The second, 'smarter' solution, also aims to improve agricultural performance."
Experiments carried out predominantly in wine-growing environments have shown a doubly beneficial synergy from solar energy: for the energy producer that can expand its installations and for the farmer who sees the quality yield of his vines increase. As Yves Daguin explains, "By using optimisation algorithms to direct the positioning of raised panels, we can for example protect vine stocks from the vagaries of the weather and regulate temperatures to promote growth and prevent overheating. These projects are still at the experimental stage, but the momentum is there."
30,000 panels and… 160 sheep
To take an example from southwestern France, in Bioule, a rural community of 1,150 inhabitants in Tarn-et-Gironde, Omexom RE Solar installed more than 30,000 solar panels over 17 hectares, with the eventual aim of supplying 13.45 MW of power.
This particularly environmentally friendly project includes four wetland areas in which a protected species had been identified during preliminary studies, and a pond habitat for amphibians. A young farmer from Bioule allocated the site for grazing a flock of 160 sheep. The local council provided a sheep pen and hangar, built in situ and 90% financed by Neoen, the company leading the project.
In 30 years, demographic growth will require global agriculture to meet a demand for food twice as high as at the turn of the 20th and 21st centuries. At the same time, gross electricity consumption is set to double between 2020 and 2050. In the long term therefore, the development of renewable energies, including solar, promises to reconcile the worlds of agriculture and sustainable energy.
16/06/2022