Axians designs kit for RTE towers to help accelerate 5G rollout
Reading time: 3 min
In order to meet a specific need expressed by its client RTE, Axians has come up with an antenna installation system that can be easily mounted on transmission towers.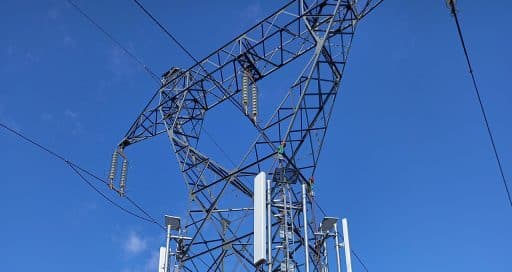 Arteria, a subsidiary of French electricity transmission system operator RTE, works to optimise the use of excess fibre-optic capacity and tower-based high points. Among other things, it offers equipment housing solutions that use information and communication technology.
With respect to transmission towers, Arteria wanted to find a solution that would enable these metal structures to support the increased weight of telecoms operators' 5G antenna systems and that would resolve the technical problem of the towers' steep sides being poorly suited to achieving the correct antenna orientation.  
Extended 5G kit, a standardised system
Axians, the VINCI Energies ICT brand, which already works with Arteria installing antennas on top of RTE towers, started looking into the issue midway through 2019.
"Driven by a strong sense of competition between our project, design and engineering managers, our design office very quickly devised and developed a tailored installation system that factors in engineer safety thanks to a kind of stop device. This cantilevered panel prevents engineers from reaching the area where they would be at risk of electric shock from the high voltage power lines," explains Anne-Laure Noël, manager of the Axians Pylônes Services France business unit.
Named "extended 5G kit", this standardised system, which accommodates 5G antennas on towers, has been on the market since 2020. It houses operator equipment with a footprint of up to 2.6m2 and a weight of 200kg per sector, each kit comprising two tubes (two potential sectors).  
"The 5G kit enables network operators to quickly extend 5G coverage using RTE towers without disconnecting the power lines."  
"We are the only ones to offer this type of end-to-end solution. We also have the necessary radio capabilities to connect and test the operability of the system," says Noël, who has a 6-person site installation team.
Multiple network support
The advantage of the system is that it can be installed without disconnecting the power lines. "In fact, we've met two needs: RTE wanted to minimise disruption to its power lines and network operators wanted to quickly extend their 5G coverage," highlights Noël.
By the spring of 2021, Axians had already mounted 35 extended 5G kits throughout France at a cost of €5,000 to €10,000 per unit. "The potential is there to install 60 to 80 kits per year," states Noël, adding that the company also delivers maintenance services for the systems.  
"Since the structure is made from galvanised steel, it shouldn't move for a few decades though," she points out.
But her team is already looking to the future. "We've designed a new system that supports several operators via the same tower, while avoiding intermodulation [which creates interference and distortion]," says Noël. It involves installing several tubes side by side to form a crown within the tower structure.
14/10/2021