Blue Wave, first diesel-electric propulsion trawler in France
Reading time: 3 min
Already installed on some cruise ships, diesel-electric propulsion is now starting to be seen in trawlers. A ship-owner from Guilvinec in Brittany in north-western France is involved in one such project, assisted by Barillec Marine Lorient, a VINCI Energies subsidiary.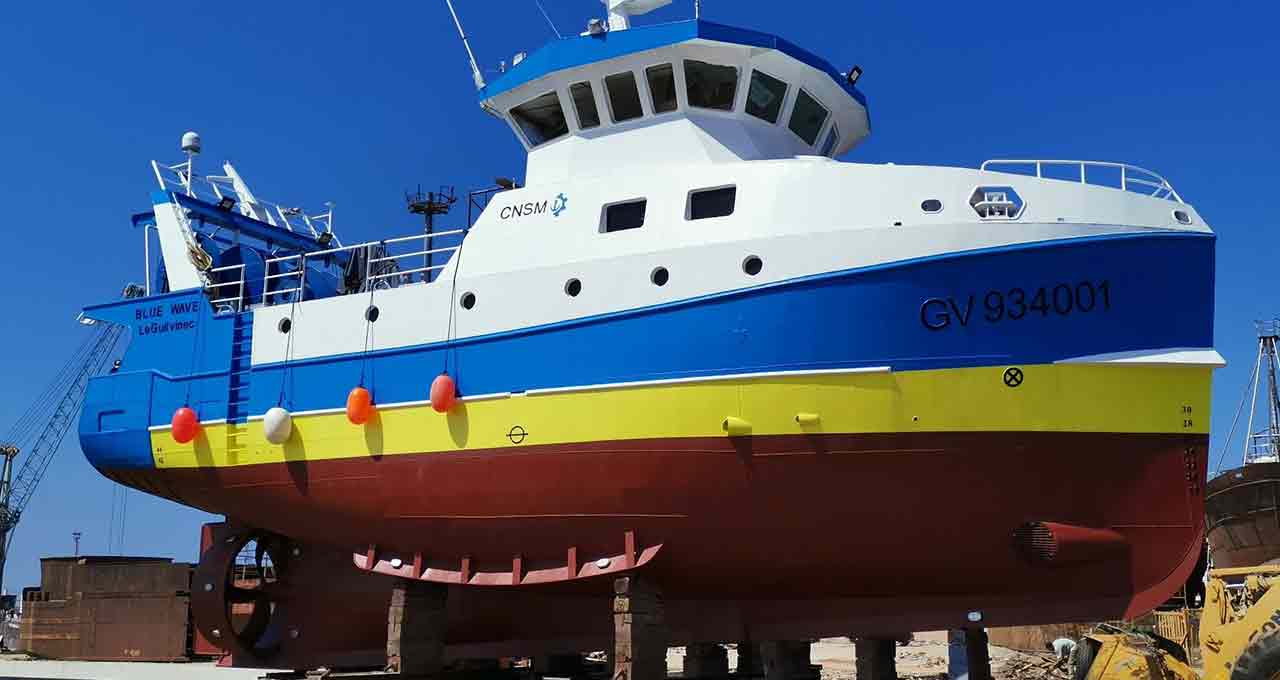 Blue Wave, a 22m deep-sea trawler, left its home port of Guilvinec and put out to sea for the first time in October 2021. It's not a fishing boat like any other, however, it's the first in France to run on a diesel-electric propulsion system. Keen to promote a more responsible fishing method that emits less CO2, owner Jean Baptiste Goulard was inspired by a Dutch boat.
Electric and hybrid propulsion systems already exist on some boats, but artisanal fishing boat-owners are yet to be won over. "The project was a technical challenge, including for energy and electric propulsion experts in the maritime sector. A trawler is a bit like a tractor, it needs to have an enormous amount of power to be able to tow very heavy trawl nets at a low speed," explains Olivier Moriceau, project manager at Barillec Marine Lorient, the VINCI Energies business unit that designed, produced and installed Blue Wave's electric propulsion system.
More energy efficient and more comfortable
Specialising in electric and hybrid propulsion systems, as well as in energy management, generation and storage for ship-owners and shipyards, the company based in Concarneau and Lorient, Brittany, worked together with Jean Baptiste Goulard and his architecture firm to design a bespoke system. The Blue Wave electric propulsion package comprises a 500kW permanent magnet synchronous motor with a speed of 175rpm, a variable speed drive enclosure for the motor and a liquid cooling kit for the whole unit. The system is powered by two 400V-600kVA and 350kVA diesel generators.
"Diesel-electric propulsion is the first step towards the adoption of greener energy sources"
"Having several generators on board means that you can adjust the number of diesel engines you turn on based on the load. With low load requirements, you run a single generator. That's how you use less energy and reduce your CO2 emissions," points out Olivier Moriceau. Indeed, for this particular project, the diesel-electric drive results in a 20% reduction in fuel consumption.
Less energy-intensive, it also makes for a more comfortable sea experience. For crewmembers, the choice of an electric motor means much less noise and vibration. Plus, the distribution of the machines on board is much more flexible, freeing up work space.
So why not make the switch to a fully electric drive? "That would require large battery packs, something that is not easily compatible with the amount of space required for fish storage on a trawler. So we're not there yet. But we'll get there. Diesel-electric propulsion is the first step towards the adoption of greener energy sources like hydrogen," states Olivier Moriceau.
18/03/2022