Businesses can ensure energy sovereignty by generating their own electricity
Reading time: 9 min
Faced with soaring energy costs, businesses and local authorities that have opted for the self-consumption model are faring better than others. This article looks at a few examples in France.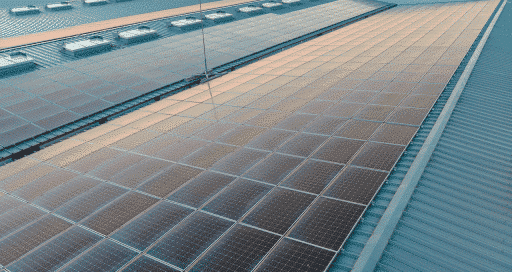 Businesses and local authorities are on the frontline of the energy crisis, and feeling the full force of the sharp rise in their gas and electricity bills. The Duralex case, which has been widely covered in the French media, has become a symbol of businesses affected by the explosion in energy costs. The French glassmaker, whose energy bill jumped from €2 million in 2021 to €13 million in 2022, was forced to furlough its employees at the beginning of September 2022 and to halt production this winter.
In July, the French government had to make financial help available to energy-intensive businesses for gas and electricity, and the scheme has been extended until the end of the year. On 20 September, it stated that some 300 French businesses were likely to run into difficulties by the end of 2022 due to rising energy costs. Local authorities, too, have sounded the alarm. Since the outbreak of war in Ukraine, there is an urgent need to pursue measures that will support greater energy performance.
Three-quarters of businesses have no specific plan for reducing their energy consumption.
However, according to the latest "Grande consultation des entrepreneurs" survey published in September by OpinionWay for CCI France, La Tribune and LCI, almost three-quarters (74%) of businesses have no specific plan for reducing their energy consumption. This is not the case for VINCI, which on 22 September 2022 announced a sustainable consumption plan covering all of its operations in France.
Limited uptake so far
Other businesses have played the card of self-consumption. Ultimately, isn't generating your own electricity the best solution to ensure energy sovereignty? This proactive approach has had limited uptake so far. According to the latest available figures presented in 2020 in a Ceren report for the French agency for ecological transition ADEME and French utility EDF, self-consumption in manufacturing accounted for 4% of electricity consumption in the sector in 2016, equivalent to 5TWh, with 55% of the electricity being consumed on site and the rest sold on.
However, the promising initiatives of the few trailblazers that have embarked on this path bode well for the future of self-consumption. Biocoop is among these trailblazers. Back in 2015, this distributor of organic products installed 2,000m2 of solar panels on the roof of its logistics platform in Melesse (in the Ille-et-Vilaine department in north-western France). At the time, it was the largest solar PV power plant used for self-consumption in France. The facility produces around 15% of the total electricity consumed by the site's 9,400m2 of warehouses.
The value of the system is all the more significant since the seasonal nature of rooftop production suits the platform's consumption pattern: "In summer, peak production times coincide with peak consumption times since the cooling units run at full capacity during those months," says Biocoop.
An increasing number of initiatives
Today, the largest solar plant in France to operate a self-consumption model is in Corrèze, in the south-west of the country. Belonging to fruit cooperative Cooplim, the facility generates 25% of the electricity of the buildings on which 10, 000m2 of solar PV panels are installed. The scheme can produce 1, 572MWh of electricity, equivalent to the consumption of 300 homes.
This output, however, is fairly modest in relation to projects developed outside France such as the solar park at Spanish tourist complex PortAventura World, located in the province of Tarragona in eastern Spain, which is set to generate 10GWh of solar power. Currently under construction, the 6.4-hectare facility will house more than 11,000 photovoltaic modules.
The company Bio Planète is another example of a pioneer in France. In 2016, when expanding its production site, Europe's leading organic oil mill, based in Bram in the Aude department in south-western France, built an 80kW solar PV installation that meets at least 20% of the annual electricity consumption of its press machines, which run continuously.
Marceau Amalric, an SME specialising in mechanical engineering in the Tarn department, again in south-western France, also branched out into self-consumption in 2018 by installing solar panels. The manufacturer currently meets more than 40% of its electricity needs. In doing so, it saves 25% of grid-supplied energy and as much on its bill.
Some large-scale projects
On a larger scale, the Decathlon group has been focusing for some years on installing solar plants on its own sites. Ten stores are now equipped with solar carports or roof-mounted solar panels, for instance in Vélizy, Passy and Avignon.
The retailer has commissioned two solar systems, one to be used for self-consumption, on the rooftop of its Mountain Store in Passy, in the Haute-Savoie department, at the foot of Mont Blanc. With an output of 200kWp and an annual production of 236MWh, the self-consumption system avoids the emission of 21 tonnes of CO2 per year by the store.
Managed, serviced and maintained as part of a 20-year concession by Helexia, a Voltalia subsidiary, the installation did not require any upfront investment from Decathlon whose property asset will see an increase in value. At the end of the lease, when the plant is handed over, the group will be able to directly operate a green energy production unit which will be virtually free for the store. The group has set itself the objective of fitting out 80 sites in France by 2026.
VINCI Energies, too, has been using roof-mounted installations to implement its self-consumption approach. As part of a drive to accelerate its sustainable consumption strategy across its property assets, the company has started installing rooftop panels on its buildings through a special purpose vehicle named ELIOVE. "It's a unique approach in more ways than one," says Aymeric Tissandier, director at VINCI Facilities.
SNCF's big ambition
Like Decathlon, Boiron will eventually be able to recover the solar plant that it intends to inaugurate in the spring of 2024 with a view to operating it itself or concluding a new contract with an operator.
The world leader in homeopathic medicines launched the construction of a 2.4MW solar carport at its head office in Messimy, to the south-west of Lyon. This renewable energy-based self-consumption project is the third largest self-consumption facility in France and will supply 13% of the site's annual electricity use.
With the €2.7 million investment cost borne by renewable energy producer CVE, the laboratory "secures a source of renewable energy while at the same time freeing itself from volatile energy prices at a time of climate, geopolitical and economic crisis," claimed Pierre de Froidefond, co-chairman of CVE, on 5 August 2022 in Les Echos newspaper.
However, the most ambitious project is undoubtedly that of the SNCF group. As part of its sustainable consumption policy and in parallel with its digital transformation campaign, the railway company, which is the biggest industrial consumer of electricity in France – using around 9 billion kilowatt-hours per year – decided to look into ways to generate energy itself.
SNCF has a key asset: its considerable land and rooftop footprint.
The group has undertaken, through its entity SNCF Immobilier, to list and define areas with a minimum surface area of two hectares that could be eligible for the deployment of self-consumption solar projects. The rooftops of the key existing buildings alone represent a potential of 16 hectares. Gares & Connexions, the SNCF Réseau subsidiary responsible for managing passenger stations, aims to install 1.1 million square metres of solar panels by 2030.
---
France's largest collective self-consumption project
Inaugurated on 10 November 2021, the first plant of the SerenyCalas scheme supplies local green energy to France's biggest collective self-consumption community. Installed on the rooftops of the Petit Lac school in the municipality of Cabriès-Calas (in the Bouches-du-Rhône department in southern France), the installation, which generates 282MWh of electricity per year, meets all of the school's energy needs and shares any excess with local residents.
More than around 100 homes and connection points across a 2km-area will be able to benefit from this energy community which is led by the company SerenySun Energies. This collective self-consumption model enables tenants or people who do not have the means to invest in solar PV to take advantage of local green energy.
The overall scheme will comprise four production sites, including two schools, a private multi-purpose hall and municipal sports facilities. Some 4, 000m2 of solar PV panels will produce almost 1, 000MWh of solar power per year, avoiding the emission of 222 tonnes of CO2.
12/01/2023