Cameroon's capital city adopts microgrid system thanks to Omexom
Reading time: 5 min
Yaoundé is implementing an integrated distributed power generation, storage and management system in order to ensure a secure energy supply for its street lighting assets, a project with multiple implications for the 2.7 million residents and businesses of the African city.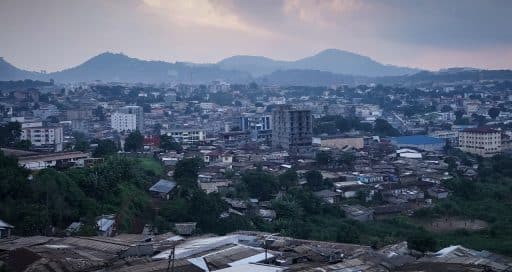 In February 2019, technical managers working for the city of Yaoundé and experts from Omexom Cameroun and the Omexom brand laid the foundations for an ambitious energy performance project covering the whole of Cameroon's capital. The selected solution is original in that it includes an urban microgrid and an intelligent management system, which will initially be rolled out as part of a pilot scheme using a demonstrator currently under construction. 
Local elected officials are keen to ensure a secure energy supply for the street lighting system of this 2.7 million-strong city which experiences frequent power outages when demand for electricity is high between 6 and 8pm. 
"Securing the power supply meets three priorities for city councillors: public comfort and safety, the functioning and development of business activities, and city safety and attractiveness," says Arnaud Allix, manager of the Omexom Cameroun business unit. But there's also a fourth, environmental objective: limiting the use of emergency diesel generators to power community buildings and street lights during power cuts. 
"The project meets three priorities: public comfort and safety, the functioning and development of business activities, and city attractiveness" 
To finance the project, Omexom and the city of Yaoundé are relying on the Fonds d'études et d'aide au secteur privé (FASEP), a fund for private-sector aid and research set up by the French government, specifically the Directorate General of the Treasury, which provides a grant of €500,000. Omexom is also contributing €140,000 to the funding. 
Devised, built and managed by a team of French partners comprising start-ups and industrial and academic SMEs, the scheme is built around three main areas: generation and storage, energy efficiency, and monitoring. 
Powering all lights for 30 minutes 
So how will the scheme work? Photovoltaic panels (30kWp) will be installed as part of a solar carport in the Yaoundé city hall car park and connected to an energy management system which, every evening during the peak period, will decide in real time whether to direct the energy generated to street lighting fixtures or to the city hall building, depending on supplies.   
The central battery will be capable of powering all the lighting fixtures and buildings for 30 minutes (or half of them for one hour). 
Some 400 energy-guzzling sodium lamps will be replaced with LED luminaires in the city hall area, a quarter of which will be equipped with LoRa Technology-enabled IoT sensors to transmit remote monitoring data from street light cabinets as well as traffic data. 
Furthermore, a monitoring system on the city hall premises will deliver an operational view of all the installed facilities and manage energy consumption and production. 
"The combination and interaction of these three functional building blocks is a first in Cameroon and probably also in Africa," notes Laurence Vaux, VP for business development in the Africa department at VINCI Energies Oil & Gas. "What makes the project innovative is the involvement of multiple areas of expertise in the early stages. In order to develop optimal demonstrator solutions, Omexom put together a team of complementary VINCI Energies business units: Omexom Cameroun, Omexom Paris Ingénierie and Actemium Paris Transport." 
Reducing maintenance expenditure by 83% 
The project benefits have been precisely calculated. Local consumption of electricity withdrawn from the grid will decrease by 31%. The LEDs should generate energy savings of 72% and reduce maintenance costs by 83%. And 17% of the city hall building's energy consumption will be covered by self-sufficiency. 
"Of course, municipal competencies will need to be enhanced through a training programme for technicians and managers so as to ensure ownership of the project and prepare in the best possible way for scaling up the pilot scheme to the whole city," explains Arnaud Allix. 
Indeed, this concept of replication underpins the project. "The city currently has the resources to reproduce the pilot scheme across the entire urban area as part of a multi-annual project, with a 6-year return on investment. This will be possible without the need to secure a loan from a funder or bank, since the energy and maintenance savings generated will quickly pay for the investment in infrastructure and unlock an increasing amount of investment capacity throughout the contract," argues Laurence Vaux. 
The final configuration provides for sizing based on 10,000 LED luminaires, 10,000 remote management nodes, 1MWp of photovoltaic installations and 3.5MWh of storage spread over 10 or so urban sites; as well as for the strengthening and extension of the LoRa network to the whole city with around 10 radio antennas; and reconfiguration of the CMMS, remote management and monitoring systems. The project is worth a total of €30 million over 6 years. 
08/07/2021