GoodLeaf Farms boosts the productivity of its vertical farms
Reading time: 3 min
With preparations for the launch of two new vertical farms well underway, the Canadian company is using Actemium's in-house software METRIX to manage the project more efficiently.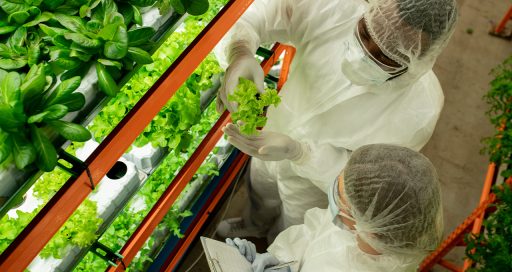 The Canadian company GoodLeaf Farms is setting an example of how farming can be part of the climate change solution. With one farm in Guelph in Ontario and another one in Bible Hill in Nova Scotia, this vertical farming company ticks all the boxes when it comes to responsible vegetable production. 
For instance, it recycles almost all the water used on its farms and therefore consumes only 18 litres of water per kilogram of lettuce produced (traditional farms use 275 litres). It optimises its land use and ensures all its growing medium is reused in landscaping. What's more, its carbon footprint is half that of a traditional farm, primarily because it produces food closer to the point of consumption. 
"Our METRIX solution serves as a one-stop shop for all of GoodLeaf's needs." 
Spurred on by its success, the company has decided to open two new farms – one in Calgary in Alberta and one in Longueuil in Quebec. "GoodLeaf Farms first asked Actemium Canada for help with putting in place its manufacturing execution system and automating its two new sites," explains Connie Jones, General Manager at Actemium Toronto Services. 
"We've since helped GoodLeaf Farms' engineering team with overall project management, technical support, product safety assessments, dangerous gas monitoring and, lastly, the creation of an asset care programme," she adds. 
A one-stop shop 
For technical design, overall project management and site construction purposes, VINCI Energies' industrial engineering brand uses in-house project management software called METRIX. According to Connie Jones, "the software includes project dashboards that give the client real-time insights into the schedule, budget, hours spent, actions that need to be taken, changes made, risks and safety. Our solution serves as a one-stop shop for all of GoodLeaf's needs, with coordinated services and an account management system that does not require a multi-supplier strategy." 
Actemium became engaged In the project in November 2022, construction of the buildings had started.  Production is due to start in autumn 2023. "The Actemium services and solutions that we benefit from afford our customers more opportunities to enjoy our hyper-local, nutrient-dense and ultra-fresh greens," says Jerry Dover, VP Engineering and Automation at GoodLeaf Farms. 
14/09/2023