Helping small municipalities to waste less energy with their street lighting
Reading time: 5 min
The company Fournié Grospaud Synerys has developed an ad hoc, open, scalable and cost-effective solution to help elected officials of small towns remotely control electricity consumption according to their needs.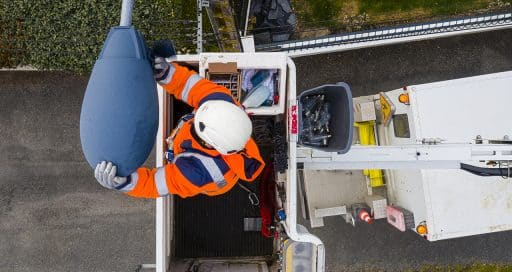 In France, street lighting accounts for 41% of the electricity consumption of local and regional authorities, 16% of their consumption across all energy sources and 37% of their electricity bill, says ADEME (the French Agency for Ecological Transition).
Controlling street lighting is therefore a key way of reducing consumption. Local communities have several levers they can pull to improve the energy performance of their lighting systems. They can upgrade or replace luminaires that are either obsolete (almost 40% of fixtures in operation are over 20 years old) or consume too much energy (such as globes and mercury vapour lamps).
At the same time, they can choose to systematically control lighting use. Remote management systems enable municipalities to adapt lighting services to the actual requirements of local residents, whether these are comfort or safety-related. Fournié Grospaud Synerys, part of the Omexom (VINCI Energies) brand, has recently developed a simple and ergonomic solution called Luxiome which manages lamp on/off switching, thus limiting energy waste and reducing light pollution.
Mobile web interface
"Luxiome can be used to autonomously configure street lighting on an individual or centralised basis without using a third-party company," says Charlotte Viard, project manager at Fournié Grospaud Synerys. She explains: "We install an automatic controller in the form of a small box in the power cabinets to which the street lamps are connected. All elected officials or operators need to do is programme and manage individual lighting options using a secure web interface hosted in France that can be accessed from a computer or smartphone." 
The VINCI Energies business unit wanted primarily to address the needs of small and medium-sized municipalities by developing a technically straightforward, cost-effective, easy-to-use and scalable solution.
"There is no lack of services on the market, but they don't always fully correspond to realities in small communities. Many solutions are proprietary, which compromises the prospects for interoperability with other software programmes and thus reduces the scalability potential of the systems in place. As a result, we opted for a non-proprietary, open, scalable system that is interoperable with all computerised maintenance management systems and that can interface with all hypervisors," adds Benoît Pueyo, head of Fournié Grospaud Synerys.
"Luxiome can be used to autonomously configure street lighting on an individual or centralised basis without using a third-party company."
Alerts signalling excessive energy consumption
The controller allows operators to create weekly scenarios for turning lighting on and off across an overall zone and to programme night-time shutdowns. Fournié Grospaud Synerys opted for a management system that works at the level of a row of street lamps. Other remote management services offer the possibility of controlling individual light points, however this level of accuracy is more expensive and doesn't really meet the requirements of small and medium-sized communities.
With Luxiome, elected officials can switch "strategic" groups of street lighting cabinets on and off in the event of exceptional occurrences (bad weather, festivities, etc.) or order lighting for their municipality in an emergency. Accurately monitoring electricity consumption means that switch-on times can be optimised.
Furthermore, the mayor or operator is informed in real time of episodes of excessive consumption (caused by illegal connections, overloads, cabinet intrusion, etc.). The remote scheduling system is simple and easy to update which helps to limit maintenance rounds and ensure a certain performance level over time.
The long term
Since global performance-based public procurement contracts (referred to in France as "marchés publics globaux de performance" or MPGP), usually cover 5 or 10 years, Fournié Grospaud Synerys offers 10-year subscription contracts with the intention of forging a longer-term partnership.
"The Luxiome service is based on a smart card that is electrically powered by cabinets. So there is no battery and it has a very long life span. Because the solution is scalable, the idea is to install support services over the long term, beyond a decade. With this in mind, we decided to focus on 4G rather than LoRa technology which may not be widely deployed in 10 years," says Benoît Pueyo.
Offered to catalogues and on the advice of Citeos (VINCI Energies) business units as part of their partnerships and market development initiatives with French municipalities, Luxiome has already been adopted by several towns like Châtelaillon-Plage (in the Charente-Maritime department in south-western France), where 53 cabinets have been fitted with automatic controllers.
08/09/2022