Increased agility for industry with generative design
Reading time: 5 min
Combining human expertise, AI and the power of cloud computing, this design method developed from machine learning is a great opportunity for industry.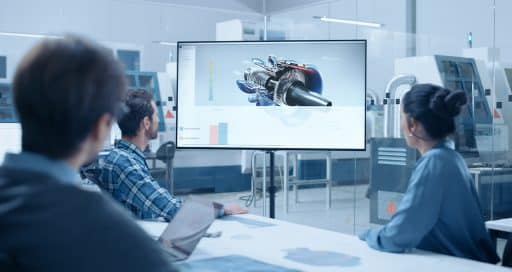 Until now, an engineer or designer would use a computer as a passive tool. But a new design method known as generative design is revolutionising the relationship between human and machine. Generative design is a collaborative development process that links the designer with artificial intelligence (AI) and the power of cloud computing.  
With this new method, having defined their goals, constraints and parameters, for example via a CAD system, the project designer is no longer limited to a handful of possible solutions, but potentially has access to hundreds, if not thousands. 
The idea is to proceed in an iterative way, evaluating different possibilities so that human expertise and the powerful statistical analysis capabilities of AI can together identify the most appropriate and effective solution ready for manufacture. The designer can then create a prototype and if they wish, resubmit the chosen option through the AI filter. 
Multiple advantages 
As a method, Generative design offers a number of advantages. It saves time and money, stimulates creativity, and permits the creation of complex geometries. 
When these geometries cannot be manufactured with traditional methods, it may be possible using additive manufacturing or 3D printing techniques. This innovative solution makes it possible to design stronger, more effective objects more profitably. 
Applications for generative design are expanding throughout the manufacturing sector. For example, this new approach enabled Airbus to create 45% lighter solid bulkheads for the passenger compartments in its aircraft. Similarly, Decathlon has prototyped the racing bike of the future, featuring a fork optimised for weight and strength.  
Origins in machine learning 
Generative design emerged from machine learning, or automatic learning. Actemium, the VINCI Energies brand specialised in industrial processes, already boasts considerable expertise in the machine learning field. In Belgium, its Food & Beverage division has a particularly strong data analytics team. 
"Generative design is applicable to the Food & Beverage industry. Opportunities should present themselves in due course." 
"Our team consists of seven people, each of whom brings their own skills: ICT, data visualisation, AI, big data, machine learning, deep learning, programmable logic controllers, lean production, process improvement, consulting, sales, and so on," explains Jeroen Pandelaere, consultant at Actemium Food & Beverage Aalter. "Generative design is applicable to our area of activity (animal feed, food and drink). Opportunities should present themselves in due course." 
While awaiting opportunities to make use of truly generative design, Actemium Food & Beverage Aalter is developing numerous solutions based on automatic learning. From order prediction for better production and logistics planning to text and number recognition, anomaly detection, quality improvement and optimised machine startup prediction, there is no shortage of applications.  
Digital twins and virtual sensors 
For example, says Jeroen Pandelaere, "One of our customers wanted to install an additional heat exchanger to recycle heat from different sources. Following studies using a digital twin, we proposed a more effective and energy-efficient solution that ultimately only required the installation of an extra heat sensor." 
But Actemium Food & Beverage Aalter went further, analysing the different heat sources to select only those that would provide the most recyclable heat. The customer particularly appreciated this approach given that each connection to the heat exchanger costs around €50,000. 
Jeroen Pandelaere continues, "The next step will be to design a model to simulate the reservoir volume, in order to define which sources should be activated or deactivated to avoid exceeding the reservoir's total capacity." 
For another customer, Actemium Food & Beverage Aalter designed a model based on a virtual sensor capable of precisely calculating each user's water consumption from a cooling tower. The calculation is based on total past consumption and the positions of all the different users' valves (open or closed). 
"We went further still, examining every instance of when combined individual usage did not match the total measured," says Jeroen Pandelaere. "We observed that some valves that should have been open were actually closed following maintenance in the factory, without having been identified as such. So, our model can also detect anomalies." 
08/07/2021