Innovative packaging to improve food safety
Reading time: 4 min
Actemium Cincinnati and Outbound Technologies have joined forces with Custom Design Applications to design enhanced packaging solutions using the innovative electron beam technology E-beam.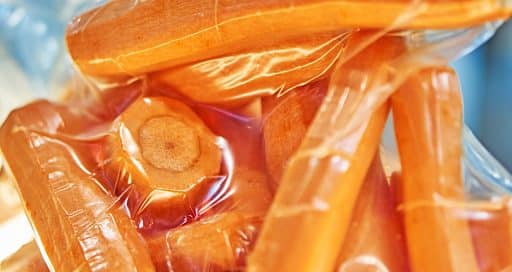 What links flexible packaging, heat shrink wrap, architectural products, tyres, adhesives, and even sterilisation and disinfection processes? All these products and many others besides can benefit from: electron beam or E-beam technology.
The principle involves using a stream of accelerated electrons to affect the properties of a prepolymer material (monomer and/or oligomer) by breaking its chemical bonds. The interaction between electrons in the beam and the molecules in the material they hit alters these bonds through ionisation reactions. The results of these reactions make it possible to destroy microorganisms, dry and harden monomers, or cure plastics, and there are therefore many different potential applications for E-beam
Multiple advantages
But E-beam offers multiple advantages beyond these physical properties. This procedure makes it possible to harden, cure and sterilise instantly, allowing higher throughput. Additionally, a single beam can replace several batteries of UV lamps or a host of kilns.
E-beam is also energy efficient and produces stronger and therefore more reusable materials. Lastly, this technology has an enormous advantage in that it does not rely on photoinitiators, additives used in traditional processes to enable photopolymerisation, and so avoids any migration of these substances into the packaged products.
"E-beam effectively coats and hardens digitally printed materials for food-safe applications" 
This latter characteristic is naturally particularly welcome in the food industry. "Essentially, E-beam effectively coats and hardens or cures digitally printed materials for food-safe applications", explains Noel Enneking, Engineering Manager at Outbound Technologies.
Acquired by VINCI Energies in April 2021 and integrated into the Actemium brand, the American company Outbound Technologies, specialising in the integration of automated systems, recently developed a solution that uses electron beam technology to coat and cure 30-inch flexible packaging films. This  curing technology applies to inks and coatings as well as overprint varnishes (OPV) and laminating adhesives.
"We were approached by Custom Design Applications (CDA), the mechanical design and build partner of our fellow VINCI Energies business unit Actemium Cincinnati, to develop their electrical control design and E-beam coater programming, and to integrate electron beam technology from the specialist E‑beam provider PCT".
A complete high-performance solution
Named E2™, this complete solution brings together all the key components in a single system: the E-beam coater, corona treater and 30-inch film unwinding/rewinding units are integrated into the E-beam curing system's base frame.
"E2™ offers instant, uniform curing that creates a food standards-compliant finished surface with no post-hardening time, and with the same gloss and image depth as reverse print laminated packaging", says Noel Enneking.
Production speed can reach 600 feet (around 183 metres) per minute, four times faster than most  digital presses. Lastly, the big advantage of this system is that end users can support four or more digital machines on one offline E-beam coating system.
"To date, we have installed two of these systems in the United States, and we have a third order in progress. Since its launch in August 2020, the solution has been expanded with options such as lamination and the insertion of pre-printed strips for recorded packaging", says Noel Enneking, adding that "CDA's customers are just getting started with this technology".
18/02/2022