Logistics sector gathers pace thanks to data
Reading time: 5 min
Logisticians have played a key role in the incredible expansion of e-commerce in recent years. The COVID-19 crisis with its lockdowns and curfews has prompted the entire logistics sector to innovate and get closer to end customers with a view to boosting responsiveness.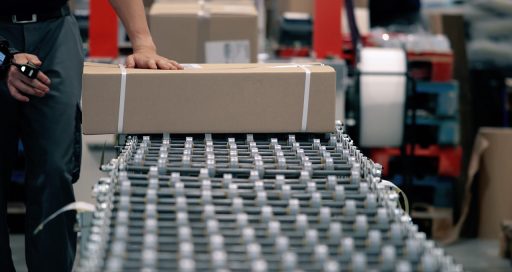 E-commerce represented a whopping €1.4 trillion worldwide in 2020, a figure which reflects the shift in consumer trends over the past few years. Indeed, the shift has accelerated since the start of the COVID-19 crisis, putting a key aspect of the sector – logistics – under pressure.
Working behind the scenes of this revolution are logisticians, computer scientists and mechanical engineers, whose job is to optimise delivery times while maintaining the best possible quality of service.
"Today, our clients are not just looking at the price but also at turnaround times"
Almost all sectors worldwide, whether large-scale distribution, ready-to-wear, publishing, electrical appliances, computers or office equipment, now rely on this distribution method.
"The number of parcels to be delivered increased by 30% in 2020, whereas growth in the past 5 years has only been in the order of 8 to 10%. However, what we are seeing is an acceleration in the market not disruption," says Nicolas Jaffeux, manager of the Actemium Lyon Logistics business unit. And the trend shows no sign of abating.
The key to logistics in times of crisis is responsiveness. This goes not only for applications and the delivery drivers in direct contact with customers but also for the logistics platforms running at full capacity.
State-of-the-art factories are springing up everywhere. In France, for example, where e-commerce achieved €112 billion in sales according to FEVAD (the French e-commerce and distance selling federation), logistics centres process 20,000 to 200,000 parcels per day.
Increasing throughput and adopting a local approach
In order to increase logistic platform throughput, sorters and conveyor belts are being installed or refurbished, again in record time. "Today, our clients are not just looking at the price but also at turnaround times; whereas before we had 12 weeks, we now only have 6!" highlights the business unit manager. 
As a result of this race against time, logisticians are calling on local businesses to reduce installation and turnaround times. "We're seeing a shift towards a local approach, since clients need us to intervene quickly in assembling machines on their premises," points out Nicolas Jaffeux.
A further significant change is that a company like Actemium Lyon Logistics now designs and manufactures conveyor belts, these systems which transport loads from one part of the warehouse to another, in its 5,000m² workshop. There's no longer any need to import ready-to-use systems; they are produced near the logistics platforms.
Leveraging data in three ways
The growth of e-commerce and logistics is based on effective data management. With booking systems, parcel tracking and site management, there has been an explosive increase in the volume of data. "Initially, the sector was made up of automation and mechanical engineers, but it has transformed into a breeding ground for IT engineers who collect, sort and process data. Just to illustrate this point, 25 of our 120 employees are IT engineers," comments Nicolas Jaffeux. 
There are three ways in which data is leveraged. First, it is used to ensure traceability. Customers, suppliers and service providers want to be able to track a parcel so that they can pay for it or invoice it at the right price. Weight and volume information supplements the data provided by traditional barcodes.
Second, to standardise working methods and anticipate breakdowns. Specific new software is emerging that makes it possible to supervise production in real time – particularly  throughput, rejection rate and traceability – while at the same time sending this information to customers.
And third, to automate production lines. New COVID-19 health rules, such as social distancing and mask wearing, have been introduced to limit the risk of infection. This goes hand in hand with a commitment to reducing the risk of musculoskeletal disorders. 
In response to this new situation, some physically demanding jobs are set to be automated. "Automated guided vehicles are certainly one of the great upcoming innovations. They could relieve the pressure on logisticians and bring flexibility to warehouses." It's a market that could be worth $300 billion by 2030 to 2040.
"The challenge for us now," concludes Nicolas Jaffeux, "is to use this data and these new technologies to reduce our carbon impact and that of our clients."
17/05/2021