New mobile hospital to support emergency medical services
Reading time: 4 min
The mobile hospital developed by the Toulouse Disaster Response Centre in partnership with Cegelec Défense is unique in its autonomy and speed of deployment.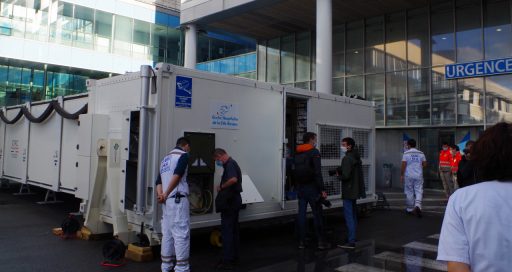 On 9 November 2020, to provide relief for its emergency department, which was becoming overwhelmed by the influx of patients during the second wave of Covid-19, the Centre Hospitalier de la Côte Basque in Bayonne (Pyrénées-Atlantiques) introduced a unique mobile hospital unit, the Multipurpose Mobile Unit Europe Occitanie (UMPEO).
Transported on an 18-tonne truck, this 13-metre-long, 10-tonne care unit comprising a single container incorporating five deployable cells was set up in just 20 minutes, including all the necessary equipment (stretchers, ventilators, scopes, syringe pumps, morphine medication, drips, etc.). UMPEO makes it possible to treat 10 emergency and eight critical patients simultaneously.
"Cegelec Défense and SAMU 31 teams are working on a second prototype, which is nearing completion in our workshops."
This innovative structure was the result when the need articulated over several years by Professor Vincent Bounes, head of the SAMU 31 medical centre, met the expertise of Cegelec Défense, the VINCI Energies subsidiary specialised in technology services for the defence and security sectors.
"Especially after the AZF accident in September 2001, we were looking for a solution to establish a completely self-contained structure designed for disaster medicine (in response to large-scale attacks, industrial accidents, natural disasters, etc.)," explains Vincent Bounes. "But existing solutions did not meet all our requirements, in particular the need for a structure that could be set up in under an hour. Then, at a health conference in 2019, we discovered the Cegelec Défense shelter demonstrator."
Rapid operational implementation
That meeting resulted in the idea to develop a mobile hospital by re-purposing an existing command post structure designed by Cegelec Défense for Air Force field operations. The project was backed by the Toulouse Disaster Response Centre with the help of a €2.3 million share of the European budget allocated to POCTEFA (Spain–France–Andorra cooperation programme).
"Fortnightly coworking sessions soon began between SAMU 31 teams and ours, including during the first lockdown," says Frédéric Tribet, CEO of Cegelec Défense Solutions & Services. "We were always able to find mechanical and electrical solutions to integrate specialised emergency medical equipment into the shelter, taking emergency response procedures into account. Not to mention securing the electricity supply, including in the event of a power cut, and optimising operational installation speed to make it faster to deploy than existing tent-based solutions."
The project, which was initially unrelated to Covid-19, perfectly encapsulates the "outside the walls" hospital concept of the Emergency Medical Assistance Service (SAMU) founder Louis Lareng. "Our first operational deployment was in September 2020, when UMPEO was used, at the Prefect's request, as a mobile Covid-19 screening centre for six towns in southern Haute-Garonne," says Gilles Laborde, Chairman of Cegelec Défense.
When used in Bayonne, the unit seems to have met with unanimous approval: "The comfort and workplace ergonomics are extremely satisfying," says Vincent Bounes, who also mentions a deployment of the mobile structure in Navarre in early 2021 as a Covid-19 screening centre, "Which demonstrates its great versatility."
Second prototype in final stages
UMPEO returned from Bayonne in late November 2020 to be equipped with a satellite system to enable remote hospital regulation, and an Antares communication system. This gives the structure dual functionality, with one configuration as an advanced medical post and a second as a mobile crisis management post, depending on the equipment on board.
"Cegelec Défense and SAMU 31 teams are also working on a second prototype, which is nearing completion in our workshops," says Gilles Laborde. "This one is a mobile medical unit for chemical decontamination capable of treating 100 to 150 patients an hour depending on the configuration," adds Frédéric Tribet.
In the longer term, another ongoing project known as DOMUS is aiming to create a sensory simulation dome in Toulouse. The Cegelec Défense Chairman explains, "The purpose of the dome is to train emergency response personnel and enable them to practice in extreme situations. This will be a first for Europe."
14/01/2021