Cities speed up bus electrification process
Reading time: 6 min
Many cities in Europe, as elsewhere in the world, are turning their backs on diesel. Paris and Darmstadt are cases in point. The French capital is installing electric charge points and an energy management system, while Darmstadt in the central German state of Hesse is electrifying its entire bus fleet.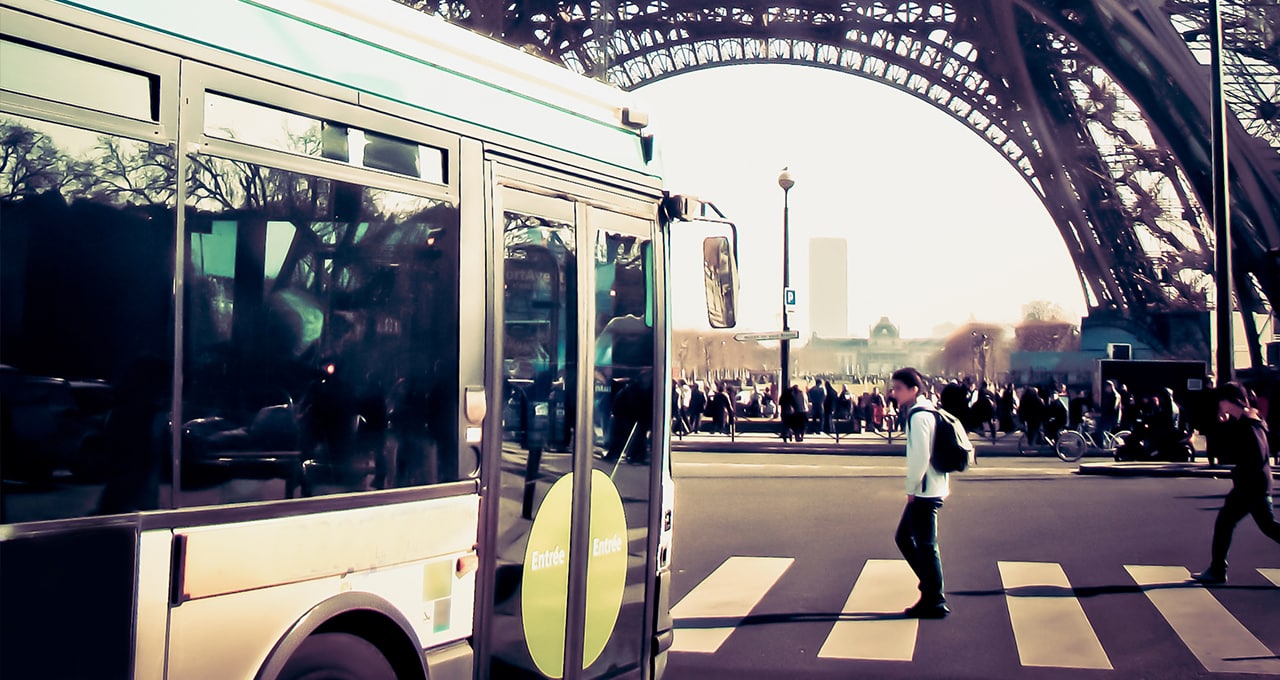 The world is abandoning the diesel engine and moving in the direction of sustainable mobility. And major cities are leading the way. According to a Bloomberg New Energy Finance report, around 1.2 million buses operating in the world's various cities will be electric by 2025, representing nearly half of municipal buses.

The city of Amsterdam has already electrified all the buses running in the Schiphol airport area and plans to make 90% of its fleet electric by 2021. 
Los Angeles buses are currently powered by natural gas, which produces less pollution in terms of particulate matter and greenhouse gases than diesel, but the city is set to make its entire fleet all-electric by 2030. In Morocco, Marrakesh is also taking initiatives: the 30 or so urban e-buses due to come on stream in 2019 will be powered by a solar power plant located at the entrance to the city.
"A monitoring system was set up which will enable RATP to view energy levels in real time and manage energy consumption in detail." 
Full charge, first thing 
The aim, says David Benloulou, manager of the SDEL Transport en Commun business unit, was to "modernise all the infrastructure": the high voltage substations, transformers and whole system of distribution to the charge points. Power isn't distributed by conventional cables but by some 1,000m of bus ducts.
This rigid bus duct system, comprising copper rods housed in aluminium casing, requires play of just a few millimetres between the various components. It involved a high degree of accuracy in both the design and implementation, with the use of tablet-based drawing and technical libraries, accessible from the site.
"A monitoring system was set up which will enable RATP [the Paris transport operator] to view energy levels in real time and manage energy consumption in detail," adds Benloulou. Charging time must be optimised so as to prioritise buses that need to leave the depot according to a very specific schedule and be in the starting blocks first thing in the morning.
Planning around energy needs 
VINCI Energies has also met specific electric public transport requirements on a project some 600km away in Darmstadt, the fourth biggest city in the state of Hesse in central Germany.
Three VINCI Energies business units, Ing3E (design), Omexom Frankenluk (power supply system) and Actemium BEA (charging system), were selected to carry out the electrification of the city's entire bus fleet as part of a tender issued in February 2020 by HEAG mobilo, Darmstadt's public transport operator.
"Public buses take set itineraries, making it possible to plan routes and energy requirements. That's why, in addition to the new electric infrastructure that we installed, HEAG mobilo issued a separate tender (under way) to deliver a depot management system. This consists of software connected to the charging infrastructure, designed to optimally manage and plan buses' energy needs, while avoiding load peaks," states Riccardo D'Agostino, project manager and chief engineer at Ing3E, which supervised the initial project for the various VINCI Energies business units. The planning and supervision of construction for the project were finalised in April 2021.
As well as performing the alterations requested by HEAG, we also had to factor in restrictions to avoid blocking several bus lanes at the same time and carry out additional works in compliance with Darmstadt environmental authority requirements"
Omexom Frankenluk was responsible for building the entire power supply system for the charging infrastructure, which comprises a station providing a medium voltage (20kV) grid connection and two transformer substations each made up of a medium voltage room, two transformer rooms and a low voltage room including all the fittings for distributing electricity to the charge points.
As for Actemium BEA, it set up the charging system, comprising 28 chargers operating at 150kW and 36 150kW sockets within the depot. It was also responsible for building all the necessary infrastructure between the external chargers and the charge points (AC and DC cables, cable trays inside and outside the depot).
Dealing with numerous unforeseen events 
The two VINCI Energies business units had to manage a number of constraints. "The city only gave us a 6-hour window one weekend in which to install the refuelling units for a station outside the depot, located near a main road. The delivery of the station's two power supply units, the assembly of the 120-tonne crane and the station lift took place during this short period of time," explains Klaus Kürzdörfer, who is in charge of project management at Omexom Frankenluk.
For the second station, a 200-tonne crane was used. It had to be transported via an approximately 100m-long forest path bordering a nature reserve. The path had to be prepared with eco-friendly gravel intended for special vehicles. Once the construction work has been completed, the path must be returned to its original state. And in fact, installation was postponed by three months to avoid disturbing the bird breeding season.
Actemium, too, has had issues to contend with along the way. "As well as performing the alterations requested by HEAG mobilo to the charging infrastructure (number and location of plug sockets and chargers), we had to factor in the tight restrictions imposed by the client on cable tray installation so as to avoid blocking several bus lanes at the same time. And we had to carry out additional works to comply with Darmstadt environmental authority requirements (ban on tree felling, protection of underground roots, etc.)," points out Henri Bahr, project manager at Actemium BEA.
16/09/2021