Paris buses go electric
Reading time: 4 min
Like other cities, the French capital is turning its back on diesel. SDEL Transport en commun is installing electric charging points and an energy management system at an RATP (Paris public transport operator) maintenance site in eastern Paris.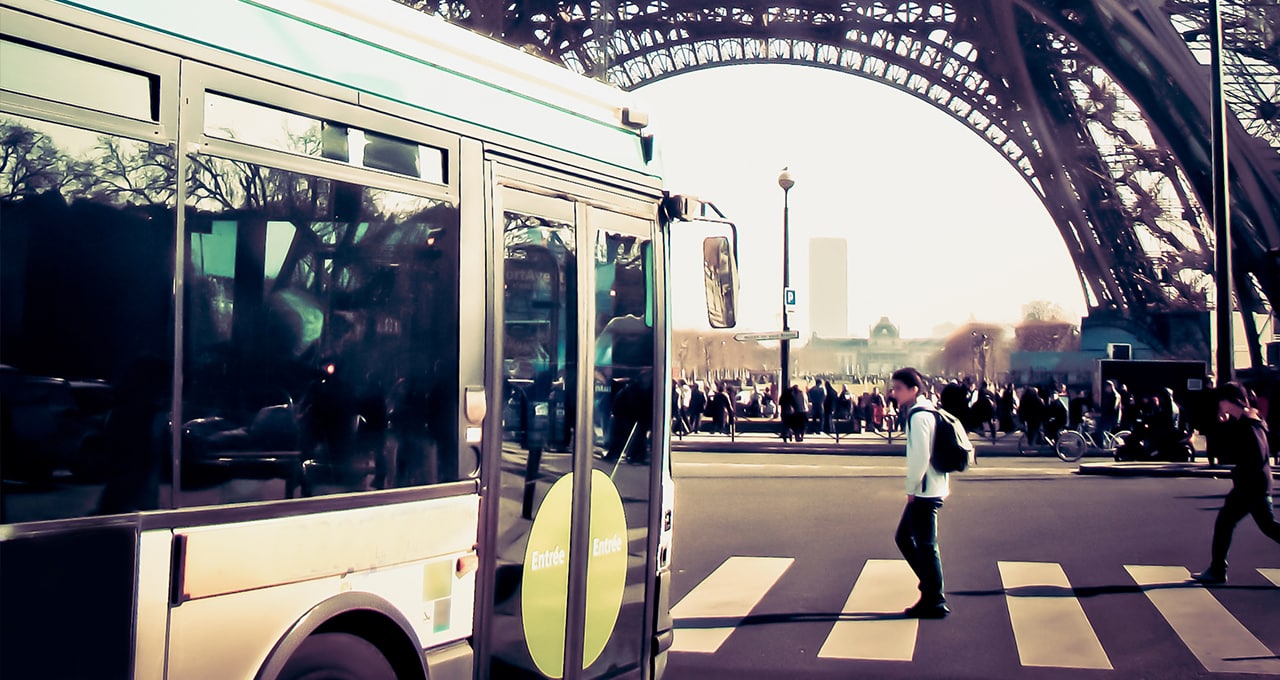 The world is moving away from diesel and towards sustainable mobility. Big cities are showing the way in this trend. Some 1.2 million buses operating in various cities worldwide will be electric by 2025, representing almost half of municipal buses, says a Bloomberg New Energy Finance report.
Indeed, the city of Amsterdam has already electrified all the buses in operation at Schiphol airport and plans to switch 90 % of the city's bus fleet to electric technology by 2021.
Los Angeles buses are currently powered by natural gas, which emits fewer particulates and greenhouse gases than diesel, but the city is set to convert its entire fleet to an electric system by 2030. In Morocco, Marrakesh is also taking steps: the 30 or so electric buses coming on stream in 2019 will be powered by a solar power plant located at the entrance to the city.
"A monitoring system is also due to be set up which will enable RATP to see energy levels in real time and to manage energy use in detail"
Many cities are developing bespoke e-mobility solutions, Paris among them. The diesel vehicle replacement process is already well under way in the French capital, where three initial bus lines have been electrified. The Île-de-France region, which is responsible for managing transport, recently moved up a gear with its Bus 2025 plan. Under the plan, the 4,500 diesel buses in the region will be replaced by 2025 with natural-gas powered vehicles (like in LA) and electric vehicles – accounting for 30 % and 70 % of the fleet respectively.
"The plan represents a major public health and industrial issue," says Valérie Pécresse, president of the region and of the Île-de-France Mobilités public transport authority. It involves an initial large-scale project, covering full electrification of a first RATP bus centre in eastern Paris, which was awarded following a tender procedure to SDEL Transport en commun (VINCI Energies). Located on rue de Lagny in the 20th arrondissement, the site currently operates and maintains 184 diesel buses.
On completion of two 15-month phases of works, 192 bus charging points will be commissioned in September 2019 and September 2020. The company has a major constraint to factor into this schedule: works must be carried out without hampering the bus rotation system.
Full batteries, first thing
David Benloulou, manager of the SDEL Transport en commun business unit, points out: "It's a question of upgrading the entire infrastructure" – high voltage substations, transformers, and the whole system of distribution to the charging points. Power won't be distributed by conventional cables but by some 1,000 metres of bus ducts.
This rigid system – copper busbars housed in aluminium casing – requires just a few millimetres of play between the various components. It involves a high degree of accuracy in both the design and execution, including the use of tablet-based drawing and technical libraries, accessible from the site.
"A monitoring system is also due to be set up which will enable RATP to see energy levels in real time and to manage energy use in detail," adds Benloulou. Charging time must be optimised in such a way as to focus first and foremost on buses that need to leave the centre according to a very specific schedule and that need to be in the starting blocks first thing in the morning.
10/07/2019