The challenges of clean rooms
Reading time: 5 min
Controlling the concentration of airborne particles and fire safety in these rooms designed for research or industrial production is particularly crucial during a health crisis. VINCI Energies business units have developed valuable know-how in this area.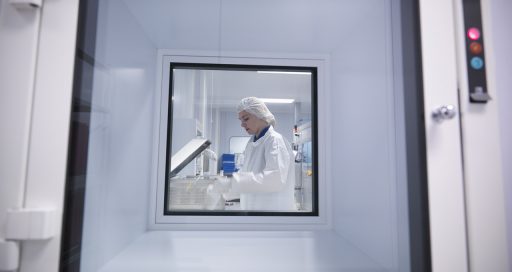 Enclosed spaces with a controlled atmosphere to avoid any contamination of the ambient air, clean rooms are essential to researching and manufacturing medicines and vaccines. Outside air, paint, coatings, and particles from on-site equipment or cleaning products are just some of the many sources of air pollution affecting clean rooms.
"These rooms require the installation of highly technical, extremely clean and flat surfaces with very fine joints"
In addition to the quality of their ventilation systems, these installations require a wealth of precautions in terms of construction, fire safety and maintenance. Naturally, expertise in these areas is in great demand during the present health crisis.
Special techniques and materials
VINCI Energies counts several firms with expertise in this area among its business units. One such is G + H Innenausbau and its clean room business unit located in Ludwigshafen, Germany.
With almost 40 years' experience in clean room construction, this business employs 20 people dedicated to creating these special rooms. In the 1970s, it developed the first metal clean room wall with a flush-mounted window for the pharmaceutical industry.
"These rooms require the installation of highly technical, extremely clean and flat surfaces with very fine joints," explains Thomas Fuchs, Division Manager at VINCI Energies Deutschland Building Solutions.
G + H Innenausbau offers two noteworthy innovations in this area: the Vario Access ceiling and a hermetic sliding door. The former, fully sealed with silicone without wet joints, comes with a range of suitable installation solutions for lighting, ventilation casings, etc. The latter is equipped with a specially shaped silicone seal and offers increased soundproofing.
Exporting chiefly to Switzerland and Turkey, G + H is one of Germany's market leaders for clean rooms. "One of the projects we've managed was the redevelopment in 2018 of a large existing installation for the Bayer group," says Thomas Fuchs.
Bespoke fire safety
Installing fire protection systems in the tightly protected spaces that are clean rooms is a feat in itself. The teams of researchers and technicians working in these areas are handling viruses and other active substances that require special fire suppression and water treatment systems.
"The water used obviously needs to be extremely clean and is filtered to 10 microns. But the rooms themselves also have to be fully sealed. Running pipework and nozzles through the walls is therefore subject to serious restrictions," says Cyrille Harand, CEO of Uxello Risques Spéciaux, which is installing the fire protection system in the German Boehringer Ingelheim group's future antigen production facility and laboratory in Jonage, near Lyon.
The challenge posed by this P4-level site, where extremely hazardous agents are handled, is all the greater because the group and the Technip design office preferred a water mist system. This is a first for a pharmaceutical laboratory in France.
"There are two advantages with this system," explains Cyrille Harand. "First, it needs, on average, five times less water than a sprinkler system. As a result, it reduces the waste water the fire system generates, and thus the cost of storing and treating it, by a similar amount. Second, this system is as effective as traditional equipment, if not more so. Essentially, the finer the water droplets, which are forced out under high pressure, the better they absorb heat."
… And ad-hoc certification
On such an unusual worksite, this business unit specialising in fire safety had to adapt and show its agility. "We're having to customise at every stage of the project," says the head of Uxello Risques Spéciaux. "This was certainly the case when designing the programmable equipment for the installation's remote-control system (for triggering, maintenance, locking down), and also when making parts for passing through the walls, and with all the equipment made from 316L stainless steel to give it the smoothness needed for the industrial cleaning process."
In another first, for Boehringer Ingelheim's future P4 centre in Jonage, Uxello Risques Spéciaux was able to manage the whole certification process for this installation without mist – which does not yet comply with any established rules. "We turned to a notified body based in Austria, where the equipment we installed in Jonage is made," the CEO explains.
11/03/2021