The circular economy: an absolute imperative for environmental transition
Reading time: 7 min
As the only way out of a linear approach that is now revealing its full harmful impact, the circular economy has quickly become a priority for many economic sectors and the companies in them. But there are numerous obstacles to be overcome for this new paradigm to reach its full scale and potential.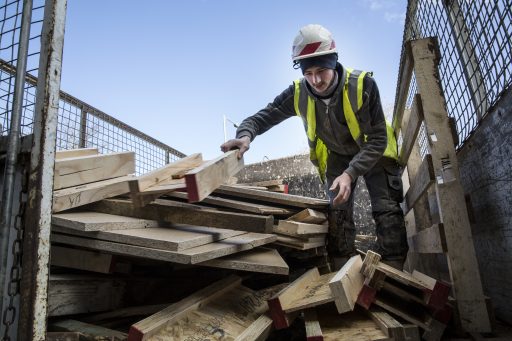 There are multiple competing definitions of the circular economy. It can be interpreted quite differently when viewed from the perspectives of academic research, public policy, non-profit organisations or business. But despite their differences, these all share a common intent: to create a new economic paradigm to accelerate the environmental transition.
The model that has been in place for decades is based on massive, continuous extraction of resources, leading to equally sustained production of waste, destroying natural equilibrium and jeopardising the sustainability of our societies. This linear model and its damaging effects are now being challenged by a more circular approach built around three main elements: 1) more sustainable resource management based on reduced inputs, and reuse and recycling of the resource previously called waste; 2) mitigating climate change and reducing greenhouse gas (GHG) emissions; and 3) increasing the proportion of controlled resources (security of supply and the ability to extract, produce, process and consume resources locally).
The construction sector generates almost three-quarters of France's waste.
In short, the circular economy is about extracting, producing, discarding and wasting less; and reusing, repairing and recycling as much of the material and energy flow as possible. It is therefore central to environmental transformation, and key to limiting and adapting to the effects of climate change.
Five years of lawmaking
From a strictly regulatory viewpoint, the circular economy officially arrived on the scene in France with Article 70 of Law no. 2015-992 of 17 August, 2015 on energy transition for green growth (LTECV). Between 2015 and 2020, numerous publications, studies and legal instruments vied to describe and clarify the concept of circularity. FREC (France's roadmap for the circular economy) and the Resources for France Plan, published in 2018 in the wake of the LTECV, then formed the basis for the promulgation of Law no. 2020-105 of 10 February, 2020 on combating waste and the circular economy.
This same law, known as AGEC (anti-waste for a circular economy), outlines a major circular economy initiative: extended producer responsibility (EPR). In a similar vein to "polluter pays", this provision makes businesses responsible for the entire life cycle of the products they market, from their eco-design through to end of life. In line with this principle, public authorities in France, and more broadly at the European level, have created "EPR streams" managed by state-approved federations known as eco-organizations.
Waste reclamation
It is estimated that the construction sector alone generates almost three-quarters of France's waste. This is mostly inert mineral waste (bricks, concrete, tiles and ceramics, glass, soil, rocks and stones from non-polluted sites), but also includes non-inert non-hazardous waste (wood, plastics, metals) and hazardous waste (asbestos, contaminated soil, solvents, paint, etc.). In 2020, ADEME found the reclamation rate for waste from building sites to be almost 67%, close to the regulatory target of 70% set by the European Union.
The VINCI Group has implemented actions to minimise the impact of its business activity: improving design and production processes; reducing extraction of virgin raw materials, and using construction materials and techniques that consume fewer natural resources; recycling and reusing waste; and promoting innovative techniques, efficient practices, local focus and short loops.
In Concessions, as a project owner, the Group encourages the use of reused and recycled materials. At VINCI Autoroutes, 100% of waste from its operations and self-managed service areas will be reclaimed from 2025. In Real Estate, the target for 2030 is to generate 50% of revenue from urban recycling operations. In Construction, within the same time frame, VINCI will have doubled the proportion of recycled aggregates produced (20 million tonnes per year).
VINCI Energies is playing its part in the VINCI Group's environmental strategy with three priorities: taking climate action; preserving natural environments; and optimising resources through the circular economy.
Many obstacles to overcome
The circular economy hierarchy prioritises avoiding the use of materials even above recycling. Circularity is not simply a question of waste management. Neither is it just something to consider at the end of the materials, infrastructure and equipment cycle. On the contrary, circularity begins well in advance of any project. It involves the use of eco-designed materials and equipment, and incorporates avoided carbon emissions in the life cycle analysis. The circular economy is inseparable from a functional economy, but calls for a greater mix of uses, reversibility and longer life span.
However, the circular economy still faces a number of barriers. Awareness, inventory and visibility of land assets and materials available for reuse could be significantly improved. The same goes for traceability, which remains haphazard. Another obstacle is the cost of reused materials, inflated by reclamation processing and certification, storage and transport expenses. The increasing pace of the circular economy also demands a rapid response to the stark skills shortage. This requires substantial training effort in both corporate and educational settings. From a more "political" standpoint, while the circular economy is becoming a talking point for executive and management committees (at least in large companies), it has yet to gain sufficient traction in the boardroom.
Circularity's performance is linked to its adoption at scale. The entire value chain therefore needs to assimilate, and in every sector. For those organisations committed to this endeavour, which is not just virtuous – it is essential, this is an opportunity to forge new long-term partnerships.
---
Three fields of action – seven pillars
In terms of waste prevention and effective resource management, ADEME divides the circular economy into three major fields of action: production and supply of goods and services; consumption through demand and consumer behaviour (business and individual); and waste management prioritising recycling that can close the loop. These three fields of action encompass seven pillars: sustainable extraction/use and purchasing; eco-design of products and processes; industrial and territorial ecology; product-service system ("production and supply" field); responsible consumption; increasing the length of use ("demand and consumer behaviour" field); and recycling ("waste management" field).
---
11/16/2023