When VR accelerates industrial design
Reading time: 6 min
Digital twin technology is revolutionising the manufacturing industry by optimising the development phase of a project or even the use of an asset or equipment. We look at the experience Actemium has gained in the area.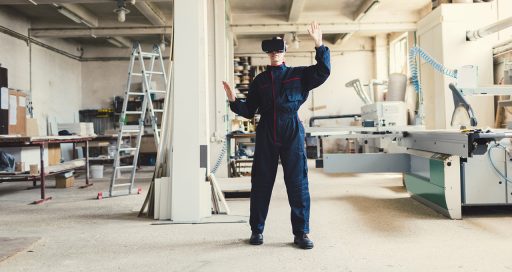 On stream since the start of 2019, the new automated banknote packaging line at the Banque de France printing works in Chamalières (in the Puy-de-Dôme department in central France) is jam-packed with technology, including robotic workcells and Autonomous Intelligent Vehicles (AIVs). The new site is designed to house 6 fully automated production lines across 1,600m² and to delink operator safety and banknote security.
"Using virtual twins is a powerful way of accelerating the start-up of new assets."
This feat, achieved by industrial solutions integrator ISI, part of the Actemium (VINCI Energies) network, owes much to virtual reality (VR) technology. This is because a virtual model of the workshop, covering everything from feasibility studies through to process mapping, was produced before the physical environment was even built. It was then used to explore various automation scenarios and to assess, as in a real-world situation, what solutions would be best to install.
"Using virtual twins is a powerful way of accelerating the start-up of new assets," explains Xavier Huchet, business developer at Actemium Cournon Engineering. "Having the option to adapt a machine in real time without building it not only saves time and money, it also means that several trades can work on the same digital model at the same time."
However, for this to happen, the various stakeholders (main operator and suppliers) need to know each other well and have a clear understanding of this type of process. "It's the project manager that generally runs things," points out Huchet, who for the past two or three years has been managing all of his projects using virtual reality techniques and through digital twins. 
A further major advantage of this design method is that it "boosts and facilitates communication with the end client," says Huchet. "With simulation, the client can directly visualise what impact a particular solution will have on the functioning of the motors, or on throughput or energy consumption, for example. This user feedback is extremely valuable, especially for prototypes."
Optimising the final development of the process
Actemium has already been involved in a number of VR-based industrial design projects. The VINCI Energies brand used a virtual reality headset for metallurgy specialist Aubert & Duval, enabling the client to simulate the environment of a future control cabin and thus check the ergonomics.
The same method was implemented for the same purpose on behalf of a player in the defence sector, this time involving a jig for assembling and adjusting defence equipment.
"In a further example for a client in the food industry, where the project covered the design of a container handling cell, we used the technology internally to check that everything was working by testing our programmes and all possible use cases (broken sensors, missing container, etc.) in the virtual space," notes François Gsell, head of the Actemium Cournon Engineering business unit.
"We don't normally have much time for the final phase of process development, which requires detailed configuration. But with virtual design, you can anticipate and indeed optimise that stage," he adds.
Focus
IP13: a 3D construction project
Launched in 2015, the IP13 (Ivry-Paris XIII) project involves rebuilding the Ivry-sur-Seine waste incineration plant (in the Val-de-Marne department to the south-east of Paris). This vast scheme, the first phase of which (an energy-from-waste unit) is due to be commissioned late 2023-early 2024, relies on many technological tools including virtualisation.
Working as part of a consortium with Satelec on the electricity, instrumentation and control, and fire protection systems package, worth around €110 million, Actemium modelled the cable runs for its preparatory works on the basis of a mock-up generated by a 3D scan of existing areas.
"The construction of the plant was fully rendered through a Revit 3D model produced by architecture firm AIA Life Designers together with the constructor of the building, the Eiffage/Chantiers Modernes Construction consortium," explains Elisa Pflieger, manager of the Actemium Paris Major Projects business unit. 
Since then, as detailed design has progressed, each stakeholder has added or specified their components or box-outs: walls, rooms, slabs, partitions, doors, etc. for the civil works (Eiffage/Chantiers Modernes Construction); waste handling and incineration equipment, boiler, turbo-generator, gas treatment system, piping, etc. for the processes (VINCI Environnement/Hitachi Zosen Inova); and high voltage substations and transformers, low voltage master distribution panels, generator, inverters, cubicles and cabinets, networks and various items of equipment for the electrical systems (Actemium/Satelec).
Solving problems early on
"Incorporating all the construction components in this way allows you to visualise technical incompatibilities and address them early on in the process, and it gives you a better idea of available volumes and limited spaces so that equipment can be integrated as effectively as possible," notes Pflieger. "It also means that project teams can access model extractions to facilitate their work on the ground," she adds.
Finally, using a VR headset makes it possible to navigate the model so as to check and validate certain aspects of building design, for example.
11/03/2021