How the logistics sector is optimising its performance
Reading time: 5 min
Faced with the need not only to increase order fulfilment speed so as to deliver as quickly as possible to the end client but also to optimise costs in order to improve the competitiveness of the industrial system, the logistics sector is taking steps to innovate. Actemium explains.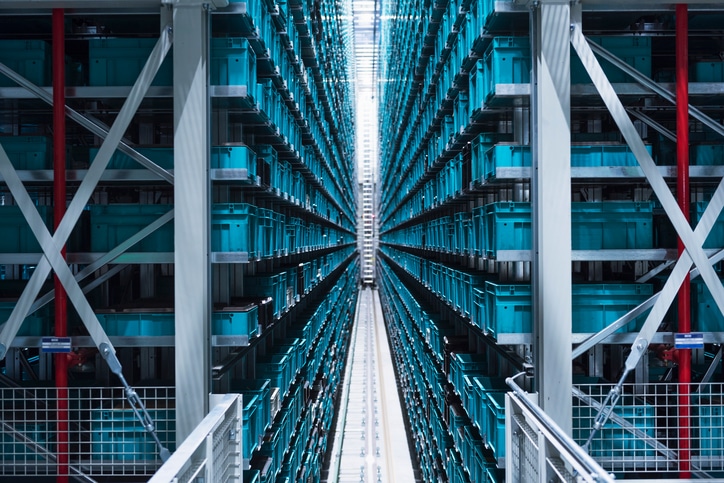 To adapt to changing consumption modes while at the same time meeting the needs of a growing sector, the logistics environment must constantly evolve. We focus on five innovations that are driving the sector forward.
Goods handling.
This is a key area for improvement in logistics. Enhancing workplace ergonomics makes work less strenuous and reduces the risk of musculoskeletal disorders (MSDs) related to handling heavy loads.
"For instance, we designed specific workstations to facilitate product depalettising. Pallets are automatically raised as they are unloaded, and the conveyor belt can be adjusted to the operator's height," points out Bruno Maisonneuve, business unit manager at Actemium, the VINCI Energies brand specialising in industrial solutions.
What's more, the order picking process can be refined through better warehouse organisation. "We optimise order picking routes in warehouses in such a way that fast moving products are stored at the front and slower movers at the back," adds Bruno.
"We also developed algorithms that make it possible to combine goods sorting for client orders with notes for receipt of incoming products," points out Haralt Tromp, Actemium business unit manager in the Netherlands. "Besides ensuring a regulated flow of goods, the aim is to reduce costs and drive efficiencies in the logistics process."
Quality of packaging.
Improving this aspect of the logistics sector means first and foremost reducing consumables since volume, not just weight, is increasingly a major factor in transportation costs. Solutions have been developed that minimise the number of packages and optimise available space, including the pre-packaging module that displays on the operator's screen where each product should be placed.
Furthermore, technology is used to improve traceability by attaching RFID (radio-frequency identification) tags to goods. "You just run a parcel or pallet through a scanning tunnel to identify it and its content, without having to isolate the loads," explains Bruno Maisonneuve. The products are tracked prior to and even after packaging, which helps limit shipment errors.
Human-robot collaboration.
Using cobots (collaborative robots) relieves human operators of the most strenuous and/or repetitive tasks. For example, Actemium set up a cobot for one of its clients to assist with packaging: it grabs boxes (that have been filled and sealed), covers them with plastic film to make them more secure (strapping process) then returns them to the palletising operator.
"By replacing the PLC and control unit and the instrumentation and control system at the La Poste group's largest site in France, we improved the performance of the sorting system. Sorting speed was increased by 5% and the number of parcels rejected by the facility was cut by nearly 30%."
Moreover, optimising the way in which facilities are controlled leads to efficiency gains. "We renovated all of the La Poste group's parcel platforms, incorporating a unified monitoring and control system," says Bruno. "By replacing the existing PLC and control unit with a more homogeneous and therefore more responsive solution, we improved the performance of the sorting system. At the group's largest site in France (which processes an average of 250,000 parcels per day in an area equivalent in size to two football stadiums) sorting speed was increased by 5% and the number of parcels rejected by the facility was cut by 30%."
Further innovations in the field of human-robot collaboration include voice coding and goods-to-person systems. With voice coding, explains Haralt Tromp, "Operators don't use a device or paperwork for order picking. They are guided by a voice system which states the location of the items to be picked. They interact with the system to validate the picked product." Goods-to-person systems are small autonomous robots, which move around the warehouse retrieving products and delivering them to operator.
Logistics flows.
The aim is to make flows smoother. By sharing infrastructure, parcel preparation and delivery, costs can be driven down across a single logistics site used by several clients. Bruno Maisonneuve explains: "We are also working on last-mile management, helping clients to optimise routes so that parcels are dropped as close as possible to the last operator to deliver them.
5. Augmented reality.
Tested in past years, augmented reality is likely to experience a strong surge in popularity in the industrial sector this year, according to ABI Research. Used in a logistics environment, the technology would enable operators wearing augmented reality glasses to be guided through the order picking process in the warehouse. All they would need to do is look at the barcode of a located item to register it, a method that replaces the more cumbersome scanner. This vision picking technology has been tested by DHL Supply Chain.
12/04/2018