Cooperation between manufacturers and deep tech sector can stimulate recovery
Reading time: 5 min
Creating pathways between big businesses and "game-changing" start-ups can help revive industrial processes. An ad hoc collaborative ecosystem is emerging in France, spurred on by the public authorities.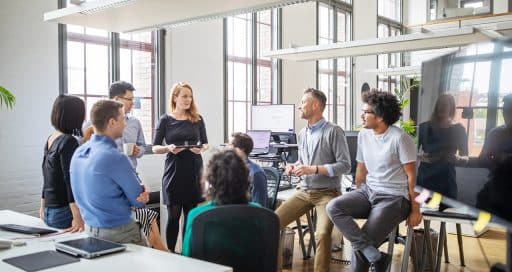 One of the strands of the French government's strategy to revitalise industrial activity involves bringing together two very different ecosystems – on the one hand, big industrial businesses and on the other, breakthrough innovation players led by a new generation of deep tech start-ups, of which the government believes there are around 500 in France.
Public authorities are seeking to meet three goals here: to boost the country's attractiveness, reindustrialise its regions and decarbonise its economy.
"The ecosystem that has been emerging around start-ups over the past few years is conducive to innovative applications."
Not an easy task. Indeed, laying the basis for a common language for two categories of business with such different organisational, operating and governance models is a massive challenge.
In order to meet this challenge, public investment bank Bpifrance launched a "Generation deep tech" plan in 2019 which has supported some 600 start-ups so far. As a result of its success, the programme has been extended and its budget increased by €700 million. This means that by 2023 the budget will stand at €2 billion.
Contact portal
In keeping with the plan, Bpifrance signed an agreement in 2021 with France Industrie, a professional organisation comprising 71 members from various industrial sectors, aimed at building bridges between large industrial groups and deep tech start-ups. A highlight of the initiative was the launch in April 2021 of the Tech in Fab platform, an information and contact portal for start-ups and small, medium-sized and larger enterprises in the manufacturing industry.
"For manufacturers, transformation may appear complex. And as for start-ups, many of them don't have the keys to enter the manufacturing environment," says Nicolas Dufourcq, CEO of Bpifrance. "In order to address this, we must create cross-over and encourage players to work together by promoting cooperation that will support growth."
Tech in Fab provides free access to educational and explanatory innovation-related content tailored to manufacturers, including less mature companies, as well as to a directory of technology solutions providers and case studies of successful collaborations. The platform enables tech players to update the data that concerns them and to take note of calls for projects published by the various industries.
The agreement between Bpifrance and France Industrie also provides for a memorandum of cooperation, developed in partnership with the National Institute of Industrial Property (INPI). Its purpose will be to guide negotiations between the two parties with a view to formalising their commitments.
Pre-industrial demonstrators
While involvement on the part of the public authorities and major professional organisations can only speed up the linkage process between industrial businesses and tech start-ups, the need to build collaboration is not new.
In 2016, VINCI Energies set up FactoryLab, an industrial and academic consortium that seeks to integrate technology solutions in very short time frames so that pre-industrial demonstrators can be produced to meet members' needs.
"We need to think about innovation in terms of application needs rather than in terms of breakthrough technologies. IoT and artificial intelligence, for example, aren't all that new as technologies. However, the ecosystem that has been emerging around start-ups over the past few years is conducive to innovative applications," states Thomas Leseigneur, innovation manager at VINCI Energies.
FactoryLab brings together four manufacturing companies (Stellantis, Safran, Technip, Naval Group), academic players (the French Alternative Energies and Atomic Energy Commission – CEA, the French Technical Centre for Mechanical Industries – Cetim, ENSAM engineering school), 20 or so technology providers and an integrator (Actemium, the VINCI Energies industry brand). It includes around 30 players altogether, all of whom have agreed to pool industrial needs and technological capabilities as part of an open innovation approach in order to design and implement projects then put them into production in four main categories: flexible digital factory, advanced control, physical support systems for operators and cognitive support systems for operators.
In 6 years, the consortium has given rise to some 30 projects, a third of which have been rolled out and brought to market on an industrial scale.
20/01/2022