In Germany, a new generation of carbon-neutral datacentres
Reading time: 3 min
With support from Axians, the German hosting provider Windcloud is making extensive use of wind energy to reduce its carbon footprint. Its latest site also houses a rooftop algae farm that will trap a large quantity of the CO2 emitted.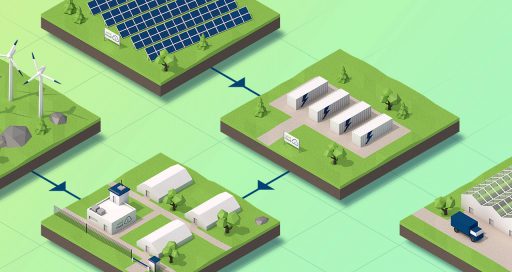 On a global level, according to most estimates, digital products and services represent around 3% of greenhouse gas emissions. Datacentres alone are responsible for a large part of this energy debt. Almost half of the electricity consumed by these bona fide energy sinks is powering the cooling systems for their servers, which generate heat as they run.
In the face of climate emergency, how can this carbon footprint be reduced? Different techniques are used. Water cooling takes advantage of water's heat transfer properties. So-called "free cooling" uses outdoor air at night or during the winter. But the German hosting provider Windcloud is blazing other trails.
In late August 2020, it opened a next-generation datacentre that aims to be at least carbon neutral. Based in Enge-Sande near Germany's Danish border, the site houses 24 racks with a total power of 60 kW. It meets the European standard EN 50600 VK3, guaranteeing "the highest standards of availability, security and energy efficiency".
The datacentre uses renewable energy exclusively, 98% of which is generated from wind, a particularly abundant resource in the North Frisia region. But the building's most original feature is its roof, which houses a 240-square-metre spirulina algae farm, operated in cooperation with Novagreen.
"The heat produced by the site is used to grow algae. In return, the algae absorb a large quantity of carbon dioxide."
Virtuous circle
"The heat produced by the site is used to grow algae," explains Jan Peter Schneider, Account Manager at Axians, the VINCI Energies ICT brand associated with this project. "In return, the algae absorb a large quantity of carbon dioxide."
Aside from the environmental impact, the use of a carbon-neutral, if not carbon-negative datacentre enables companies to meet their legal obligations in Germany. In late 2019, Germany effectively imposed a tax on carbon dioxide emissions. This is also a question of image in terms of sustainable development.
And the virtuous circle goes further. Low in calories, but containing high quantities of nutrients and antioxidants, spirulina is used in dietary supplements and cosmetics. "If the algae grow as expected, they could be sold," says Jan Peter Schneider.
Scalable architecture
For this project, Axians Networks & Solutions helped Windcloud with connectivity and the network bridge that links the site to the outside world. The network architecture is scalable, and incorporates its own routing infrastructure to ensure the hosting provider's independence in respect to access providers. 
Axians Networks & Solutions also implemented a system to protect against DDoS (distributed denial-of-service) attacks. The chosen solution, from the American supplier Corero Network Security, will identify any dangerous traffic and reroute it before it reaches the datacentre.
In addition to its hosting business, Windcloud offers IaaS (infrastructure as a service) solutions, cloud storage and managed cloud services.
15/04/2021