The hospital moves to customised IT
Reading time: 5 min
The specific requirements of healthcare facilities call for ad hoc IT infrastructure and can involve technical proposals that can be directly operational in the medical sphere.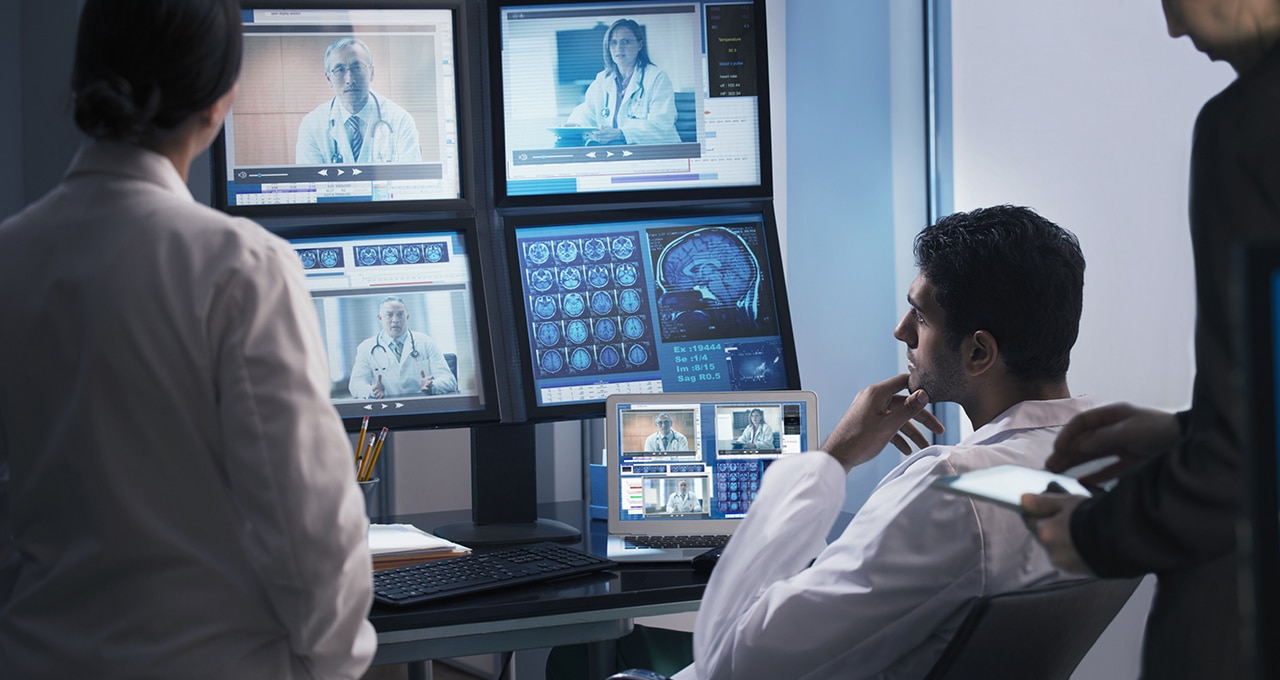 Hospitals, clinics, nursing homes, and other healthcare facilities must meet very stringent requirements, notably in terms of uninterrupted service and confidentiality. IT infrastructure is therefore a sensitive issue that must be tackled very broadly.
"Public and private sector healthcare facilities operating in the same geographic area are called on to work with each other so must therefore be interconnected. This is one of the major goals of the healthcare strategy in France and the creation of the GHT (Groupements Hospitaliers de Territoire – regional hospital groups)," says Jean-Pierre Cariteau, Healthcare Project Manager at Axians.
One good illustration of this geographical issue is the Nord-Ardennes GHT, for which the VINCI Energies ICT brand optimised IT infrastructure security (LAN, WLAN, firewall, URL filter, etc.) in the various group hospitals, as part of the harmonisation of their information systems.
The spread of telemedicine, tele-expertise, and many day-to-day services (appointment scheduling, visitor orientation, hospital bed management, etc.) are areas in which the new information and communication technologies can bring substantial improvement.
"We are in constant touch with our customers and can provide customised solutions, for example to help them manage human resources in hospitals," says Eva Dauw, Branch Manager Healthcare & Public Services at Axians Belgium.
An obligation to ensure uninterrupted service
But one central parameter must be addressed: the obligation to have a recovery and service continuity plan in a hospital environment that must be available around the clock. Other substantial obligations are a high level of data security for information processed in the network, rigorous authentication procedures for medical staff with job-related access, the requirement for a mobility strategy, and availability of healthcare staff services across the entire area covered.
These requirements call for storage capacity specific to the healthcare system (service continuity, data sharing, etc.) and therefore for substantial bandwidth between sites.
"Because they work closely with us and are very familiar with the details of our organisation, the Axians teams were able to integrate the new IT infrastructure without requiring us to make organisational changes"
"To address these requirements, Axians builds on its more than two decades of experience in the hospital and healthcare sector and provides a team of specialist project managers who share best practices across the various European countries," says Charline Moreau, Marketing & Development Manager Healthcare at Axians.
This shared expertise enabled the Vinci Energies brand to recently win the "Online Pomeranian Healthcare" project in Poland. "This project will set up interoperable, integrated online healthcare systems covering six hospitals and will cover a variety of tasks including the creation of electronic medical records, an information system for patients and their families, information exchange platforms, and patient satisfaction surveys," says Bartosz Urbański, Project Manager at Axians Poland.
Close to needs
Axians offers a broad range of solutions, from network infrastructure to data storage and analysis technologies. The example of Uroviva, a specialist Swiss urology clinic that works with ten medical practices in the Zurich region, is a perfect illustration of this ability to meet the needs of local customers.
"Because they work closely with us and are very familiar with the details of our organisation, the Axians teams were able to integrate the new IT infrastructure without requiring us to make organisational changes in our operations," says Danja Flury, Practice Manager at Uroviva. The Axians Cloud solution is what our employees wanted and it has motivated them and freed up their time so they can focus more attention on essential responsibilities: patient contact and care."
Lia Cohausz, Chief Clinic Operational at Uroviva, adds, "Thanks to the transfer of our IT to the Axians Cloud and to the comprehensive Workplace package, we were able to recover the flexibility and reliability that had been cruelly lacking. Our physicians and employees are extremely satisfied with this tool."
Ad hoc technical solutions
Axians' detailed knowledge of the market enabled it to develop ad hoc technical solutions in certain countries. Examples are MyHealthbox (online appointment scheduling and patient file management) and My Registration (autonomous secure registration) in Belgium, and Vidavi (purchasing, logistics and financial management) and an SAAS application customised for psychiatrists in the Netherlands.
"But beyond the conventional network infrastructure, we also offer advice based on an analysis of the customer's processes and generate specific, long-term technical proposals for ways to solve purely medical issues," says Charline Moreau.
For the Ommelander hospital in the Netherlands, Axians made it possible to better regulate patient flows in the Accident and Emergency unit and the entire intensive care chain, thus making it possible to optimise utilisation of the operating theatre. From network expertise to operational advice, Axians is thus helping to design the hospital of the future.