"The relationship between large groups and start-ups is based on trust"
Reading time: 5 min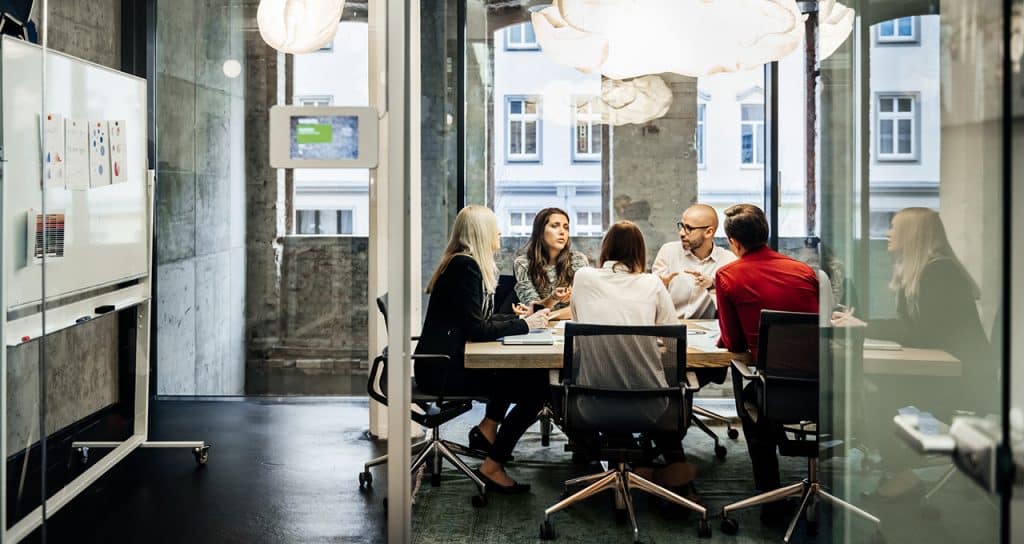 In light of the results of the Le Village by CA – Bluenove barometer on value creation between start-ups and large groups, VINCI Energies Business Development and Innovation Director Lydia Babaci-Victor analyses what drives this increasingly effective collaboration.
The  barometer shows a clear improvement in relations between large groups and startups. What do you make of that finding?
Relationships between large groups and startups are based on trust. We have now moved beyond the "startup zoo" stage that produced "POC (Proof of concept) factories". The stakeholders – incubators, accelerators, startups, universities, investment funds, and large groups – have learned how to build a win-win partnership based on speed, simplicity, and goodwill. The Viva Technology trade fair is a perfect illustration. In just three editions, it has become a crucial open innovation and ecosystem innovation event, with more than 6,000 startups from 120 countries, twice the number that took part in the first edition.
Communication is one of the positive aspects of the diagnosis drawn up by the barometer.
The study clearly shows the importance of education, a crucial component of change management. When a startup is called to a meeting, 25% to 50% of its workforce attend (especially if it is an "early stage" startup). The large group must understand this engagement. Meanwhile, startups are beginning to better understand the structural latencies of large groups that ensure their ongoing existence. The expectations that each had of the other at the beginning must be put into perspective in light of these constraints.
"A win-win partnership based on speed, simplicity, and goodwill"
The barometer identifies areas in which there are tensions due to delays in decision-making, execution, and payment. What can be done about these issues?
A large group and a startup necessarily operate within different timeframes. Some of the large group's timeframe is incompressible due to the need for decisions by different parts of the group. Innovation requires a change management strategy. All employees must de facto be involved. In a startup, a limited number of employees take decisions. The best approach is therefore to target concrete projects. By working directly on a business project with the customer, we gain time for all stakeholders. The large group must also set up teams on a human scale to work with startups. Such a team can sometimes make the processes – notably the purchasing process – flow more smoothly. This is one of the advantages of a decentralised group like VINCI Energies, which has this agility in its DNA.
What indicators do you think should be looked at on a priority basis to assess the relationship between large companies and startups?
Let's be pragmatic, the criteria governing a good partnership between a large group and a startup must be business-related – revenue and the number of new contracts won. This is the approach that will convince startups and in-house teams that they stand to gain by working together.
Could you give a few examples of collaborative innovation supported by VINCI Energies?
Thanks to our managerial investment fund, we have been able to support innovations driven by both VINCI Energies business units and startups. One example is Pysae, which won a 2018 Trophées de l'Innovation award (in the transport user information and services category). It offers our public-sector customers real-time information on ridership of buses and coaches equipped with the system. Another is ALCI, which specialises in robot image analysis and is being tested by Actemium Moirans-en-Montagne, Actemium Belgium and Actemium Toulouse. There is also Green Me, a connected cube that provides real-time measurement of 10 parameters in an office building environment. We have also tested this solution at La Factory, our open innovation space in Paris-La Défense and we have now included it in our range of facility management solutions and services.
Is the large group-startup tandem the ideal approach to innovation?
The two complement each other. One brings expertise, familiarity with customers and a very large network; the other brings new technologies, new economic models and new mind-sets. Nevertheless, the large group-startup tandem is only a fraction of the innovation ecosystem. And so much the better! For example, we need to improve co-innovation with other large groups.  We intend to continue to work in this framework.
15/11/2018