The technological challenges of offshore wind farm deployment
Reading time: 4 min
Installing a fleet of offshore wind turbines involves meeting a number of technological challenges and ensuring compliance with key stages.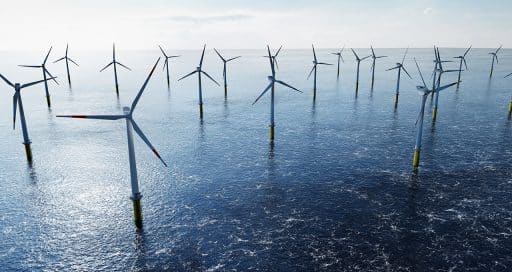 Europe has big ambitions when it comes to offshore wind energy. The roadmap set out by the European Commission plans to increase wind capacity from its 2020 level of 12GW to 60GW by 2030 and to 300GW by 2050. Investment of around €800 billion will be needed over the next 30 years to meet these objectives.
France is targeting a capacity of 5.2 to 6.2GW by 2028. Six major projects are scheduled between now and 2023 in Fécamp (Seine-Maritime department), Courseulles-sur-Mer (Calvados), Le Tréport (Seine-Maritime), Saint-Brieuc (Côtes-d'Armor), Noirmoutier (Vendée) and Saint-Nazaire (Loire-Atlantique), all located throughout northern and western France.
Situated off the coast of Saint-Nazaire, the French shipbuilding capital, France's first offshore windfarm, with a capacity of 480MW, should be operational by the end of 2022. Installation of the facility, like that of any new offshore wind site, is a complex undertaking that must meet specific requirements and that involves keeping many technological building blocks under control and verifying several key stages.
"Given the often difficult operating conditions, it's crucial to think about the windfarm as a whole so that it's as resilient as possible."
Choice of site
With offshore windfarms, there are a number of technological challenges that need to be met. The first, says Irina Lucke, Division Lead & Managing Director at Omexom Renewable Energies Offshore in Germany (VINCI Energies), is to choose the site carefully.
"It is essential to accurately study the depth of the water, the type of soil and the wind conditions," she explains. "The situation in the Baltic Sea can be very different to that in the North Sea. Sandy or muddy soils present particular technical problems and require different foundation solutions (monopile, gravity-based or steel structures known as jackets)."
"For very deep water," she adds, "it may be necessary to install floating foundations. All of these different parameters also have an impact on the type and number of turbines you choose."
Built to last
Furthermore, offshore windfarm deployment projects must take into account the life span of this kind of facility, which is at least 20 years. "Given the often difficult operating conditions, it's crucial to think about the windfarm as a whole so that it's as effective and resilient as possible, offering high availability. You also need to make sure that boats and helicopters can access the installations safely. People's safety is our top priority," stresses Irina.
The electrical substation: a key component
Another major challenge lies in checking the quality and reliability of the windfarm's electrical substation. The nerve centre of the power plant, it collects the electricity generated by the turbines and increases the voltage so that it can be fed into the mainland power grid.
The substation also centralises all the information and data relating to the operation of the fleet and sends it to the mainland control centre which manages the windfarm remotely. "In this respect, the choice of manufacturer is key," says Irina, whose business unit is currently responsible for the technical management of more than 3GW for clients like Merkur, Eneco, EDF, Ørsted and EWE.
Keeping equipment in good working order
And finally, keeping equipment in good working order until final deployment on site is a further challenge that needs to be met. There can be a time lag of two years between equipment leaving the factory and its deployment at sea. Stored in parts in on-shore facilities, the turbines must be monitored at all times to prevent deterioration. Sensor-based digital solutions are used to measure various key parameters such as temperature, hydrometry and corrosion in real time.
16/06/2022