Virtual reality drives transformation in nuclear industry
Reading time: 5 min
Virtual reality is becoming a valuable tool for improving safety in the nuclear sector, particularly through training. Cegelec CEM is at the cutting edge of the field.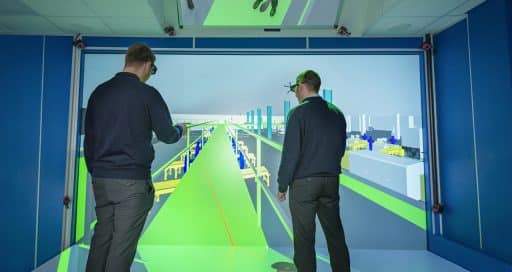 Digital transformation is revolutionising industrial practices and paving the way for a connected industry capable of adapting to many changes and disruptions. The high-tech nuclear industry, with its highly specific safety requirements, is a case in point. The use of virtual reality (VR) and digital models for facilities and processes is proving essential, especially for staff training, and helps to better control the risks involved in all nuclear activities. In fact, the share of training in this sector is three times higher than the national average for industry.
"By providing the project team with a fully immersive experience, we get feedback that helps reduce safety-related risks both from a technical and personnel point of view."
Reducing safety-related risks
 The main advantages of virtual reality are that it offers the possibility of performing tasks safely, fine-tuning technical skills and tackling different scenarios in conditions that are difficult to recreate during the job preparation phase. VINCI Energies company Cegelec CEM, which designs and builds electromechanical systems and equipment for sectors that work to stringent requirements (nuclear, scientific, etc.), has developed specialist expertise in the area. Its simulation and prototyping department focuses entirely on performing complex VR-based simulations and training for all key projects in the nuclear division.
"Over the past 5 years, we've been developing simulation solutions for design reviews, among other things. By providing the project team with a fully immersive experience, we get feedback that helps reduce safety-related risks both from a technical and personnel point of view," explains Michaël Brochier, CAD and Virtual Reality expert at Cegelec CEM. But for the past two or three years, his team has also been using VR for training. "With VR, operators can learn how to control machines that may be difficult to access for safety or availability reasons. Mobile training centres accompany teams so that they can carry out training as close as possible to the job site." This enables operators to prepare more effectively just before a job. Training scenarios might include assembling a grab device in a spent fuel pool or operating a refuelling machine in a reactor building. "This simulation work saves a considerable amount of time and enhances efficiency. It also helps us capitalise on industry know-how," says Michaël Brochier, "and of course offers environment-related benefits, since employees undergoing training don't need to travel and it's no longer necessary to set up major installations."
Leveraging mixed reality
Cegelec CEM is going a step further and is currently working on the design of a digital twin that models the behaviour of the refuelling machine. "The idea is to integrate a VR simulation with a simulation of the operating part, in other words the workings of all the machine equipment," explains Michaël Brochier. "It means you reproduce the actual performance of the equipment with high fidelity. You can create and work on events that would not have been anticipated in a traditional simulation. VR helps increase the reliability of project design and ergonomics while achieving the required performance and compliance."
And Cegelec CEM is going further still with mixed reality technology, which it has been implementing since 2020. Mixed reality, using Microsoft's HoloLens 2 headset, makes it possible to place a 3D hologram in a real environment. With Vizu, the stand-alone application developed by Michaël Brochier's team, operators have access to a library of 3D components that enables them to compare complex pieces of equipment in environments subject to regular changes. The tool optimises travel between the site and the design office, thus reducing remanufacturing accordingly. "There is strong demand by personnel working in the field for this technology, which can be used to easily verify the correct layout at the appropriate moment and to share observations with the various project stakeholders, whether site workers or clients, etc. The technology delivers on its promise and it is revolutionising practices in the field in very tangible ways," notes the Cegelec CEM expert.
---
Thesis assessing effectiveness of VR
In cooperation with the French Alternative Energies and Atomic Energy Commission (CEA), the Laboratoire d'ingénierie des systèmes physiques et numériques (Lispen) lab and the Centre de réalité virtuelle de la Méditerranée (CRVM) VR centre, Michaël Brochier's team incorporated a PhD student in September 2021 for a period of three years who is preparing a thesis entitled "Validation methodology for the immersive simulation of complex procedures in a restricted environment." ("Méthodologie de validation de la simulation immersive de gestes complexes en environnement contraint"). The research aims to verify the extent to which immersive technologies can guarantee behaviour equivalent to real case scenarios by assessing the impact of sensory (haptic, auditory, olfactory, etc.) feedback on the effectiveness of the procedure.
---
08/09/2022