Welcome to the modular factory
Reading time: 3 min
The latest Hannover Messe trade fair shone a spotlight on several innovations aimed at making production plant more flexible and modular. In the factory of the future with its digitised floors, machine tools and robots can be reconfigured as required.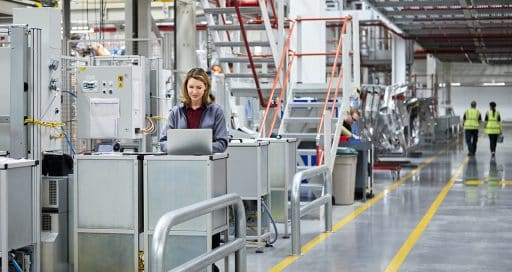 The Covid 19 crisis has shown that resilience is a major requirement in industry. And the key to resilience is, among other things, agility. Some manufacturers have been able to diversify, changing their production lines from one day to the next. For example, in the clothing and the chemical industry, factories started producing masks, visors and hydro alcoholic gel.
In the future, manufacturers will be able to assemble then dismantle production units as required.
Flexibility was the central theme of the 2021 Hannover Messe held from 12th to 16th April 2021. Several exhibitors at the trade fair promoted the modular factory concept. By using new technologies, such as IoT, artificial intelligence, additive manufacturing and 5G, they maintain that manufacturers will in future be able to assemble then dismantle production units on an as-needed basis, a bit like Lego.
Smart Factory
A European network of more than 45 mostly German manufacturers, the Smart Factory KL project presented its PL4 demonstrator. Placed in blocks of glass and mounted on wheels, a 3D printer, a quality control station (operated by a computer vision system) and an assembly station communicate with each other as part of an automated production line. Set back from the equipment, a technician supervises the operations from a control desk.
By enabling machines from different manufacturers to communicate on a plug and play basis, Smart Factory KL should serve as a test bed for GAIA-X. As a reminder, GAIA-X is a European initiative that aims to build a secure cloud by bringing together existing service providers and guaranteeing the interoperability of their services based on common standards.
Choreography of autonomous and versatile robots
Karlsruhe Institute of Technology has come up with an army of autonomous and versatile robots in place of current robotic systems, which are generally fixed installations and assigned to a single task. Working together, vertical robotic arms perform various processes, based on a clever choreography, such as assembly, cutting, machining and quality assurance. Reconfigurable, they can be given other tasks as required.
These robotic "kinematics" should considerably reduce assembly and planning times. Karlsruhe Institute of Technology and its industrial partners, automation specialist Siemens and machine tool manufacturer Grob-Werke, are only at the prototype stage however.
Digitised floor
Finally, Bosch Rexroth has devised an intelligent floor, which is set to become the backbone of the factory of the future. The digitised floor identifies devices, manages them, exchanges data with them and even supplies them with electricity wirelessly. Production machines move to the areas assigned to them. There's no longer any need for complex localisation systems, since AGVs (automatic guided vehicles) follow slabs as they light up, with LEDs to guide the way. The German automation company uses 5G to interconnect the various components.
15/11/2021